Photos -- Warderick Wells, Pipe Creek, Staniel Cay

Seafever
Thu 11 Mar 2010 21:33
Okay -- these photos now bring us up to date. I hope we have more good ones to post in the coming weeks!
The girls feeding sugar to bananaquits at Warderick Wells park headquarters:
Boat name boards atop Boo Boo Hill on Warderick Wells.
Skeleton of a 52' sperm whale on display at Warderick Wells:
Isabel diving toward some coral off of Narrow Water Cay:
Bashing to windward bound for Black Point. It was shortly after this photo that we decided to stop in at Compass Cay instead. The waves weren't huge, but the chop was steep enough to make the boat pound constantly, sometimes almost shuddering to a stop. You start going over every element of its construction in your head. . . .
After a very nice visit to Compass Cay Marina -- (and we owe a big shout-out to Woody the dockmaster at Compass, who greeted us so graciously there and helped us get the water we needed) -- we moved on to Pipe Creek. This is our sort of yacht club:
The Mystery Mollusc. We didn't find a good match for this in our books. Anyone know? It was an incredible animal, and much as we would have loved to keep that shell, we released him or her back to the deep water off Thomas Cay. Be fruitful and multiply. . . .
The swimming pigs at Big Major's Spot, near Staniel Cay. Maybe when we're back we'll post a YouTube video of these two, so you can hear their voices. A real treat.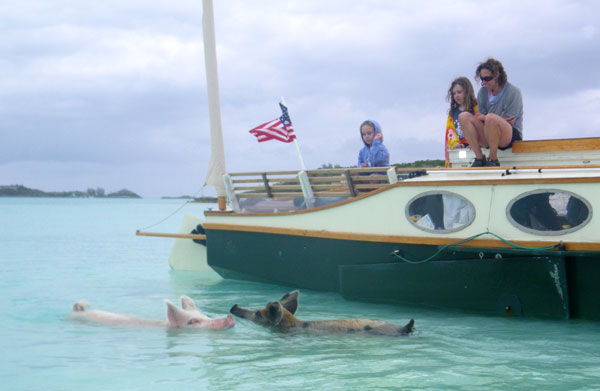 Then we came ashore at Staniel, and upon landing at the beach we met Bob and Carol of the Time Enough II, members of the Shallow Water Sailors group. They showed us the way to the market, and sat with us to eat ice cream. We'll visit their boat later and they'll visit ours. After our shopping trip, we decided to snorkel in the Thunderball Grotto, so named because it was part of the James Bond film of that name. It was stunning. Mind-blowing. Beautiful beyond measure. You swim in under a low opening and enter a huge round hollow space about 30 feet high and 60 feet across, arching up to three holes in the roof that let in light. The fish swarm around you -- expecting to be fed, not unlike the pigs. We complied with pretzels again. The light entering the cave, and the colors of the fish were too much for the mind to process rationally.
After we swam out, Isabel said, "You know, if we never snorkel ever again, it's okay, because we saw THAT!"
Photos of course don't really do it justice. I have some video of this that I'll try to post someday, too. Unfortunately, our current wifi access has a limit that would keep us from posting much in the way of video.
Tomorrow will be nasty weather, but today we have had extraordinary experiences. Not sure what our plans are after this. Maybe a few more days in Staniel? We really like it here. Then to Black Point, and Little Farmer's Cay.
---