Bye Bye Barbados, Hello Paradise

Kirsty and Lee's Excellent Adventure
Lee Matthews
Sun 30 Dec 2012 17:49
13:00.21N 61:14.6W
Dont get me wrong we loved Barbados, well mainly the people who have a charm of their own, we loved the street vendors and the town, we loved partying on the beach in the rain on Christmas day (see photos), we loved the bajan hot pepper sauce....what we didn't get was the swell...it meant being at anchor was worst than being at sea, even the Patio Door Dwellers (Catamarans) had a hard time, we just ended constantly swinging both side of our gunnels in the water... and we just didn't get why they made it so difficult for yachties to stay...nowhere to put rubbish, buying diesel or water was either in a crowded fishing area or miles up the coast. No vendors coming to your boat and nowhere free from hassle to land a dinghy. In the end after spending Christmas day night when we should have been recovering from drinking way too much rum with Doug, Charlie and Don (skipper) and our friends Chris and Sara, we spent it hanging on as the boat rolled almost over each wave ...boxing day we left.
Christmas Day tomfoolery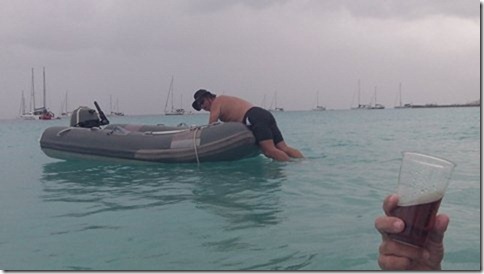 We had a sublime, tradewind passage in a bright moonlit night to our next destination, Bequia in the Grenadines.
It was as advertised for once....soft swell, 4/5 winds and a boisterous sea as we approached the infamous bequia channel....but nothing a well rested lee and kirsty couldn't cope with. We got recommended Bequia from a drunk Charlie on xmas day and didnt know what to expect....and we sailed into paradise. Crystal blue waters, white sand sun kissed beaches with bars and jetties on them, vendors visit the boat all day offering fish, bread, beer water, bread ...anything you want really. The town is small quiet and relatively hassle free, the water is warm and with daily ice delivered the beer is cold!! Its going to be a difficult decision to leave here. There are no cruise ships, no jet skis (that plagued us in barbados) no loud discos on the beaches. The wind whistles down the bay so we had a few anxious times as the anchor kept dragging but after buying an extra 20m of chain we have dug well in now and the wind means our wind gen and panels are keeping up with the fridge.
Approaching Bequia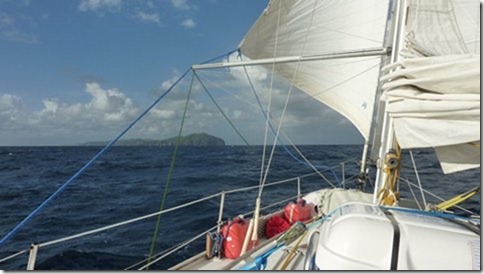 The Beqians are friendly and take life at the Caribbean pace! They are proud ocean going people who used to make a living hunting down sperm whales in little wooden boats. They still are allowed to take 4 per year when they migrate passed the islands but rarely ever do now...servicing yachts is now definitely the industry!!
Sitting on the dock....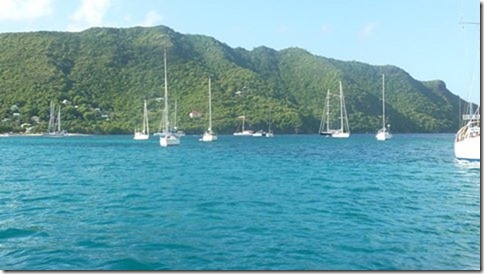 Searching for turtles!!
Beautiful Bequia
So here we stay, we've booked a night in a hotel for Kirsty's birthday and there is a blues festival at the end of jan we want to be here for so if anyone fancies a week in the sun...fly to st vincent and cross by ferry its easy!!! You wont want to miss this!!
Life is good!!!!!
Lee
---