Fes...tering still in Morocco

Kirsty and Lee's Excellent Adventure
Lee Matthews
Fri 2 Nov 2012 15:29
34:06.0 N, 5:01.0 W
Well Morocco has really gone out of its way this week to make us feel at home, its been raining for 6 days and the wind has been too strong on the nose to sail! Still it actually looks like we are getting out of here sunday or monday to ride a strong northerly to lanzarotte. Have met up with some people (Tim and Nancy, who have been following our blog and are going our way so may tag along with them). The Chandlers are also here now (you know the ones who got kidnapped) they had their boat Lynn Rival done up and are off again. (wont be tagging along with them!..... joke ...wish them all the best if they are reading this) I guess there will be a mass exodus to Canaries this weekend with all the boats from here to Agadir holed up waiting for the weather to change.
In the mean time we took the opportunity to visit Fes the oldest walled city in the world. Its a bit authentic Moroccan which means a fair bit of hassle but worth a look and we got to stay and eat in possibly the most fabulous riad in the whole of Fes thanks to Reibal and his staff at Riad Andalib for making it worthwhile. It really was worth going just for that. The rained poured the night we were there like a proper Cornish monsoon but we survived. Our anecdote of the week.......taxi driver in Fes we managed to agree to 30 dirahms to take us to our hotel( a rip off but it was pouring with rain), on the way he told us we needed to walk a little bit but I asked why as the hotel is right on the main road.....on arrival he then wanted 50 dirahms as he managed to drive us right to the hotel....where we had asked to go in the first place!!! We need to introduce that at home ...the fare is £3 but thats to go somewhere you dont want to go... I want £5 if you want me to go where you want to go!!! Classic Moroccan Taxi logic.
Anyway hopefully next blog will be on the way to the canaries via satellite phone ......hurry up sunday, although I doubt we will get as friendly a welcome once we are back in spain as we had here.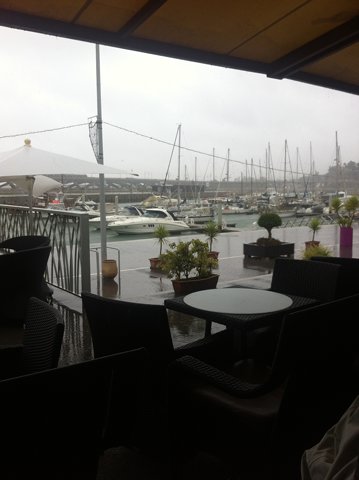 ---