water water everywhere!!!

Kirsty and Lee's Excellent Adventure
Lee Matthews
Tue 9 Oct 2012 18:53
36:8.954N 5:21.30W
Day 2 of preparation day and we finally have our water maker installed. Its a complicated bit of kit that has a very simple purpose ...making water ...not salt water there's plenty of that but fresh sweet drinking water from the briney stuff. (of course we'll still have to take stacks of bottles etc as wed be foolish to rely on it which begs the question... why have it at all but on anchor it'll save us going traipsing ashore to get water . Typically as it has the word boat in the title it wasn't cheap and typically although the pump (reverse osmosis) is highly engineered and technical, it comes with cheap and nasty plastic fittings that break as soon as you look at them. Still with a bit of inginuity and a lot of DIY tourettes over the last 2 days and 65 trips to and from the chandlers and plumbers .....its in....not I wasn't looking that happy over the last 2 days as I am on the photo. Kirsty however is ecstatic and I have to admit the water tastes really good better then tap water.
As per usual by fitting the said device I seem to have broke the electrics......so thats day 3 agenda taken care of!! Boats!!!!!!!
Lee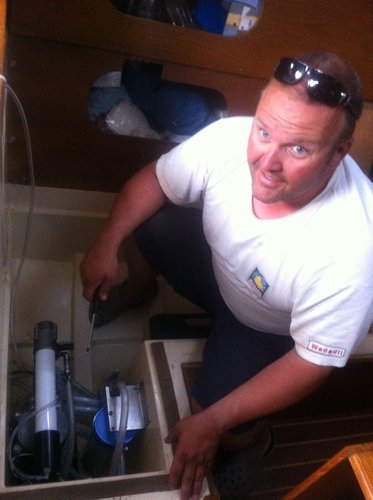 ---