Web Diary Page 20th September 2007.

Ladyliv
Fri 21 Sep 2007 00:09
WEB DIARY PAGE 20th SEPTEMBER 2007 FRIKES, ITHACA POSITION 38:27.56N 20:39.88E
First boat in - last boat out ! When we moored yesterday, we were one of the first boats in, but the Neilson flotilla joined us late in the day, and suddenly there were loads of us !! This morning, we all held our breath to see if anybody would snag our anchor - but, yippee, they didn't. We set off after breakfast, in a very stiff breeze (also yippee) to head towards the small and fabled island of Ithaca. The team worked brilliantly well in dealing with a force 6, gusting 7, sail southwards towards Frikes, a small harbour town on the north east side of Ithaca. Luce went below to make a superb lunch for everyone, whilst the rest of the crew attempted to anchor with a line ashore in one of the many coves along the north east coast... The "line ashore" team swung into action again, as Rich & M negotiated razor-sharp rocks to secure a line, and keep the yacht off the rocks - the cove was not well sheltered, and the wind seemed to come from different directions, and after a close call with the rocks, we made the decision to head straight off to Frikes and try to moor in the relatively sheltered harbour. Looking a pretty quaint little harbour, upon arrival we were faced with many yachts, and no space to moor directly on a jetty or pontoon ! We rafted up against another yacht with the wind blowing strongly around us. The team worked well in this tricky manoeuvre that only the Captain had had experience of - we passed with flying colours. Went ashore, sourced water for our almost depleted tanks, and found a local bar and supermarket.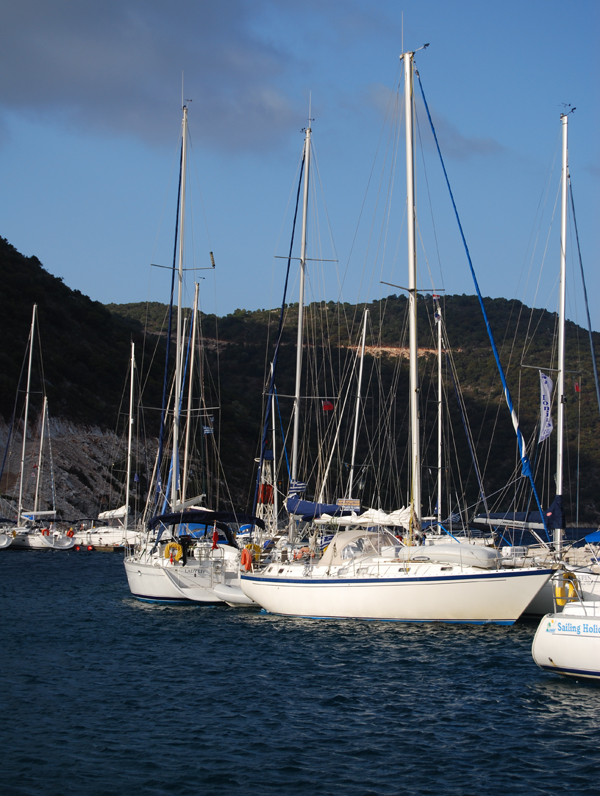 ---