Bill's Guest Blog Part 8 (Vathi to Preveza)

Gillyb
Thu 15 Sep 2011 19:12
Saturday (Vathi to Preveza): Our final leg was a relatively short sail to Preveza via the Levkas canal. On route we passed the Island of Skorpios (owned by the Onasis family) and saw the beach hut that was used by both Jackie and Christina Onasis. Rumour has it that it is up for sale and Bill Gates has expressed an interest in buying it.

The Levkas canal was fascinating (and free) and we followed a convoy of small boats, passing through the swing bridge at exactly mid day. We were now out of the so called 'Inland Sea' and in to the Ionian Sea proper. We enjoyed a good sail to Preveza and Graham did a superb job of parking Gilly B in quite a strong cross wind. We drank our SAD's with a tinge of sadness as it dawned on us that this was the final part of our little adventure.

In the evening we met up with our old friends Ron and Hazel who bought Naivasha, a Hallberg Rassy, from Mike Pearce of Orford. We had a superb meal at a taverna close to the marina and swapped stories of our adventures.

On Sunday morning, we learned that the taxi drivers had all gone on strike (it can only happen in Greece) so Ron kindly agreed to give us a lift to the airport.

Many thanks to Graham and Gilly for allowing us to share in their experience, we all had a fantastic time.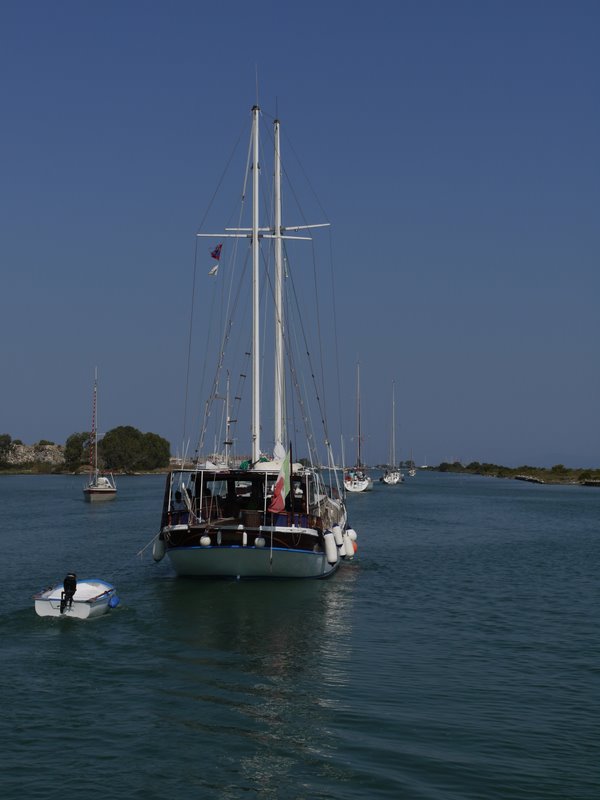 ---