John & Caro Visit Corfu/Paxos

Gillyb
Tue 15 Jun 2010 07:34


Position 39:10.8N 20:12.2E

J & C arrived on Corfu in a thunderstorm! Graham met them from their taxi with an umbrella and they were soon on board under a streaming bimini! Luckily it did not last too long and we were having a walk around Gouvia in the glorious sunshine. We left the marina next day. Travelling a short way north along the Corfu coast with Albania visible to the East we arrived in Kalami Bay. If you read the last entry you will know we have been here before! But it was so nice we brought our visitors to enjoy it too. We were able to walk round the town and swim and in the evening go to the White House... whose house was this?? Just testing..

After a good night's sleep and breakfast in the cockpit as usual we set off for a nice sail to Paxos. We had a good sail - took about 2 1/2 hrs and arrived in Lakka - the bay had other boats anchored in it and the little quay was surrounded by tavernas and shops. The water was blue and turquoise over the sand, really beautiful. We anchored not too far from a beach (we all swam to the beach the next morning) We went ashore in the dinghy and found the shops delightful and quite a bit of retail therapy occurred! We had ice creams in the taverna and found we could get water on the quay - 7 Euros for 30 mins. the hose is rather slow. We did our first stern - to mooring with John & Caro's help and it all worked rather well. Phew!

After Lakka we explored three other bays/anchorages. Longos or Loggos was the most picturesque with a film set look and a little beach and tiny harbour. We also had a quiet time in Mongonisi where there are only two tavernas and not much else but it is well sheltered.

After a brilliant week with J & C we put them off the boat onto a beach with their luggage! It was a beach just below their newly rented apartment but they had to go back into Gaios to pick up the car so they came back to the boat having dropped their luggage off and we cruised thro the long Gaios harbour and found a gap on a wall and they literally jumped ship. We went back to Lakka as we needed water again and the next day we had J & C back in Lakka and on the boat for lunch. After that we motored back to Longos and the following day back to Mongonisi.....where we had J & C back again for a BBQ.

Finally we are leaving Paxos (and John & Caro!) and going south to Preveza and Lefkas where we will be picking up The Bubbs for a week - more swimming and BBQ's and lovely sailing.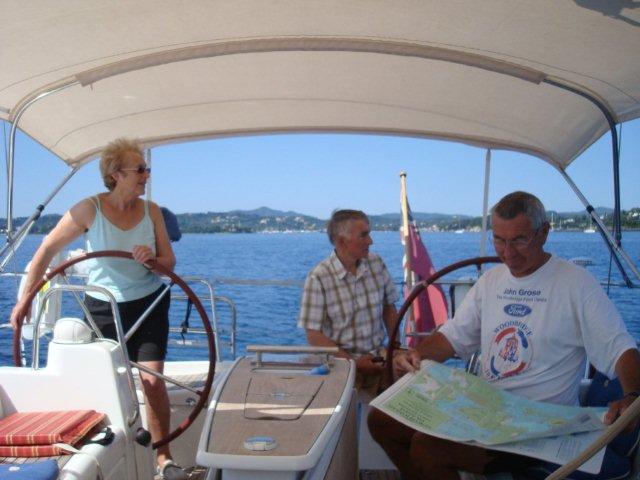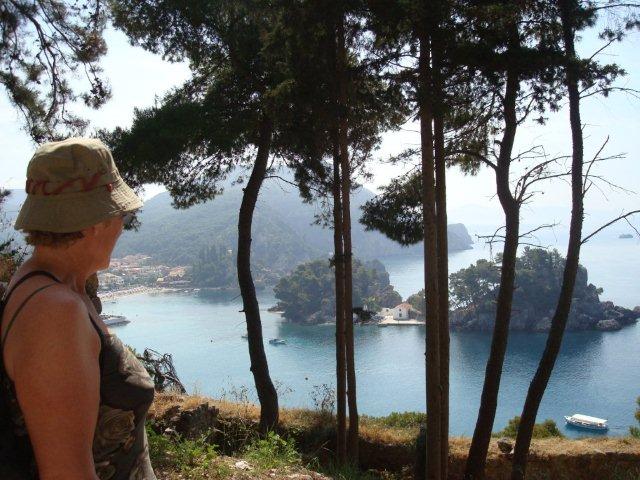 ---