Thunder & Lightning

Gillyb
Sat 19 Sep 2009 12:35
Position: 39:47.57n 002:41.62e
Hello Family & Friends, The weather has turned - thunder, lightning and rain has been following us around recently. We went into Palma Bay and anchored right beside the Cathedral and watched a son et lumiere show that night all over the sky. The next day (Monday 14th) we went into a small marina at the side of the bay called Ca'n Pastilla under the flight path of the Palma Airport so a bit handy for picking up Duncan & Mel and also a bit cheaper than the 100 Euros a night or more in the posh bit of Palma (full of super yachts). I realised it was going to be a cheap establishment when I arrived on the fuel berth and three men stood right beside the fuel pump with their hands in their pockets and watched while I leapt off the boat and ran around with bow and stern lines! The Spanish don't do gallantry? (Or do I just look too 'boaty' and efficient these days!!?)
When we got Mel & Dunc back to the boat it was hot and sultry so we sat in the cockpit and Dunc needed a cold beer and shorts on fairly quickly. Later that evening it was umbrellas we needed as there was a fairly spectacular lightning show and more rain. We were all up watching it at 2.30 a.m. having a nice cup of tea! Tuesday we left the marina and sailed/motored round to Santa Posa which is a good bay with lots of space to swing on the anchor. We had a better bit of weather and Duncan was in the water - swimming and snorkelling. We had a nice peaceful night and an early morning swim then left the bay in bright weather to go along to Andraixty harbour where we went ashore had coffee in the internet cafe and got the weather and went to top up from the bank and the supermarket.
Back on the boat we decided that we would leave the Harbour and go round to the little bay we had been before as there are buoys there to pick up (free) and the scenery was nicer and the shelter seemed to be right for the forecast. We duly went round the corner to Sant Telmo, watching clouds miss us and seeing a water spout - see photo. It was fairly quiet (about three other yachts there) so we had a choice of buoys for our size. (They are laid to protect the sea bed and a girl in a rib comes round to give out leaflets and take the name of the boat, skipper etc.)
We had a lovely swim and a snorkell round the rocks where Melanie, in her pink tankini, and a cormorant swimming and fishing, surprised each other near a little cave. The water is often so clear you can see the bottom several metres down. Luckily Melanie thought it was a big fish until it took off - upwards! Duncan snorkelled all over the bay. We had a great BBQ and all was well until later that evening when the SWELL started! we changed buoys we even tried tying the back end to a second buoy (which just brought the buoys closer to each other!) We ended up on a buoy at the edge of the bay under big high cliffs. No one got much sleep (up again having tea) it was a terrible night with swell sideways, buoy crashing into the front of boat, waves slapping us up the back. We were in nice deepwater and not on a lee shore so nice and safe but so UNCOMFORTABLE. We couldn't wait to leave the next morning.
We motor sailed round to Port Soller (yes we have been here before - when the bomb went off in Palma and we had to stay in the bay). We had a nice sunny day and lots of swimming and a quieter anchorage - to start with anyway! Thursday night we stayed at anchor and then about 5 or 6 in the morning the swell started again. It wasn't too bad and there was plenty of room so eventually we went ashore in the dinghy as we wanted to take D & M on the little tram that goes a couple of miles inland to the town of Soller. We didn't have any more rain and we had a great trip on the tram - its really ancient and open at the sides (no health and safety here!) See photo?
When we got back to the boat after a nice lunch in Soller and look round the Cathedral (roof is damaged so there are nets strung above your head to protect you from falling masonry! sort of health and safety?) we found the swell had increased. We improved things by kedging out but then decided that we had enough late night tea drinking so we went into the marina. Which is where I am now and very good it is because Melanie & I have had luxurious showers last night and washed our hair and got dressed up to enjoy a meal ashore. (Which meant we didn't have to go in the tender and arrive with wet bottoms!) Duncan finally ate his lovely paella and we had a really peaceful nights sleep. Hooray!
But tomorrow they (the male of the species) plan to wake us up at four o'clock and set off across to mainland Spain and our winter berth in Sant Carles. More tea needed I think. (Although I think the Menorcan Gin might be more appropriate - its really nice in a long G & T)
We will be home soon which we are really looking forward to despite the change in temperature which am not so keen on. Bye for now. All on Gilly B send their love.......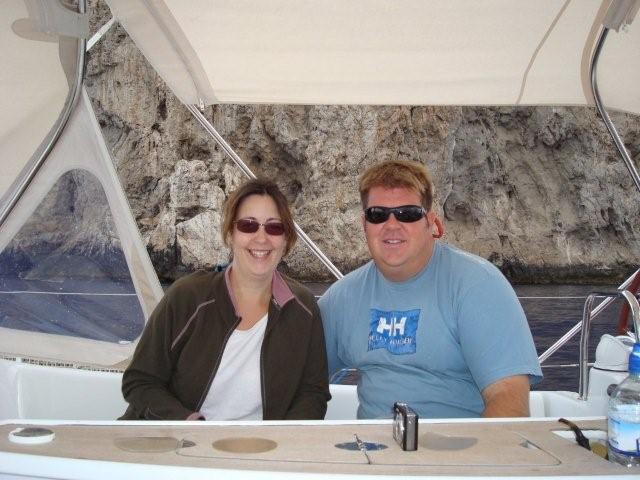 ---