After Guadeloupe.....Antigua

Chelone's travels.....
John and Susie Blair.
Mon 10 Mar 2014 23:43
N17:08.96 W62:37.89
We really enjoyed Guadeloupe, what with the carnival at Pointe A Pitre then
a few days relaxing at lovely Deshais. But time is marching on and we must
continue north.....to the next island, Antigua.

Despite receiving a forecast that winds had moderated we were pleasantly
surprised to find that wasn't the case and we crossed to Falmouth Harbour
in a steady 18-20knt breeze. We dropped the hook off Antigua Yacht Club
Marina and wasted no time in getting ashore for sundowners (and obligatory
'Tot' with friends in the Life Bar).
Last week we were delighted to receive a message from Ross saying he'd
landed a full time job on a boat in Antigua and that he was flying over to
Barbados to collect his US Visa. We were just wondering if he was around
when he whistled us down as we drove past in the dinghy! We jumped out
of the dinghy and proceeded to have a great evening catching up. It turned
out that he's living aboard the boat now and that she's lying alongside in
Nelson's Dockyard so we promised to call around to take a look the next day.
Wow!! what a beauty eh? Ross gave us a guided tour and introduced us to her
crew including locum Skipper, Paul. A native Antiguan and businessman, he
lives in (and owns) the recently refurbished 'Gunpowder House', perched on
the headland directly opposite the Mariners Inn off Tank Bay (which it turns
out he also owns). Ross said they're getting the boat ready for a passage up to
the Bahamas next week where they've a charter arriving then another Atlantic
crossing for him as they're heading for the Med via the Azores later in the season.
We love Antigua, Falmouth and English Harbours with their village atmosphere,
historical Nelson's Dockyard is pretty and being surrounded by multi million
pound superyachts sail and power is quite spectacular, it's a fun place to be.
Every time I've visited I've wanted to do the short hike from Falmouth Harbour
to Fort Berkely via Pidgeon Beach and with encouragement from Susie we did
it together. The top of the hill above Pidgeon Beach afforded gret views out to
sea as well as down over English and Falmouth Harbours, over Galleon Beach
and Ordinance Bay etc, well worth the hike for sure.
We came across another friend, Terry from s/y Libertine, we first met him in
Cariacou last season then again in Antigua where due to his friendship with the
skipper he landed me a crewing position on the legendary s/y Stormvogel.
The next evening while out and about in Falmouth Harbour with Ross
we bumped into other Stormvogel crewmembers and then the Skipper and his
wife, it turns out that they've just arrived, what a coincidence eh? We had a
great night with much rum punch flowing and a live band to entertain us.
We were going to leave on Saturday for Nevis but with the Wales - England
Rugby showing in the Yacht Club on Sunday we thought we'd better delay!
Ross was delighted when I handed him one of Chelone's big welsh flags, though
as it turned out we didn't get much to cheer about!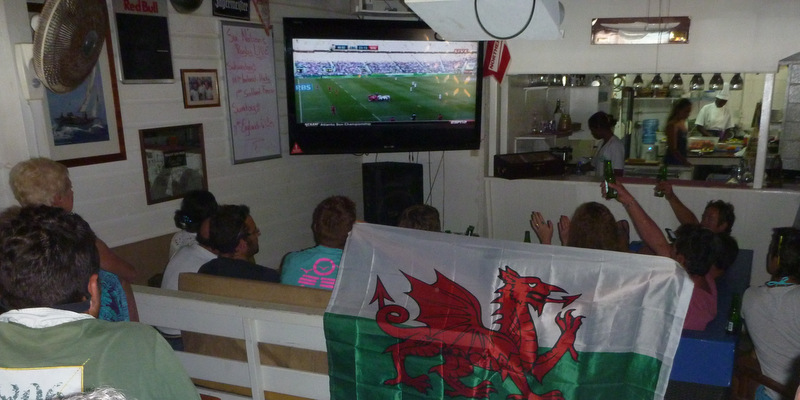 Later on Sunday and after topping up Chelone's water tank at the marina, we
anchored off Pigeon Beach and went for one last cooling swim. We spotted Ross
further along, he was playing rugby with his fellow crew and others at the waters
edge. How exciting to be a crewmember on such a boat! what an awesome
outcome huh? another big step in his career at sea, and for me, a very satisfying
way to leave the island where we arrived in the beginning of the season.....
Good Luck Shipmate, you deserve it.
All the Best.....for now, John & Susie.
Next stop....Nevis.
---