After Antigua....Barbuda and beyond!

Chelone's travels.....
John and Susie Blair.
Tue 8 Oct 2013 12:47
N17:54.08 W62:51.33

Saturday 5th October.

After we'd had breakfast and listened to the world news on the trusty SSB
radio I checked in with the 'Coconut Telegraph', we were the only boat
checking in to the north, all others were down in Trinidad, Tobago, Grenada,
Margarita, Bonaire etc.

Cleared Customs (out) at Jolly Harbour, topped up fuel and provisions in the
very convenient Epicurian Supermarket then headed up to Deep Bay just a mile
or so up the coast. Once anchored we launched the dinghy and immediately set
off in the torrential rain for the just submerged wreck that lay about 150
meters away. Masks and snorkels on we got in to have a look.
First impression of the wreck below me was a little eerie I guess, the water
was a little murky and teeming with foot wide jellyfish. It was then that I
glanced up to see what the lads thought of it.

All I could see was Ieuans feet paddling at full throttle....desperately
trying to re-board the dinghy!! For Goodness sake! Well that was that, Ross
said 'It ain't for me' so I had a gander for a while before following them
back to base.

Ross and Ieuan made us all a lovely dinner....Peri-Peri marinated chicken
thighs with salad and potato salad, the rain abated and a typical Caribbean
sunset followed. Tomorrow....Barbuda, 30 miles north.

Sunday 6th October.

Another early start and we're eager to get off to pastures new but there's
very little wind about for sailing so engine on, up with the hook and we're
off.
Clear of 'Shipstern point' Ross lays a course towards the edge of the
nasty 'Warrington Reef' which fringes Antigua's north coast. Within an hour
we're clear of danger and sails hoisted we're motor sailing and making good
speed.

Fish on! Ieuan caught a whopping Barracuda! trouble is they can be poisonous
this far north so back it went without harm. Before long we had the company
of a school of Dolphins under our bow followed by another large Barracuda
for Ieuan (see pic). A huge mass of isolated black cloud rapidly caught up
with us from the south with accompanying monsoon like rain flattening out
the sea and prompting us to shut all hatches...rapido!

As quickly as the rain appeared it cleared to reveal Barbuda's low lying
terrain ahead. 'Land Ho' someone shouted and as the lads dropped Chelonies
sails the sun broke through once again sending temperatures soaring.
Anchored on the same spot Susie and myself took back in mid March we dived
in and swam ashore where the sand is pink and as fine as talc between your
toes. This eleven mile stretch usually has but a handfull of yachts anchored
along it but now we have it all to ourselves, quite amazing really.

Swimming, diving and dinner prepared by my fair hand.....Hot dogs with fried
onions and potato fritta's followed by a movie...ahh, the cruising life for
me! (miss you though Susie!).

Monday 7th October. To St.Martins, 75 miles north west.

Up early and a lovely offshore breeze promises some sailing today. By the
time I
brush my teeth Ross and Ieuan have the sails up and we're off....to
St.Barths! French of course, it lies just sixteen miles this side of
St.Martins which is where we're mostly aimed for at the moment but we may as
well stop off there as the lads haven't seen it.
Though the fishing line was deployed we caught nowt but excellent visibility
was
affording us an early sighting of Nevis, St.Kitts, Saba and St.Barths.

We spent the passage employed with various boaty jobs, music
blasting of course. A heavy rain squall saw us adopt the now familiar
routine of flogging down the ports and hatches but as before it soon passed
and again we'd harvested a couple of buckets of rain water for washing
clothes.
To St.Barths it's 59 miles from Barbuda so all daylight hours at sea though
we plan on staying in St.Martins for a good few days before sailing north.

Tuesday 8th October.....Post Script.

Arrived here in Gustavia, St.Barths at 6pm last evening and went ashore for
a couple of beers (in thunder & lightening!). As I write, it's 7am and we're
about to go ashore for a French breakfast and walkabout. The plan now is
to be back aboard Chelone by around midday to set off for St.Martin
(16 miles west) and await the afternoon bridge opening to enter the lagoon.

See you there....JB.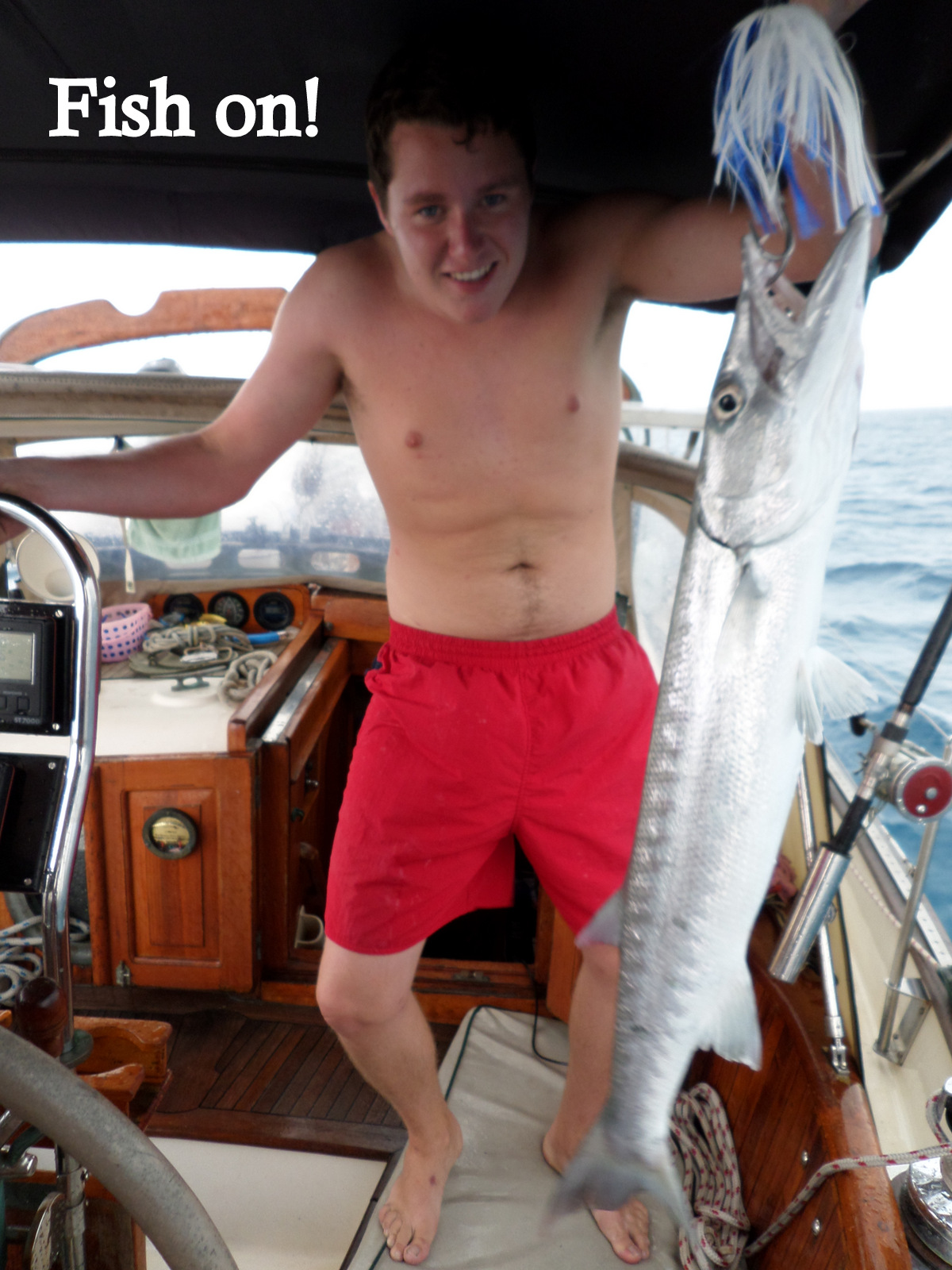 ---