After Grenada, Cariacou, Union Island, Tobago Cays....Mustique.

Chelone's travels.....
John and Susie Blair.
Fri 21 Feb 2014 18:24
N12:52.70 W61:11.62

Much has happened since the last blog that's for sure!!

We sailed up the lee side of Grenada and made an overnight stop in lovely
Cariacou where we checked out with Customs and shared a meal ashore with our
good friends Randy & Janet who are sailing with us on their Catamaran.

The following day we made the short passage to Union Island where we
re-checked in to SVG (St.Vincent & the Grenadines). Here we met up with our
other cruising friends, Brits, Ian & Jackie (s/y Blackthorn Lady) and Bruce &
Connie from s/y Gitanos who'd hitched a ride with them.

After some sightseeing ashore and a trade in with 'Jaunty' from Happy
Island.....(wine exchanged for a Barracuda and a small Tuna!) we made our way
up to the Tobago Cays together. We did some snorkelling there and we
had an encounter with a Turtle and a Spotted Eagle Ray (See youtube clip).

Susie and I left early the following morning and sailed the 18 miles north
to our favourite place.......Mustique.
For those of you that didn't know, the couple whom Ross and myself gave a
tow to when they broke down between Montserrat and Antigua....remember?
Bruce and Connie, s/y Gitanos...well, it turned out that he is a practicing
Minister! and, with Susie and I having planned to get spliced in Mustique
during our stay there, he very kindly offered to officiate for us! how cool is
that?. So, together with great friends with whom we've met along the way
we arranged to meet up when the time came.....Valentines Day to be exact
(I'll hopefully remember our anniversary this way!).

And so it was that we did the deed, on Lagoon Beach, a most incredible
location as all agreed (even a turtle made a few appearances right behind us
during the ceremony!) Bruce did us proud, Connie took fantastic photo's,
and my dear friend Randy agreed to be my Best Man.

After the beach ceremony we enjoyed a food & drinks party aboard Randy &
Janet's beautiful Catamaran Lipari, 'dressed overall' with flags, bunting
& balloons.....we had a fab time.

When we eventually returned to our room at Firefly we were amazed to find
that the maids had sprinkled brightly coloured flower petals up the steps
interspersed with candles.On our bed, towels had been cleverly shaped into
a heart with our names spelt in Bougainvillea flowers....more candles around
the room also.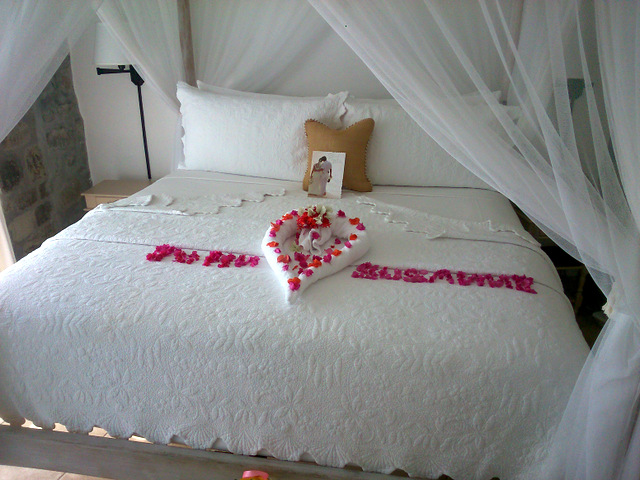 On the fourth day we tore ourselves away from Mustique and made the short
passage across to beautiful Bequia, spent a few days there then up to
Walilabou Bay St.Vincent, Soufriere (the Pitons) St.Lucia and as I write
we are back in Rodney Bay at the north end of St.Lucia and although Ian &
Jackie and Bruce & Connie returned to Grenada we're still accompanied by
Randy & Janet from Lipari.
So, we're making our way back north through the Leeward Islands....
Martinique Dominica, Guadeloupe, Antigua etc. We're looking forward to
meeting up with many friends from last season as well as catching up with
Mark & Suzy Hicks who are now in Martinique.
That's all for now,
John & Susie Blair!
---