Now in Antigua!!!

Chelone's travels.....
John and Susie Blair.
Sat 14 Dec 2013 14:50
N17:17.55 W62:43.70
The last time I wrote here we were about to re-enter Simpson Bay Lagoon,
well we did so and this time made our way straight across through the
brand new Causeway Bridge and over to the French side dropping the
hook amongst familiar friends (arriving at the same time).

It was great to see familiar boats 'Hoof beats', 'Allegro' and 'Farhaven'
again and we didn't waste time meeting up for a chat. Anchored off Witches
Tit had it's advantages, Shrimpy's daily VHF Net was clearer as we were now
closer and Time Out Boatyard was also nearby compared to our previous
spot on the Dutch side though we no longer had wi-fi onboard and 'Happy
Hour' at the Yacht Club was a bit of a trek too.

On Saturday morning there was a Boat Jumble at Time Out Boatyard and just
like last time I found myself rummaging through the mass of unwanted or
unloved boat stuff with a terrible hangover! Ross and myself having only
left Hoof Beats a few hours earlier after enjoying Tony and Sharon's
hospitality.
We had planned to leave after the Jumble but the wind had piped up and we
planned other meetings with friends so decided to extend our stay for now.
Gusts to near fifty knots blasted through the anchorage at night which had
some drag their anchors and for all of us it meant broken sleep as our boats
veered and careened though our oversize rubber snubber kept our chain rode
quiet at least.
On Sunday we saw that Windguru forecast winds north of east for Monday then
going easterly for the rest of the week so we decided we'd better leave for
St.Barth on Monday morning otherwise we'd be staying for at least another
week so we prepared Chelone for a rough passage and had an early night.
Onward to St.Kitts would be alright in an easterly and beyond that we'd have
to see what the forecast brings.

Our friends were surprised to see us leaving so soon but I've no doubt
they're only too aware how one's plans change with the wind....literally! We
said our goodbye's and slipped back out through the morning bridge, down the
lee side of Saint Martins and into the boiling seas between the islands, the
wind gusting well over thirty knots with accompanying squalls.

Safely anchored off Gustavia we ventured ashore for Customs check in and a
well earned bottle of Carib and wander around town.
The following day brought the predicted shift in the wind and though it
confirmed that Statia Island would be off the visit list it promised a great
sail 30 miles across to St.Kitts on a close reach with a brisk 25knt
wind....let's go!

With just the one reef in the mains'l and 30 percent Genoa we screamed
across towards the volcanic peaks of Kitts. Apart from the now obligatory
Barracuda (caught and released) there were little distractions, one or two
large sailboats and an inter-island ferry was all we saw. Soon we were
sailing down this unfamiliar coast with it's green and fertile fields dotted
with Sugar Mill chimneys beneath the slopes leading into the cloud covered
volcanic peaks, it reminded me of my landfall in the Azores a few years
back.

Now in the lee and with a calm sea I started preparing dinner, Mincemeat
with tinned tomatoes, onion, carrots, mash potato with cabbage and gravy.
We anchored next to a handful of other cruising yachts off the capital Basse
Terre and as it was near to Customs closing time we'd leave the formalities
for tomorrow and tucked into the meat n'gravy dinner.
I exchanged emails with Susie then we watched the other half of a film we'd
started a few nights back before we turned in for the night.

The morning was wet n' wild to start but thankfully in typical Caribbean
style it soon brightened up and we dinghy'd ashore to clear Customs.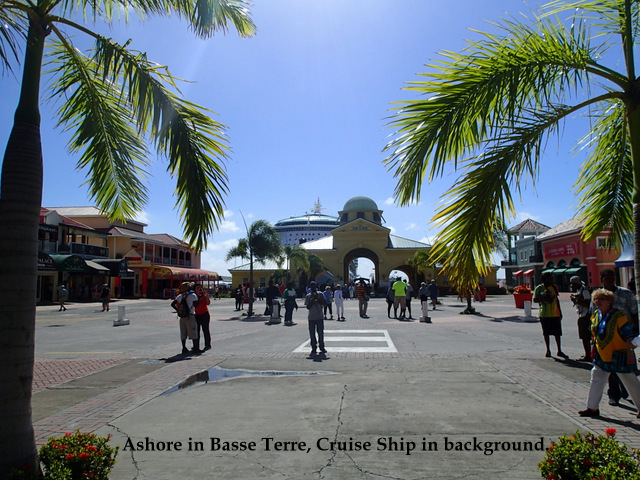 With Customs formalities were squared away we ventured through the
awful cruise liner tack shops, diamond vendors, taxi hawks and a few
men with little Marmoset Monkeys (some in nappies) and into the town
centre proper. Here we were disappointed to find that the fare for the old train
that runs around most of St.Kitts' coast is a hundred dollars each!
then you have the added expense of bussing it back from wherever so
we looked for a plan B.
We boarded a local minibus and were soon heading out into the scenic
countryside....no guide to explain local history or sights of interest but
hey-ho we were sightseeing anyhow and both agreed that we'd done well
to be getting around at all as by now we'd seen the forecast and knew
we'd not have another day here.
We were travelling in an anti clockwise direction which meant at all times the
dramatically steep 3,750 foot inner mountain range was to our left.
Apparently the upper slopes are covered in rainforest and home to
thousands of African Green Velvet Monkeys, decendents of a few
originally brought over by planters.
To the Carib Indians the island was 'Liamuiga' which translates to
'Fertile Isle'. Columbus came along, stuck his Portuguese flag in the
sand and re-named it after his patron Saint.
Sir Thomas Warner landed here with a group of settlers in 1623
making it the first British Caribbean colony and he was soon joined by
the French who between them massacred the 2000 Caribs apparently
'before they fell out amongst themselves'! Anyhow, after many further
years of fighting, the island, along with Nevis became a British Colony
under the Treaty of Versailles in 1783.
Today of course the islands are independent though like many others
love their British heritage albeit recent, the old plantation houses and
estates have been converted to luxury hotels and restaurants. The
economy is now based mainly on tourism.
So, the bus dropped us off on the other side of the island and we took a
stroll along the road to a town called 'Saddlers' where we immediately
caught a connecting bus that took us around the remainder of the coast
road back to Basse Terre...the whole circuit must've been around 25
miles to my calculations and the bus ride cost us three quid each all in.
We did another wander and a brief wi-fi fix was washed down with
a bottle of Carib (60p) but as the whole area was awash with Cruise
ship tourists we elected to return to our little ship for some dinner and
plan the next move.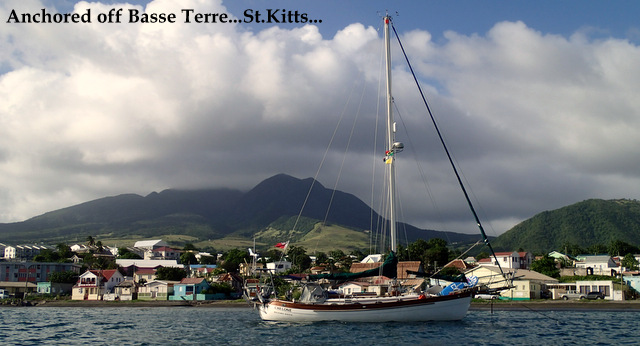 Windguru (Internet wind and wave forecasters) warned of very strong
winds for the coming weekend so if we don't move we'll be stuck here
possibly for weeks as the 'Christmas winds' have arrived and are likely
to remain for some time. Ross winched the anchor up and we headed
across the bay nearer the southern extremity and re-anchored ready for
an early morning departure through the gap between here and Nevis....
a torturous passage full of dangerous shoals and reefs, lovely!
So the following morning we shaped our course towards Montserrat,
straight to Antigua would've been nice but the wind direction wouldn't
allow for that (we could beat and tack but I'm thinking it'd be nice to
spend Xmas on terra firma!). With sails reefed down accordingly we
rounded the corner and met the full brunt of the near gale blowing
through 'The Narrows'. By some quirk of radio weirdness I somehow
connected to a wi-fi signal...from 'Oualie Beach Resort' on Nevis
over two and a half miles away!! Well, no complaints! I quickly emailed
Susie and checked the latest Windguru report.....Awesome!
So, fast forward twelve hours and we rock up in Montserrat after a
long hard slog close hauled in strong winds and big seas though we did
get to see the little uninhabited Island of Redonda at close quarters and
even managed to land a big fat Yellowfin Tuna while passing on her
calmer lee side so that was dinner sorted!
Once anchored (at sunset) a neighbouring cruiser came over for a chat
as I was filleting the fish. Realising there was enough on one side to
feed Ross and myself twice over I gave this guy the fillets off the other
side for which his wife, oddly named 'Sandwich' thanked us the
following morning (just before she gave a demonstration on how not to
launch a dinghy into a swell by upturning it followed by a brief dip!).
So more Customs clearing (I'm now running out of space in my
Passport for Immigration stamps!) and I met a fellow cruiser who
looked totally shattered, I asked if he'd just arrived and he told me
that he'd come in last night having found the conditions very difficult,
had torn his Mainsail and his engine quit! unable to sail he put out a
distress call (which Ross and I didn't hear as we were long asleep
by then).
An Oil Tanker responded and came back five miles from their course
to Philipsburg (St.Barth) and took him in tow five miles into Montserrat.
Blimey, what a night he'd had! anyhow, he told me that despite changing
filters and having had an engineer out to the boat already this morning he
couldn't get the engine to run and this being Montserrat there were few
other options and his wife was very upset.
As if that wasn't bad enough the Port Authority advised him that he
couldn't stay where he was and so the local Police boat was going to
tow him to a different spot. Well, the other thing is, there's a gale
heading our way and although today it's still blowing over twenty knots,
tomorrow, and the foreseeable future, will be a no-go zone....they could
be stuck here for weeks! Anyway we offered to take a look and after
a brief assessment and with his wife's help Ross began sewing their mainsail
while I took a look at their engine, a trusty old favourite, the Perkins
4108.
I'll spare you the boring details but I found a fault with the fuel pump
and so by-passed it, the others had done a sterling job on the sail.
With spirits raised somewhat we motor sailed out of the anchorage
and laid a course for Jolly Harbour, Antigua, 25 miles (4 hours) to the
north east.
Well all was going well and we were over half way when we got a call
from Bruce saying the engine had stopped and the starter motor
wouldn't crank it over! what now?!!! We offered to take them in tow but
with the conditions the way they were (20-25knts wind/big seas/dark)
Bruce said he'd put out a distress call and try to raise ABSAR (Antigua
Barbuda Search And Rescue).
Ten miles west off Antigua and several calls later we heard no response
so half an hour later and after five attempts to throw a line across we had
them in tow with Chelone's engine purring as we climbed over the
breaking seas, our bow pointing at Jolly though only making 2knots
headway we'd be another five hours at least but that was better than
them sailing back to Montserrat.
So as I write, I'm clinging to the chart table as we bounce around, good
job we had a good meal (the remaining Tuna with mash and garlic &
lemon mayo) and it's gonna be a long night (see what your missing
Ieuan....bloody Phuket, doh!).
All the Best for now, JB & R.
---