Into the New Year...

Chelone's travels.....
John and Susie Blair.
Sat 11 Jan 2014 18:25
Time's flying huh? Happy 80th for Mum last Tuesday! (7th), I was shocked
to see the pictures online of the damage caused around the Pembrokeshire
coast by the recent gales, Newgale, Amroth, Haverfordwest. I saw one of
Gareth Davies' pics that showed Harbour Beach Tenby...Summertime looked
like she was nearly afloat!

As some of you may know, as a surprise, I made a brief visit back to
Blighty arriving on Xmas Eve to perform some carol singing on Susie's
doorstep!
Somehow avoiding having a bucket of water tipped on my head what followed
was a great Christmas week spent with loved ones...it was most enjoyable.

Back in Jolly Harbour Marina we made the most of having a berth alongside
for a week or so with visits to the nearby beach and a choice of live music
every night in the various bars and restaurants.

A couple of days ago we decided to make a move and headed down the coast
to Falmouth Harbour, a familiar place to us and home to the Antigua Racing
Weeks which will be hosted again in April. Susie was my guest at the evening
'Tot' in the Life Bar and we enjoyed the rest of the evening socialising
with other members before turning in for an early night ready to sail onward to
Guadeloupe in the morning.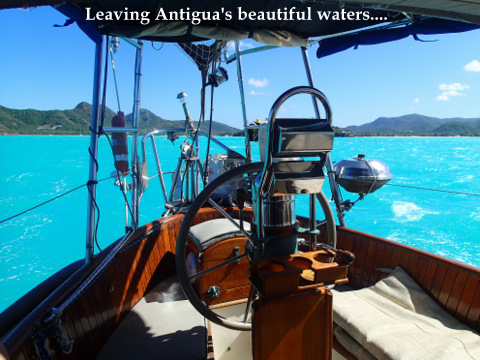 The forecast was for a fairly fresh breeze....25knts so we put a reef in
Chelone's mainsail and just a quarter of her genoa (Headsail) rolled out. Susie
needed no instruction in helping me and remembered all of what she'd learnt last
season which was very impressive. I've a new dinghy this season, bigger and much
faster than the Avon which I sold for a good price for in St.Martin, we winched it on
deck with a halyard and lashed it down ready for a bumpy trip.

We arrived in Deshaies (pronounced Dayhay) late afternoon after making the
43 mile crossing in excellent time considering the big seas and near gale force
gusts. I went ashore in the dinghy and cleared in with Customs while Susie prepared
us a lovely dinner after which we enjoyed a beautiful sunset with a cocktail.
In the morning we went ashore and had a foray through the little town, of
course it's very French and completely French speaking with the Euro as
currency....they won't accept the Eastern Caribbean Dollar at all but we had enough
Euros a yummy breakfast of quiche followed by a fabulous Patisserie and the
obligatory baguette.
Once back aboard we wasted no time in upping the anchor
and continuing down the lee side of Guadeloupe. No fishing line deployed due
to the profusion of fish trap floats which was a shame but the coastline here
is a sight to behold with high mountain peaks adorned in rainforest which covers
the land right down to the sea. Small harbours, occasional dive boats, many
yachts passing north and south then up ahead we can make out islands off the south
of Guadeloupe and our next destination....Iles Des Saintes.

As we cleared Guadeloupe's last headland we entered a boiling sea of white
horses and big waves with a constant 30knt wind. It's only eight miles through the
pass so only about ninety minutes and we're into the lee of a little island called
Ile a Cabrit which looked so inviting we decided to stop and take a mooring.

The following morning we dinghied ashore and had a hike up through the wooded
slopes to the top of the island where a great view was had of the surrounding islands
and passing boats of all kind.
We were greeted by goats at the summit...
Also at the top of the hill were Hermit Crabs (Soldier Crabs) in abundance, not in the
slightest bit shy they'll happily crawl about on your hand. They habitually gather
together (called a 'Bungalow') then make load squeaking sounds!
After that we made our way the mile or so to the
anchorage off the main Island Terre D'en Haut which we know well and is one of our
favourite islands in the Caribbean. It's very much like 'Toy Town'! you kind of half
expect a parade of tin soldiers to come around a corner at any moment! a bit like
Portmerion or the like. We had delicious Panini's just off the square and watched
the locals and tourists buzz about on scooters weaving through the pedestrians.
We did the internet thing, checked the weather etc then chose a delightful
restaurant in which to have dinner later. Last time we were here we explored every
corner on scooter, visited the really good museum at Fort Napoleon atop the hill
overlooking he harbour so we just relaxed and walked around the alleyways taking in the
sights.
We've had messages from Bruce and Connie (who Ross and I towed back from
Montserrat). They're at Portsmouth, Dominica, the next island south. They
said that there's a big beach party with BBQ tomorrow evening so we've decided to sail
down there tomorrow.
So today we're gonna chill out, snorkel and sunbathe. Some friends called
over to the boat this morning and have invited us to join them and others for
sundowners ashore later this afternoon. We'll catch up with the blog again in a week or
so.
Bye for now, John & Susie xx
PS Here's a fish I caught just before Christmas off west Antigua....Great eating!
PPS. I've been exchanging emails with Mark & Suzie Hicks, they're only a day away from
their Barbados landfall!!. What an awesome achievement to have sailed from Tenby in
the boat they built themselves from scratch....Hats off to them.
They've battled through big seas all the way from the Canary Islands with winds
seldom below 25knts....we're very much looking forward to meeting up with
them down island somewhere soon!

---