After Bequia....beautiful Grenada....

Chelone's travels.....
John and Susie Blair.
Tue 11 Feb 2014 23:50
N12:02.53 W61:45.46

After a lovely stop over in Bequia we decided to catch up with our friends
and head south.
Five fish were caught along the way....two new species, a
Crevally (similar to Scad but bigger) and a Spanish Mackerel... and three
Barracuda which were returned to the sea.

We spent a night in Petit St.Vincent where friends Randy & Janet were
waiting for us then continued on to Grenada, 35 miles to the southwest.

After a very pleasant sail we arrived in St.David's Bay, a sleepy place and
home to ' Grenada Marine', one of the boatyards we had considered hauling
Chelone at later in the season. Keen to catch up with other friends we
rounded the next headland into Clarke's Court Bay and were reunited with
Bruce & Connie, Fuego & Sam Wich who'd arrived a few days earlier.

We gathered up and took the local bus into town, a previous record of 19
passengers was slashed when we stopped and three more crammed in!

We took a good look around the capital St.Georges, it's streets bedecked
with bunting as this week marks Grenada's 40th year of independence from
British rule. What a lovely city it is with an interesting harbour and
friendly locals.
Known as the 'Spice Island', Grenada was particularly badly
affected in 2004 when hurricane Ivan wreaked havoc, especially in the
rainforest where 90 percent of the islands Nutmeg trees were destroyed.

We elected to group together for an island tour with local fella 'Cutty'
highly recommended to us as a guide.
We were collected from the nearby boatyard at 09.00hrs and set off up
the west coast while Cutty gave an informative commentary starting
with a detailed account of Grenada's lively history including the coup
in 1979 followed by the Reagan governments 'Rescue mission'
intervention which I can recall happening.
Cutty was extremely knowledgeable and knew exactly where particular
plants were and would stop at the roadside to grab fruit and foliage to
show us.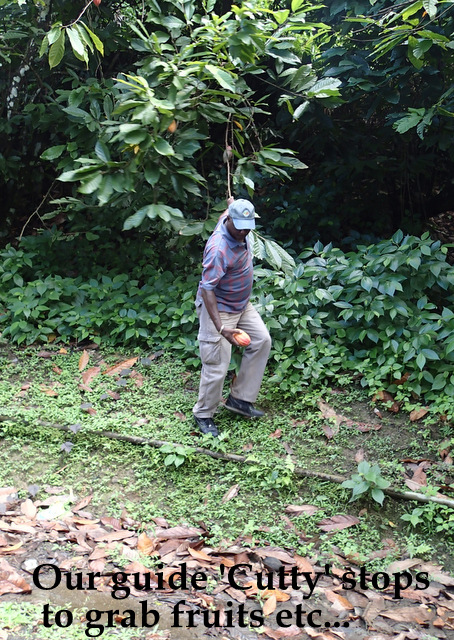 There were Cocoa pods (from which chocolate comes from)
Guava, Nutmeg, Coffee beans, Sorrel, Cherries, Mango, Lemon grass,
Starfruit, Cinnamon, Cloves, Cashew nuts, Ginger root, Pigeon Peas,
plus various seeds used for jewellery etc.

I won't bore you with every detail of the tour, but just say that we had
an awesome time in the company of our friends with our route right
around Grenada, through it's quaint parishes with stops at the Chocolate
factory, Cocoa processing plant and the unforgettable 229 year old
River Antione Rum Distillery, one of a very few in the world still using a
water wheel driven mangle. We took lunch nearby....
Our last stop was at the Annandale Waterfall
which, as it was late afternoon we had it all to ourselves for a refreshing
swim! So all in all we had a thoroughly enjoyable day out together.

On our way up the west side of Grenada towards Cariacou we stopped
off briefly at Dragon Bay for some snorkelling over the Underwater
Statue Park mentioned by other cruisers....check out the pics, it was
quite unusual to say the least!
(For anyone interested, I'll post some more pics separately)

So there you go, we've finally done Grenada! and we could see why
everyone loves it.....it's now our favourite Caribbean island too!

So we're on our way back 'up island' again now, Cariacou and into the
lovely Grenadine Islands....See you soon, J&S xx

---