Island Hopping - now at Oneroa Bay, Waiheke 36:46.65S 175.00.87E

Blue Hound
Phil Marks & Rosy Jensen
Fri 5 Jun 2020 06:35
Island Hopping. Island Dodging

For the last couple of weeks we've been island hopping. From Motiti northwards our anchor has hit the bottom at Great Mercury Island (an overnight leg) then Great Barrier Island, Kawau and now we're in Waiheke – all day sails. The mysterious engine problem persists and the engine has to be bled every time Phil starts it. He's swapped out almost all the possible problem parts but will replace some piping once we get to a chandler.
Great Mercury Island
This is privately owned. Per Wikipedia: 'Great Mercury Island is owned by Michael Fay and David Richwhite, prominent New Zealand businessmen [ed: 'robber barons' to some locals]. The private island, which features two luxurious residences, can be hired for around $20,000 NZD per day. U2's lead singer Bono and guitarist The Edge stayed on the island during U2's Vertigo concerts in Auckland in November 2006. On 30 November 2009, Great Mercury Island hosted the first successful launch of Rocket Lab's suborbital Atea-1 sounding rocket.'
To be fair, they do allow visitors to land and walk the island, but during our visit access was limited to the beaches due to the pandemic. We snuck ashore and got caught!

There was another boat in the anchorage at the time and one evening the crew invited themselves to Blue Hound with gifts of snapper – and what an interesting few beers it proved to be! Roger – a local farmer/businessman – was accompanied by a family friend, Martin from Glasgow, UK. Martin works in pharma and left Wuhan, China (yes, that Wuhan) for a 2 week holiday in New Zealand in January. Still here, still healthy! Phew!
Great Barrier Island
Here we stopped at Tryphena for provisions, then Whangaparapara for fuel and a great meal at the Great Barrier Lodge.  

A beautiful snapper took my bait in Coppermine Bay and a couple of others added to the haul. Then on through Man o'War passage and Governor's Passage to Port Fitzroy for a couple of nights and some stores (and rain).
The island has a fascinating history of logging, whaling and mining and is one of New Zealand's largest islands. It's also one of only ten IDA Dark Sky Sanctuaries in the world. We had a lot of rain and only one clear night, but if you spend as many nights at sea as we do then you will appreciate what most people miss – a clear night sky and the wonder of the infinite ('infinite' depending, of course, on which theory of the universe you subscribe to).

Kawau
25 miles across the Colville Channel we arrived in Bon Accord Bay, Kawau Island on 2nd June to wait out a northerly gale. We dropped the hook in Smelting Bay and saw the ruins of the copper smelter in the rain. Half a mile away was 'Swansea Bay' which brought a smile to Phil's face. There were several 'liveaboard' boats in the bay but apart from that the island was closed for the winter. The shop in the Kawau Boating Club was clearing out stores and we managed to top up with milk and frozen chips (got to keep Phil happy) among other items.
It's strange – the winter weather here is much like an English summer (although the nights are 14 hrs long). I thought that the Kiwis were tough but it seems that most sailors stay at home in the winter!
Then this morning (Friday 5 June) we left for Waiheke, a 25 mile day sail in mixed weather. A nice 55cm kahawai took the bait so it's fish and chips tonight! We're anchored in Oneroa Bay awaiting a front which will change the wind from NW to a very fresh SW and give us some shelter. I'll report on Waiheke in the next post.
Fishing Report
The fishing has really improved since we reached North Island. A picture is worth a thousand words so here goes with a few thousand more:
A Tasty Snapper

My Biggest Kahawai (aka Australian Salmon) so far

No pictures of Phil this week - the only shots I can get are those of his rear end in the engine room. He comes out for food and drink occasionally - oh, and to fix up my fishing tackle and man the landing net.
And now a gentle Port Fitzroy twilight shot to round off this report from the colonies: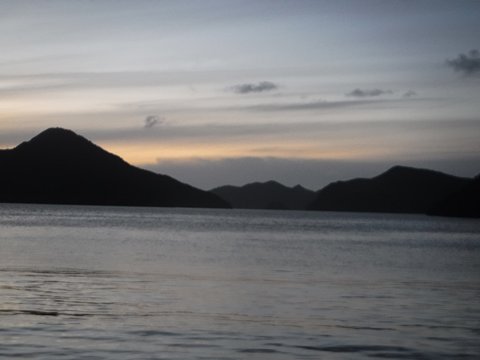 Stay Safe!

---