New Year's Eve from Rose Bay, Sydney Harbour 33:51.9S 151:15.8E

Blue Hound
Phil Marks & Rosy Jensen
Fri 17 Jan 2020 00:29
We're anchored a couple of miles east of Sydney Harbour Bridge, having arrived from Booker Bay on Boxing Day. The fireworks were great but the weather has been very grey and England summer-like, plus a few smokey days. Today (Jan17th) , at last, there is heavy rain to quench the fires and water the crops and cattle. Hopefully the long drought is now at an end - the so-called 'Indian Ocean Dipole' (similar to El Nino in the Pacific) having gone neutral last week.
The last few evenings at dusk we've watched large numbers of grey-headed flying foxes (the world's largest bats) fly over us, heading north, for supper presumably.
Here are some NYE fireworks pics - quality not brilliant as we were on the boat, wind was 20 kts and lots of boats' wakes rolling us.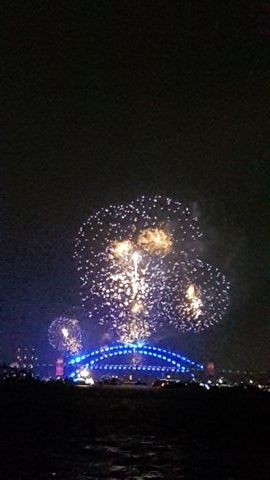 That's all folks!

---