Update from Booker Bay, 33:30.57S 151:20.87E

Blue Hound
Phil Marks & Rosy Jensen
Wed 18 Dec 2019 08:22
After a few weeks back in the UK for a family wedding, along with an enjoyable catch up with family and friends we were back on board in Bundaberg mid November.
Little wind helped us on our journey south, and much of the passage making was under engine. Through the passage west of Fraser Island, anchoring overnight – Woody Island, Garry's Anchorage, Tin CanBay, Inskip Point. We landed on the island but were slightly perturbed by the croc warning! On out into the open sea the East Australian helped us on our way.
We stopped in Mooloolaba, plush houses on the water's edge, in contrast with another stop south of Bum's Bay in Surfer's Paradise (Gold Coast), high rise life and 4 tourist helicopters on the go all day, plus dozens of jet skis. Onward then for a stop near Byron Head then on to Ballina. At Trial Bay we waited out a wind change then on to Port Stephens – Nelson Bay was a regular Oz town.
The fires are still raging in NSW. Many days have been overcast due to the smoke, and we've had plenty of fallen ash on deck.
Now in Booker Bay, (Inlet of Broken Bay) waiting for Anna to join us for Christmas where we have rented a small waterfront apartment. Interesting narrow and shallow entrance with strong cross currents to get here, needed all the helmsman's skills to get us here, especially as we met a superyacht at the 180 degree turn!
FRASER ISLAND FIRE

SIGN AT GARRY'S ANCHORAGE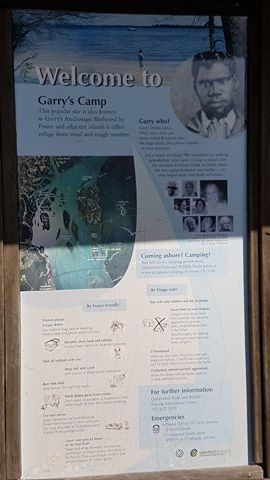 MOOLOOLABAH

SURFERS PARADISE, GOLD COAST & 25TH FLOOR FRIENDS

Hardy's Bay, inside Broken Bay, 1/2 ml from our Christmas mooring at Booker Bay.
The weather this year is atypical with many fronts coming through swinging the wind from NE to S and back, but we're expecting 37 deg C tomorrow. Merry Christmas one and all!

---