THE SOCIETY ISLANDS - PART 1

Snow Leopard
Fri 27 Aug 2010 00:04
The Society Islands
Part 1
Tahiti
After an uneventful overnight sail we were greeted by a dawn sighting of Tahiti.
Ah, Tahiti – so exotic, so evocative of the South Pacific. The making, undoing and probably eating of Captain Cook!
We took a mooring at the Tahiti Yacht Club at Arue, about 2 miles to the east of the capital Papeete. Arue was pleasant – a nice bar and restaurant and a wonderful Carrefour supermarket just five minutes walk away. After a couple of months being able to buy only the most basic of foodstuffs you would not believe the delight of a well-stocked supermarket, with fresh vegetables, something we has hardly seen for the last few weeks. The downside was dual carriageways and traffic – lots of it. That was quite a shock to the system as well.
We went into Papeete next day to check in with the local authorities and to have a look around. Papeete is a big (for this part of the world) city with over 120,000 inhabitants. It is noisy, scruffy, dirty and pretty uninteresting, apart from a wonderful covered market selling everything from fish, fruit and veg, clothing and tourist tat.
We checked in, visited the local chandlery for a couple of bits, replenished a gas bottle and did the odd bits of shopping that could not be done at Carrefour. We took a stroll along the waterfront. This was where most of the visiting yachts would moor stern-to the quay Mediterranean style, except there was hardly anyone there! The local authorities had decided to tidy up the waterfront and had spent a lot of money on new quayside facilities, such as power and water. Unfortunately they then decided to charge such an exorbitant rate to moor up that nobody goes there any more, and the vast majority of visiting yacht now anchor – free – a few miles down the coast. So because of municipal greed the money has been wasted, and the once vibrant waterfront is now deserted, with the consequent loss to all the local businesses.
We hired a car for the day to drive around Tahiti. All in all it was rather disappointing. The suggested sites of interest (waterfall, blow-hole, botanical garden, grotto were either a let-down or closed. The island felt more like the south of France than South Pacific. The day was redeemed by an excellent lunch in a local restaurant (though expensive, like everything here) and a drive inland through meadows reminiscent to Devon, even down to the red soil.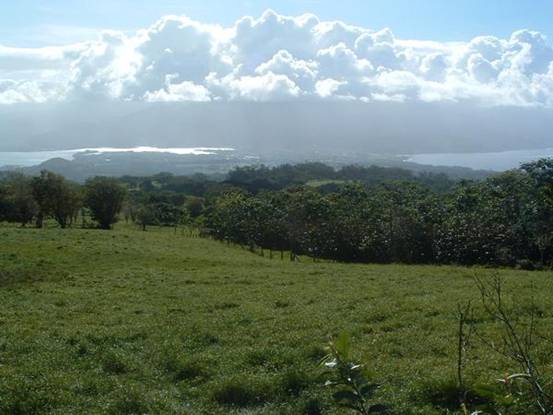 The green rolling hills of…..Tahiti
In all we spent 10 days in Papeete. Having read the above this may surprise you, but a degree of civilisation does have its attractions after the Toamotus, before the short sail (motor actually as it was flat calm) to the neighbouring island of Moorea.
Mo'orea
From Tahiti the incredible peaks of Moorea beckon. This is the island of James Michener's Bali Hai. The two deep bays on the northern shore, Cook's Bay and Oponohu are stunningly beautiful with the backdrop of the jagged volcanic peaks. However they are somewhat oppressive as an anchorage, with the added likelihood of evening bugs, so we chose to anchor behind the reef at the entrance of Opunohu Bay in 4 metres of crystal clear aquamarine. Even the mast casts a shadow of the seabed!
Our introduction to Moorea was slightly soured by the first rude and inconsiderate yachtsman we had met all trip, but that was soon forgotten by the sheer beauty of our surroundings.
The anchorage, Oponuho Bay, Moorea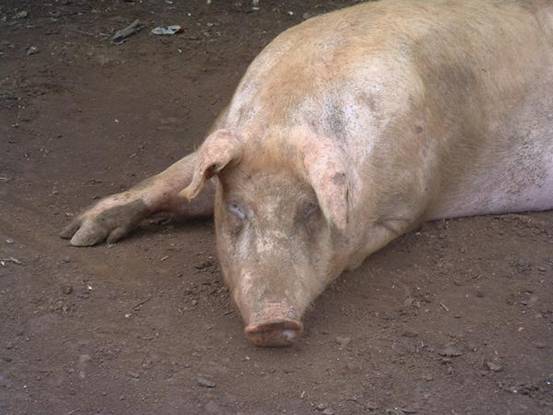 French pig!
The lush interior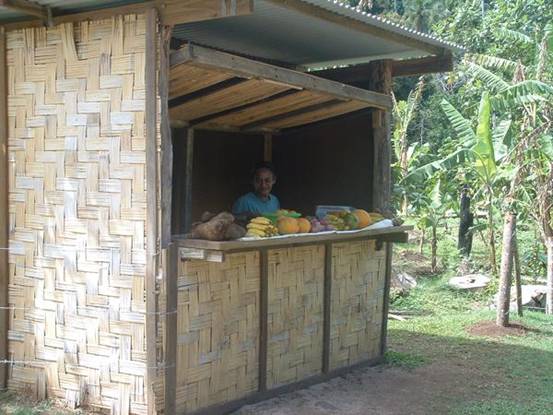 Roadside stalls
Local fruit and veg? Bananas, mangos, papaya, grapefruit and taro
Or local fish – dorade or mahe-mahe as the locals call it
Highlights were a beautiful dinner in the Mayflower restaurant, the best for many months (shrimp dumplings in a ginger sauce, followed by lobster ravioli - it's a tough life!), and a visit to the local agricultural college with a delightful tour through their exotic plantations.
Yes, you're right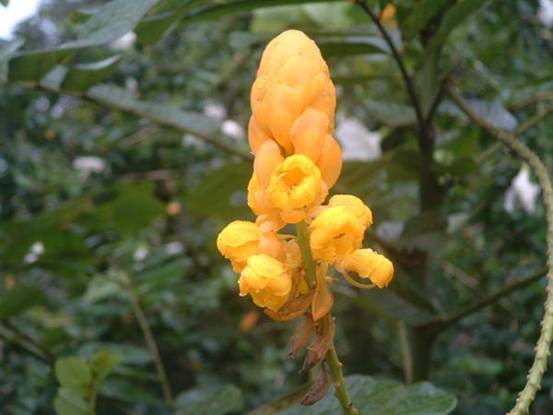 No idea
Avocados
Grapefruit
? – do you know?
Banana
These are an ornamental variety – note mini bananas
One for all you birdwatchers – a finch of some kind – no bird book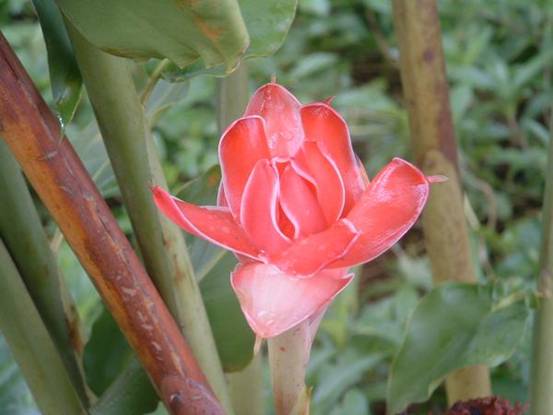 Ginger –apparently
More bananas – proper ones this time
Notwithstanding the above, Moorea was rather beautiful but dull, and after a week we took the 90-mile sail to Huahine. On leaving in very little wind we were a bit concerned that we would not make Huahine in daylight. We hoisted the Code O (large light asymmetric genoa) at 8.30. By 12.30 we took it down again when our boat speed reached 17 or 18 knots. We had made up our time and anchored off the little town of Fare in Huahine by 4pm. We should know by now that speed is something this boat has in abundance, but it never fails to amaze me how easy it is to go fast in 'Snow Leopard'
Huahine
After the dirty bustle of Tahiti and the rather dull, but beautiful Moorea it was nice to be back on an island that felt like Polynesia again. The main village, Fare had a bustle and character to it as the locals went about their daily lives. Gone was the 'big city' atmosphere of Papeete or the sterile tourism of Moorea, Huahine was an island looking after its own, with friendly smiles back on the agenda
The island is in fact two islands, the larger Huahine Nui linked to Huahine Iti, by a small bridge over the dividing waterway. Both islands are surrounded by one continuous reef, with four passes giving access to the mountainous islands inside.
Whilst in Fare we heard that the local dance troupe had been hugely successful at the Tahiti Heiva (festival) held every July and on their return was to put on a special performance for their own islanders. This was programmed for Friday night, but in true Polynesian style, on Friday morning everything was postponed for 24 hours.
We took the opportunity to motor down the channel inside the coral reef to a delightful anchorage at the southern tip of the island, Avea Bay. This should have been a beautiful calm anchorage in the prevailing easterly trade winds, but that night the wind decided to reverse, blowing from the west, setting us up on a lee shore, just a few metres from some rather nasty coral heads. We spent a rather anxious few hours on anchor watch until at about 2 in the morning the wind died down and returned to its normal direction. There was a clear explanation for all this angst and trouble – we had set off on Friday 13th, so it wasn't until the following morning that we were allowed to rest easy. Superstitious – moi?
We return to Fare next day and that evening did watch a tremendous spectacle of traditional dancing and singing. I think the whole island turned out to watch and sometime the audience were as riotous as the performance. No polite applause here as they joined in the dancing and some songs, laughed, shouted and cheered. A good time was had by all.
Fare Ihi no Huahine - the prize-winning dancers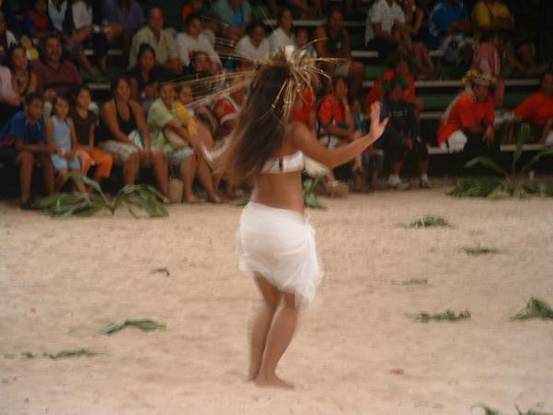 We decided a few days peace and quiet would be in order and once again set off south to Avea Bay. This time no dramas, but, peace, swimming, dinghy exploring and reading were the orders of the day. This may sound somewhat surprising, but we rarely have days with nothing to do, so these came a really pleasant break.
Only one thing more to report from Huahine – sharks. The Pacific seems infested with them and though we are continually assured that they are harmless when you are snorkelling and a five foot shark swims by you do get are certain jolt. What happens if that particular shark is in a bad mood? How do you tell if a shark is in a bad mood? Is he just inquisitive or looking for a snack? I still find it unnerving being in close proximity to sharks in their environment.
Our friends, Chris and Lorraine on 'Gryphon 2' anchored behind the reef in Avea Bay
Raiatea and Tahaa
These two islands, again surrounded by a single coral reef, lie 25 miles to the east of Huahine. We sailed very gently across, dead-running with just the jib and anchored on the edge of the surrounding reef in the lee of Raiatea. Now the weather has changed and we have had a succession of small fronts pass over, bringing squally winds, rain and occasional thunder.
We had a small electrical problem which necessitated getting the batteries fully charged. We managed to persuade the small Apooiti marine to let us squeeze in for one night so that we could use the shore power. It was very strange being able to just step off the boat onto land. It was the first time we had been alongside since Colon in Panama back in April.
With the problem sorted, and a minor fuel leak sorted as well, we headed the 3 miles across the island of Tahaa and to a delightful, calm anchorage at the grandly-named Teravana Yacht Club. Owned by Richard, an American ex-charter skipper, the yacht club consists of a beachside bar and restaurant, and a few well maintained moorings for his customers. What more could you want from a yacht club anyway? So delightful was this spot that a few days rest and relaxation were in order, again. We even had internet access, which is why this section of the blog has been posted.
---