COOK ISLANDS AND NIUE

Snow Leopard
Thu 7 Oct 2010 03:31
Cook Islands and Niue
Aitutaki
Actually we only visited one of the Cook Islands, Aitutaki, the northernmost of the Southern Cook Islands – if that makes sense.
The trip from Tahaa was just less than 500 miles, accomplished in 3 days. The wind initially was from the ESE, allowing us to make good progress, but then backed to easterly so that we had to sail dead downwind, goose-winged – certainly not our fastest point of sailing and with the sails slatting around.
The only entrance through the reef at Aitutaki is very narrow, about 13m wide (and Snow Leopard is nearly 8m wide), and shallow and unmarked! We approached at about 9 a.m., about two hours after high water.
We followed our chart towards the reef edge, but no sign of the passage. Fortunately a yacht anchored in Aitutaki saw us and advised that the entrance through the reef is some 400m north of the charted position. Working along the edge of the reef we saw a small fishing boat come out through the pass and were finally able to identify the entrance. It's one thing to find the entrance and another to get through it. By now the tide was sluicing out through the extremely narrow entrance and it took full power and a lot of adrenalin to kick Snow Leopard through the torrent and into the long, narrow passage. One through the entrance there were some small sticks marking one side of the shallow channel which at times was down to 1.8m depth, giving us about 50cm under the boat.
We made it and joined the three other yachts in the tiny anchorage where you drop a stern anchor then secure the bow to a couple of palm trees using some long ropes.
The anchorage at Aitutaki
Aitutaki harbour
Once finally anchored and secure we were able to go ashore to check in with the authorities and take a look at our new island. It was very different to French Polynesia, obviously much poorer, with none of the infrastructure installed by the French in all their islands, but it had a lovely, tranquil, laid-back character, and the locals spoke English, albeit with a strong New Zealand accent. After four months in French-speaking countries, preceded by three months in Spanish-speaking countries it was very pleasant to be able to conduct all business in English.
Aitutaki is tiny, about 5 miles long, and two wide, surrounded by a very shallow lagoon and reef. We spent three days there, ambling about, re-stocking supplies at the 'Marina Superstore' (a misnomer if ever there was one) and generally catching up on sleep before the next 500-mile leg. Fortunately the monthly supply ship from New Zealand had called just before our arrival for there were some things to buy, but not much. Fresh fruit and vegetables were once again very limited.
We walked across the island and sat and watched a local tennis tournament where, instead of polite applause, every point won or lost was greeted with wails of laughter from the onlookers. It was certainly not Wimbledon, but much more fun.
Aitutaki was hit by a cyclone in February this year and the damage was really extensive. Even now there were many families living in tents alongside the ruins on their property. Aid is still coming in and slowly houses are being rebuilt, but it seems to be a slow, slow process.
We also stopped at a little café and had 'fush and chaps' (the Kiwi-talk for fish and chips). Lovely!
Fish and chips!
The weather forecast was not good with a trough developing in our area and a projection of very light winds, so we decided to get on our way again after just 3 days.
Getting out was only marginally easier than getting in. Even though we left at high water we managed to run aground in the narrow reef passage. Fortunately only gently on sand and we were able to back Snow Leopard off before continuing clear of the reef. Phew!
Niue
OK, be honest – did you know there was a country called Niue? I have to admit I had never heard of it until I started planning the Pacific crossing. Next question – what does the Niuean flag look like? I'll leave that to your research.
The island is the smallest independent nation in the world – not in terms of area; I believe the Vatican City and Monaco are smaller, but in terms of population, with only about 1200 residents. Niue also claims the number 1 spot for political representation with one politician for every 65 citizens. In a recent election they had to draw the winning candidate's name from a hat after both candidates had each polled 8 votes! How about that for democracy?
Niue is also unique geologically, being a raised coral lagoon. It is about 10 miles in diameter and looks like an upturned plate – flat on top and sloping down to the sea on all sides. It is one giant limestone lump, colloquially known as 'The Rock'. Being limestone the island is littered with caves and canyons and as the rain water drains through the rock it is filtered so that the surround waters are so crystal clear you can clearly see the bottom to a depth of 30+ metres.
We arrived on a Sunday, and absolutely nothing happens on a Sunday in Niue except church, eating and sleeping. There is no harbour on Niue, but the local yacht club (more about them later) have installed about 20 yacht moorings in the open roadstead off the main town, Alofi. So we moored up, cleared up after the passage from Aitutaki (again slow with the wind dead aft) and went to sleep.
Next morning we took the dinghy into the small quay. Here was another new experience. As there is invariably a large swell through the anchorage you cannot leave your dinghy alongside the quay wall and it has to be craned out. You have to rig up a couple of lifting strops and then use the derrick to bring the dinghy up onto the quay. It's a bit of a hassle but better than having the dinghy bashing away in the wave surge.
Once Customs, Immigration and the Ministry of Agriculture had been satisfied we wandered up to the Niue Yacht Club ("the biggest little yacht club in the world") to sort out mooring fees etc. There, Jim was incredibly helpful with lots of advice about Niue. He also produces fantastic ice cream!
There ware about 12 yachts moored in the roadstead, of which we knew about half. That evening the yacht Club held a 'sausage sizzle' and it was great to relax over a couple of beers and some real English-style sausages and chat to all the other yacht crews.
Next day we were down to four boats as there was a mass exodus to try to get to Tonga before it closed for the weekend (you can't land until you've been cleared in and that doesn't happen at weekends). We hired a car (driving on the left again after so long) and toured the island, stopping at some of the caves and chasms en route, and swimming in clear, clear pools. There is very little on Niue apart from thick scrub vegetation. The villages looked rather desolate with lots of abandoned or derelict houses. Whether this was due to cyclone damage or just the continuing depopulation of the island we don't know, but it wasn't pretty. The other extraordinary sight whilst driving around Niue was the vast number of roadside graves. We had seen in other Polynesian islands a number of graves in peoples' gardens and the odd grave beside the road, but on Niue they were everywhere. Although there are innumerable churches they do not appear to have consecrated ground or cemeteries and everyone gets buried by the road in little family plots.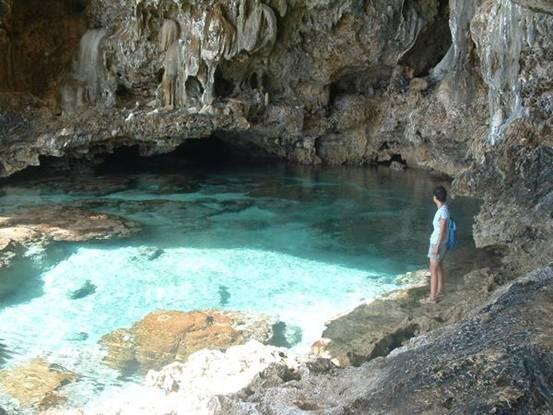 Rock pool and cave, Niue
The Cave Monster – straight out of Harry Potter
Chasm, Niue
Small coconut crab. The big ones can apparently cut through an oil drum with their claws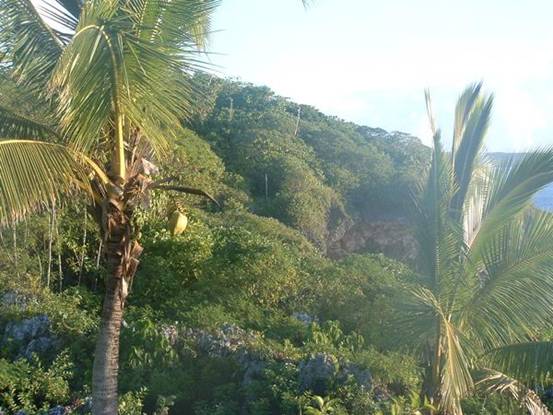 Spot the flag!
Whilst in Niue the weather went nasty. Not wind, but rain – lots of it. Again this was due to a local low pressure area linked to the South Pacific Tropical Convergence Zone. The forecast for the 250-mile trip to Tonga was not great – light winds, dead aft, but with tropical squalls. And that's exactly what we got. We managed to sail half way and motor the rest. With the help of radar we avoided most of the squalls and arrived in Vava'u, Tonga on Sunday afternoon. Time for rest and recuperation.
Passing squall with waterspout
---