CHRISTMAS IN THE SUN? 25 Dec 09 St Barts 17:54.3N 62:51.5W

Snow Leopard
Sat 26 Dec 2009 17:57
Christmas – a strange and expensive day!
Antigua
Having dropped Rob and Claire off to catch their flight home (they were somewhat surprised to land at Gatwick in snow!), we met up with Kerr Whiteford and Chrissie on their new charge, a 68ft Oyster yacht called Black Pearl. I got Kerr his first job skippering a private yacht way back in 1985, and he is still at it! Also in Antigua and from the same era were Chris and Shan Blunt with whom I worked in Turkey and then did my first Atlantic crossing with them in 1986. It was great to meet up with these old friends and to reminisce about old times over an excellent Italian dinner at the Catamaran Club in Falmouth Harbour.
We were going to head off to St. Kitts and Nevis, but a warning of big northerly swell meant that the anchorages of these islands would be very uncomfortable, if not untenable. So, on both Kerr and Chris's advice we changed our plans and on Christmas Eve sailed to Barbuda, a seldom visited island. We anchored inside the reef at Cocoa Point on the extreme southern tip of the island. Apart from one very exclusive hotel, catering for the 'rich and famous' there is nothing there but 11 miles of pristine pink sand beach. It should have been idyllic – but – unusually the wind was from the south, not the usual easterly trade winds, and the sun disappeared behind thick cloud. After a somewhat uncomfortable night we decided at 7 o'clock on Christmas morning to cut our losses and head some 60 miles to St. Barts (well known for it's even richer and more famous clientele, now including Roman Abramhovich who has just bought a 70 acre chunk of the most expensive real estate in the Caribbean).
Angry sunrise over Cocoa Point, Barbuda
The first 40 miles towards St. Barts was a pleasant an uneventful sail, then the wind dropped and we furled the Code 0 (a large downwind sail for the uninitiated) and motored on. We noticed an ominous and ever darkening cloud developing in our way, which soon produced thunder and lighting, whilst continuing to approach us. Suddenly we saw a black line on the water coming towards us and in seconds we were enveloped in a huge squall with 40+ knots of wind and driving rain. Just then the Code 0 decided to unfurl itself and in a desperate attempt to get it down, with Lucy and me both trying to hold on to it the sail, split its seams and ended up a forlorn mess. We finally managed to wrestle it into a bag, but the damage was done. When we get to St. Martin or Tortola we will find out if it is repairable – or not. A very expensive Christmas present which neither of us wanted...
The squall passed and we anchored in the bay outside Gustavia, the port of St. Barts., amidst a large number of huge superyachts. In the bizarre weather conditions the wind was now from the west and we were part of an extraordinary scene where all the boats were anchored facing the open ocean! Still we were safely anchored and while the monohulls around us rolled wildly on the incoming swell Snow Leopard sat comfortably and we cooked an excellent spaghetti Bolognese for Christmas dinner!
Boxing Day, and we went ashore to check in with the port authorities (all done on a computer now in these French territories) then took a coffee and croissant in one of the dockside cafes. We were soon joined by some of the 'rich and famous' (presumably not those with their own superyachts in the bay), then a nice, expensive shop in an excellent supermarket before lunch aboard. All morning there has been a succession of air taxis and private planes flying into St. Barts. We had heard the Roman Abramhovich was throwing a huge party and we reckoned that these were his guests arriving, along with the owners/charterers of all these superyachts. Realising that Roman would probably enjoy chatting to a couple of died-in-the-wool Chelsea supporters rather than all those chi-chi celebrities (especially after today's miserable 0-0 draw with Birmingham City) we hoisted the Chelsea flag in expectation that his spies would soon spot it and send a fast boat over with our party invites. Well it's been a couple of hours now, while I've been writing this blog and still no invite! Come on Roman, we'll keep the blue flag flying high, together.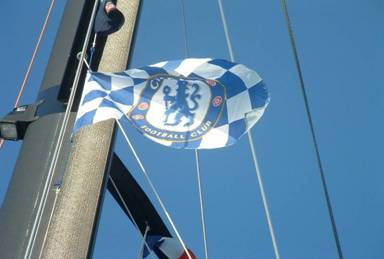 We'll keep the blue flag flying high!
Some of Roman's friends
---