CHRISTMAS IN THE SUN 13:07.54N 61:11.62W

Snow Leopard
Sat 28 Feb 2009 13:01
Christmas in the sun
The first month in the Caribbean
After all the hullabaloo of arriving in St. Lucia, the parties, the people, the sun; our friends and crew flew back to their families before Christmas and we moved out of lagoon marina to the anchorage off Pigeon Island in Rodney Bay. It was much quieter and cooler out there and we could swim off the boat in clear blue water whenever we wanted. We took the long dinghy ride back to the marina once a day to buy provisions and deal with anything else that couldn't be done from the boat.
We had decided to go south to spend Christmas in Bequia and talking to others it was obviously a popular choice. A few days before Christmas we sailed down to the anchorage between the two amazing Piton mountains down the St. Lucian coast. There are only a few moorings available (anchoring is not allowed as it is a National Park) and as we approached there appeared to be only one left. We were met by a local boat boy, Clitus, in his outboard-driven pirogue and when we said where we wanted to go he sped off to hold the mooring for us and fend off any other yachts that may have had their eye on the buoy.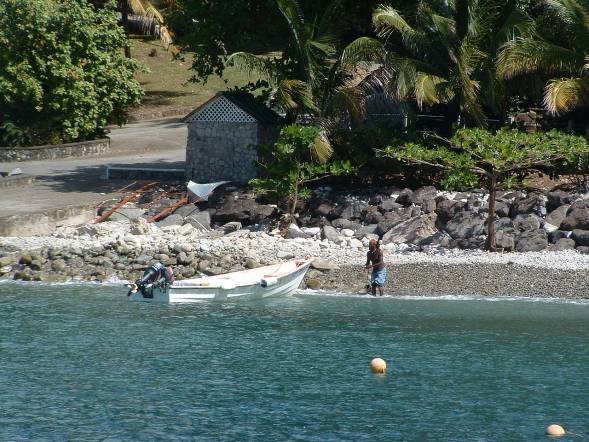 Clitus and his pirogue
Having moored up and sorted out the boat Cletus came over and asked if we wanted to go for a tour around the Pitons. We said we would like to see the thermal springs and waterfalls and he said a taxi would be waiting for us at 4 o'clock. However, a few minutes before four Cletus turned up and said there was a change of plans. So we jumped in his boat for a fast ride to the town of Soufriere where Cletus arranged for a taxi to take us up to the volcano. Through the town and up the hills we proceeded towards a growing smell of sulphur and to the hot thermal springs and bubbling mud. From there we went to some beautiful waterfalls where the water was hot and the locals use the pools to bathe. Back at Soufriere a friend of Clitus took us to a little mid-town bar where we got chatting to a chap from Elephant & Castle!
Petit Piton Grand Piton
Sailing away from the Pitons
Hoy, sulphurous, volcanic springs
After several calm days the sail from St. Lucia direct to Bequia was a boisterous affair, covering the 60 miles in just over 5 hours. Knowing the main anchorage in Bequia, Admiralty Bay, was going to be very crowded we went instead to Friendship Bay on the south coast. Here there were only 4 boats, which was just fine until we realised that the boisterous 'Christmas winds' were coming over the top of the hill and producing local squalls sending the anchored boats spinning in all directions!
We spent 4 quiet days in Friendship Bay. We wandered over to admiralty bay a couple of times and spent a few happy evenings at the bar in the one hotel in Friendship Bay. The hotel is Swedish owned and most of the guests were Swedish. We made friends with one particular man, Per Morburg only to find out that he is, apparently a famous TV personality in Sweden – the Swedish equivalent of Jamie Oliver! Come to think of it, wasn't there a character in the Muppet Show called Swedish Chef?.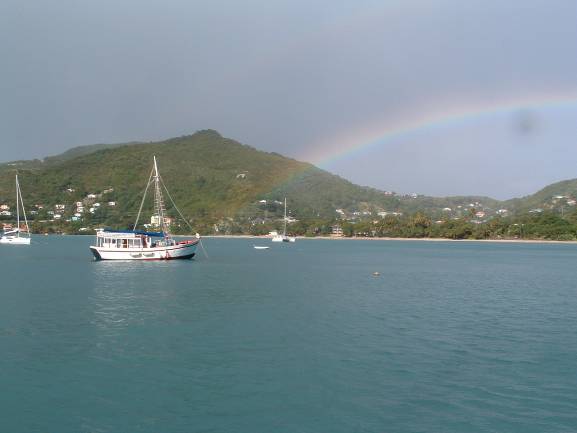 Friendship Bay, Bequia
'Christmas winds' outside Friendship Bay
After Christmas we made our way back north to St. Vincent and took a mooring in Blue Lagoon. It was blowing 'old boots' and the crossing between Bequia and St. Vincent was very rough with far larger seas than we had experienced anytime on the Atlantic crossing.
St. Vincent does not get a great number of tourists – there is nowhere flat enough to build big hotels and there are only black sand beaches, but we like it because it is very much the Caribbean of 20 years ago. It has a bit of a reputation for mischief, but we have never had any trouble there and once again enjoyed our stay. The high spot was a visit to the Montreal Gardens in the Mesopotamia valley in the centre of the island. These gardens have been laid out and tended by Tim Vaughan, an English landscape gardener who resides half the year in France and half in St. Vincent. The magnificent gardens are located high up un the hills just below the rain forest. The location and the wonderful flora make for an idyllic visit.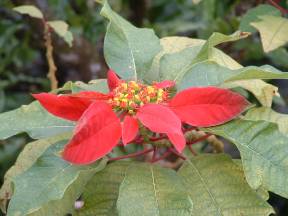 St. Vincent does not always get the best of press and there have been a few incidents with boats in bays on the west coast over the years, but that should not deter visitors. The island is incredibly hilly. Some wit once said that is St. Vincent were rolled flat it would be as large as Australia. As it is so hilly and also because it has no white sand beaches, main stream tourism has by-passed the island. St. Vincent therefore remains much more like the Caribbean of 20 years ago and none the worse for that. The people are friendly and go about their daily business without hassling you. Kingstown, the capital, has a wonderful market and taking a ride on the local buses is an experience not to be missed.
We stayed a few days in Blue Lagoon, whilst the winds continued to blow hard and then made our way (still windy!) back up to St. Lucia and to Rodney Bay for the New Year celebrations. We met up with Lawrence from 'Papillon' for and excellent dinner ate very nice restaurant (Lawrence has checked out all the best restaurants on St. Lucia), then sat on the deck watching all the fireworks from all the hotels whilst drinking some form of rum nightcap! This incidentally was the 3rd time I had seen in the New Year in Rodney Bay – just coincidence!
---