FRENCH POLYNESIA - THE MARQUESAS

Snow Leopard
Sun 11 Jul 2010 03:02
French Polynesia, the Marquesas
Hiva Oa
First priorities:- check in with the local authorities, and buy some provisions.
You can tell we are back in French territory when the entry formalities are so laid back, particularly for EU citizens. Just go to the local gendarmerie, fill in a simple form and that's it. No entry fees, no custom dues, no inspection by a variety of officials, no need to tell the authorities every time you want to move on. Oh how different from the Spanish-speaking countries with their love of pointless bureaucracy. Other nationalities have to put up a bond equivalent to the cost of an air fare home, but we can pretty much come and go as we please.
Atuona, the main town on Hiva Oa and the administrative centre for the southern Marquesas, is a sleepy little place with a few shops, bank and post-office. The only draw back is that everything is very expensive. We have got used to Panama and Ecuador prices. One beer here costs the same as 6 in the shops in Panama.
The only other thing of note in Atuona is the Paul Gauguin Centre. Gauguin finally settled in Hiva Oa, produced much of his 'Polynesian' work here and died and is buried here. Also buried here is the singer, Jacques Brel (can you name ten famous Belgians? – he's one, to give you a start).
We met up with a number of boats that we know from Panama and the Galapagos so there was a fair degree if inter-boat socialising – but with Panamanian beer! Most had decent crossings with one or two gear failures – broken forestay, lost propeller, split sails – but everyone was OK.
We decided to hire a car and see a bit of the island, in conjunction with Chris and Lorraine on 'Gryphon2', from Suffolk. We were given a big 4-door pick-up truck, with (an absolute necessity here) 4-wheel drive. There are only a couple of roads on the island and soon after leaving Atuona they turn into dirt tracks. The drive over the top of the island to Paumau is an experience! On the north coast the road hugs the cliff face, making for a few buttock-clenching moments, where the driver definitely decided to concentrate on the road rather than look at the view. We called in at a local farm to buy some fruit. The grapefruits here are the size of footballs (I knew I could get that game into the text somehow), and deliciously sweet. They also dried and smoked bananas which are sold as a local sweet. Otherwise we just picked up as many mangos, papaya, lemon and limes from the roadside as we wanted.
We stopped for a drink in the café in Paumau, run by the lady who looks after the nearby iipona archaeological site. She gave directions and off we went again to discover one of the best preserved archaeological sites in French Polynesia, set in wonderful lush vegetation. Here on the stone platforms are a number of carved stone figures, Tikis. First there was the reclining Tiki Maki Taua Pepe, representing a woman lying on her stomach, probably in the act of giving birth. Then one comes to Tiki Takaii, the largest Tiki in French Polynesia, representing, it is thought, a warrior chief renowned for his strength. Several other Tiki, sitting or standing are placed around this fascinating place. It certainly has a special aura (or mana as they say around here).
This Tiki apparently represents a woman giving birth. Is she smiling or grimacing?
The largest Tiki in French Polynesia
We drove back across the island and down to the exquisite village of Hanaiapa. So peaceful, beautiful, clean and tidy that you dream of such a south-sea paradise.
That evening the four of us decided to splash out on an excellent dinner in a beautiful hotel overlooking the anchorage, served by delightful Polynesian girls; a fitting finale to a great day.
Fatu Hiva
Next day we sailed the 46 miles south to Fatu Hiva, the most isolated of the Marquesas.
We anchored in the extraordinary Baie des Vierges (Bay of Virgins) The wind has eroded the surrounding cliffs into giant columns. The Bay was originally, and appropriately known as Baie des Verges (Bay of Penises – if your French wasn't up to the translation), but when the missionaries arrived they were so shocked by the name that they added the 'i' to change the name to something more acceptable.
Baie des Vierges, Fatu Hiva
You make you own mind up as to what these eroded columns look like
Or?
The net result is another pregnant Tiki!
We took a walk to a local waterfall, managing to get lost in the forest before finding the right track, and watched the whole village practising their traditional dance routines to be ready for the July 14th festivities. It is somewhat bizarre that these Pacific islanders should celebrate Bastille Day with so much fervour, but any excuse for a party.
The next day Fatu Hiva was buzzing. The local supply vessel, 'Aranui 3' was arriving. She calls about every three weeks with everything the island needs that doesn't grow on trees. It is a strange vessel, part freighter and part cruise ship, accommodating up to 150 passengers. So not only do the islanders get fresh supplies, but they also have an opportunity to sell the passengers all sorts of local handicrafts, particularly some wonderful wood carving and jewellery. They also laid on a welcome dance, much as we seen at the practice, but now in traditional costume. It is quite extraordinary how the Polynesian women wiggle their hips so fast, especially as some of the hips are very large!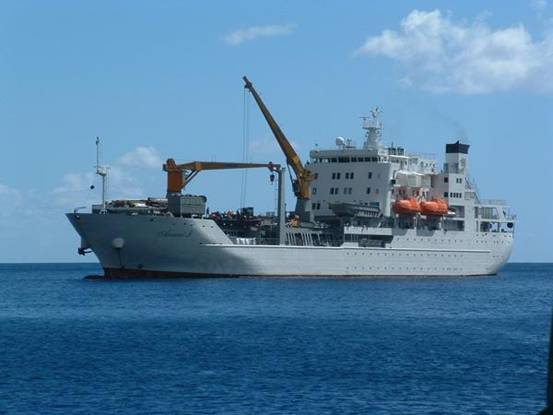 The 'Arunui 3', local supply vessel and cruise ship
Our final evening in Fatu Hiva was spent in company with Chantelle, Freddy and Didier from Switzerland, Michel and Jean-Francoise from France, Carmen from Spain and Chris and Lorraine from England (what an international gathering!) at a Marquesan dinner at a local house. The menu included raw fish in coconut juice, crab pasta, grilled fish, roast chicken and bananas in coconut milk – delicious!
Talking of food, one of our friends e-mailed and said it would be nice if Lucy could give a female perspective to the blog. Sorry, but she's far too busy cooking, washing and cleaning for that.
After the 'excitement' of Fatu Hiva we sailed to the neighbouring island of Tahuata, to the beautiful deserted bay of Hamaneonoa. Here there really is nothing to do except swim, laze, swim and laze again. So lazy in fact that we never lowered the dinghy and never set foot ashore!
Sorry, yet another idyllic beach
Sorry, yet another Pacific sunset
Nuku Hiva
One of the advantages of a really fast boat is that we can do in a day sail what for most boats would be an overnight passage .So the 84 miles to Nuku Hiva were accomplished after an early start by dropping anchor in Taiohae Bay by 4pm. Taiohae is the largest town in the Marquesas, but it's not that big – about 2,500 inhabitants.
A look around town, shopping for provisions and a pizza in the evening were the orders of the day. Next day, Saturday was music festival day, which contained a very mixed bag, from interesting dancing to awful karaoke, followed by a disco that went on till 2 in the morning (I thought we'd left those behind in the Caribbean – must be getting old).
On Sunday we had arranged, with some friends, a guided tour of the island. Jocelyn, our guide had lived on the island for 14 years and was hugely knowledgeable, about all aspects of Nuku Hiva life. We traversed the island stopping at the village of Taipivai, where Herman Melville (the author of Moby Dick, for the philistines amongst you) lived for a couple of years after deserting his whaling ship, and then on to the beautiful bay and village of Hatiheu, a favourite of Robert Louis Stevenson (Treasure Island!)
I have used a lot of superlatives to describe the Marquesas, but they are truly extraordinary islands – mountainous, verdant, beautiful beaches (as long as you don't mind the vicious sand flies, known locally as 'nonos'), and nice, laid-back people.
We visited a couple of archaeological sites, which included platforms for human sacrifice (and a bit of cannibalism), and pits in which they held the sacrifices before making a final choice!
View over Taiohie Bay, Nuku Hiva
See, we are really alive and well
The river in Taipivai village
Sacred 600 year old Banyan tree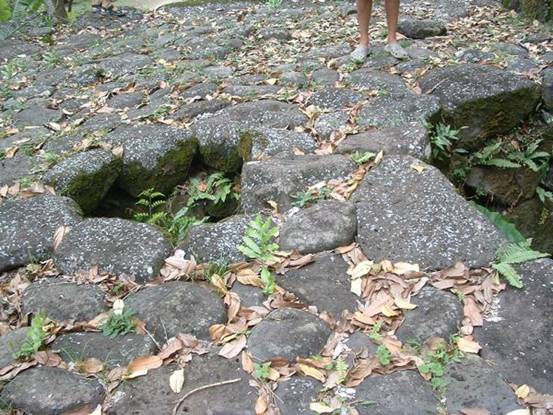 The pits in which the human sacrificees were kept prior to their dispatch!
Turtle rock with ancient petroglyphs of sharks and turtles
It would appear that every tree produces something useful. Mango and grapefruit abound as do limes and lemons, then add chilli peppers, cocoa, coffee, vanilla, almonds and cashews. Those trees that produce inedible fruit have their uses medicinally.
The girls here really do wear a flower behind the ear, but lads be warned – behind the left ear means 'I'm spoken for, whereas behind the right ear means 'I'm available' Another word of warning for those would-be pleasure seekers – there is a tradition among these island of raising one son as a girl, and they continue to live as transvestites in adult life. This continues today, with these flamboyant 'raeraes' often serving in hotels and restaurants.
A couple more days in Taiohae, relaxing and boat-maintaining, and then 5 miles to the west to Hakatea Bay, a well protected anchorage, surrounded by sheer cliffs. There is a small village, which another yachtsman described as 'the Garden of Eden', which is the starting point for a two-hour trek to the third highest waterfall in the world, some 600 metres high. We tramped through pouring rain all the way there to find that, at the end of a very dry 'dry season' the waterfall has stopped flowing. We then trekked all the way back, again in pouring rain. The irony was not lost on us, but neither was it appreciated.
Hakatea Bay, Nuku Hiva
Hakatea Bay. The yacht is 90ft, to give an idea of scale
The third highest waterfall, 600 metres, in the world; if it was flowing!
Looking down on Hakatea Bay
Snow Leopard is the most inshore of the four anchored boats
---