SNOW LEOPARD'S FIRST VOYAGE - The Outer Hebrides & back

Snow Leopard
Sat 1 Nov 2008 00:00
Snow Leopard's first voyage
Thursday 5th June.
Finally left Southampton for the long trip to Gins Farm on the Beaulieu River. Moored on the pontoon at the Royal Southampton's Clubhouse to await Jenny, Marg, Judy etc from the New Forest. Viv Robertshaw also came over. The girls brought dinner and a good time was had by all. A nice way to start the cruise.
We made passage to Falmouth over the next 4 days, stopping to see the Barkers at Portland, and over-nighting at Cawsand in Plymouth Sound. As usual, the Barkers looked after us very well, and Marianne and Anna went down to watch us round Portland Bill when we left. Then three pleasant days in one of our favourite towns, whilst waiting for the strong Northerlies to abate (I don't care for a100 mile beat no matter what the boat). Met up with Mike Webb and David Healy, both Firebird sailors. David has been researching buying a fast cruising cat and was already in contact with Tournier Marine the builders of the Freydis 46 (aka Snow leopard). Consequently he was very keen to have a good look over the boat. He invited us back for dinner (he owns a cider farm!) where Kay Healy produced a fabulous paella and a great evening was had with all the family. So keen were the Healys on the boat that David and the two sons, Sam and Jo volunteered to help sail to Milford Haven, done overnight in a pleasant, occasionally light NW breeze. We played with the spinnaker and Code 0 (large genoa set on the bowsprit), both working well.
Saturday 14th June.
Arrived at Milford Haven; said goodbye to the Healys and moored in the Marina. Next 10 days were spent managing the Seafair 2008 traditional boat festival, which despite the weather was a great success.
Friday 20th June.
Refuelled and checked out of Milford and anchored overnight in Dale prior to heading north again. Next day we left in a moderate SW wind, which took us all the way to Campbeltown on the Mull of Kintyre in 30 hours. At one time we clocked 17 knots under spinnaker. We are still very much learning the capabilities of the boat and its equipment and at that speed we hovered over autopilot and sheet ready for fast remedial action, but Snow Leopard trucked on without any help from us.
En Route to Scotland
Under spinnaker
Wednesday 2nd July.
Having sat out a gale, nicely tucked up in Campbeltown Harbour, we sailed up to Tayvallich at the top of Lock Sween. The almost landlocked harbour is full of moorings so we anchored just outside in perfect peace. That night dinner was at the Tayvallich Inn, renowned for its seafood, and we were not disappointed. Lucy's Scallops and mussels were great and my 'fish and chips' the best I've ever tasted.
Next day we took the dinghy to explore the 'Fairy Isles', a group of tiny islands at the top of the loch. A group of common seals were using the Isles as a nursery, swimming around in the shallow water with very small pups.
Campbeltown Marina!     Rainbow at Campletown
<![if !vml]>
<![endif]>
Seals at the Fairy Islands     Tayvallich anchorage
Tayvallich
Friday 4th July
Very light winds, but sunshine for the first time in Scotland. We motored up the Sound of Jura and on to Tobermory on Mull. That evening we met up with the crews of two yachts based at Campbeltown for a few beers in the Mischnish Hotel. We hired a car and toured around Mull, spotting a sea eagle soaring above. On Sunday we watched the Wimbledon men's final in the hotel bar – very comfortable and warm; we can't believe how cold it is here!
Tobermory    Mull, west coast
Tuesday 7th July
Set of on a clear sunny!! day for Barra in the Outer Hebrides. Soon the wind died and motored on flat sea to Castlebay. We encountered a school of basking sharks (they are big) to add to the dolphins and porpoises that frequent these waters.
Basking shark   Castlebay Barra
Barra was beautiful and much to our surprise a busy active community. Again met up with the Campbeltown boats for more beers. We took a bus trip around the island, up to the airport which is unique in that the runway is on the beach! The tides play havoc with the airline schedules.
We took the dinghy around to Vatersay Bay where the white sands and aquamarine water are more reminiscent of Antigua than Britain.
On of the high spots was a ceiligh at Vatersay village hall with the renowned 'Vatersay Boys' providing the music. Lucy even danced! We loved the atmosphere and character of Barra. It was undoubtedly different from the inner isles.
Caribbean? No Scotland!   Vatersay Bay
Antiqua? No Barra    Vatersay Bay
Barra   Barra
Castlebay, palm trees   Vatersay Boys playing in Vatersay!
Friday 11th July
As the wind persisted to blow strongly from the north instead of sailing up to South Uist in the Hebrides we changed plans and headed east to Canna. It blew a steady force 7 and the sea was very lumpy, especially as we approached Canna. What made it worse was the freezing cold. We were very glad to get into the shelter of Canna Harbour. Canna is the northernmost of the 'Inner Isles' along with Muck, Eig and Rhum. It is now owned by the Scottish National Trust and has a resident population on only 16 people. Next morning the few other yachts departed leaving us in splendid isolation. We took a long walk around part (the flatter part!) of the island in great solitude. Suffice to say with that number of people living there Canna has no shops or even pub, but when the ferry comes in once a day I think all 16 residents come to meet it.
Canna – just us and sheep Canna –west side
Canna with Rhum in the background   Canna Harbour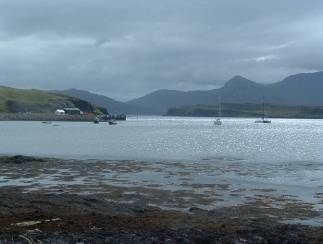 Sunday 13th July
We left Canna very early, in the light of yet another gale warning to head for Skye. Arrived at a pretty anchorage called Isle Oronsay on the SE coast. The bay has a small hotel with a bar used by the local fishermen, who were very friendly (perhaps due to being in the bar since it opened). They mostly fish for langoustine which all goes to Spain where they get three times the price that they can get here. We're waiting for one of them to hand over a kilo or two, but as it is blowing hard again I haven't seen much fishing activity. They're probably still in the bar. Maybe I'll abandon writing this and go join them as we wait for this current gale to pass!
Isle Oronsay, Skye. Another Gale!
Wed 16th July.
Finally the weather clears, but we've had enough and dedide to start heading south. Today, back to Tobermory. Rounding Ardnamurchan Point did feel like returning to civilisation.
Thursday18th July
A gentle sail / motor to Puilhadobrain (gal. Otterpool) near Seil just south of Oban. This is a beautiful quiet anchorage and a short pleasant walk to the pub at Clachan Seil. My last remaining relative in Scotland, Eileen McGlouchlan lived here all her life and is still fondly remembered. She must have been a tough old boot as she farmed all her life by herself.
There is a bridge over the channel that divides the island of Seil from the mainland, locally known as the 'Bridge over the Atlantic'. After the defeat of the Jacobite rebellion at Colludon in 1746, the wearing of tartan and highland dress (kilts etc) was banned. The islanders of Seil resolutely continued to defy the ban on their island and used to change into trousers at the pub when visiting the mainland and back into the kilt on their return!
Puilhdobrain Bridge over the Atlantic
Friday 18th July
Even though it was a very calm night and I thought I had dug the anchor in well, at 5.30 in the morning we found we were dragging! We had decided on an early start anyway so weighed anchor to discover a beer can neatly wedged on the point of the anchor. That's it, I'll never drink McEwans beer again.
We set sail south on another murky day, passing the famous Papps of Jura (mountains, for the ignorant) for the second time without seeing them. We finally slogged to windward into a force 6 to arrive at Port Ellen in Islay by the evening. We tried to get onto the pontoon (locally called a marina) but were too large so instead made our way to the newly laid visitors buoys in the middle of the bay about ½ mile from land. Here we sat in splendid isolation for the next two days riding out another gale!
We did once get dressed up in full oilskins and take the dinghy to shore, but it wasn't worth the effort. By now the weather had really got to us and we couldn't wait to get south where it may still be blowing old boots but should be warmer.
Sunday 20th July
A fast sail out of Scotland to Bangor in Northern Ireland. Met up with Peter Ramsay-Baggs and his family and had a bath at their lovely farm house, then dinner. Just wonderful!!!. Peter is a friend of James' from college. He has been in Northern Ireland pretty much form the beginning of his medical career and is now the leading maxilo-facial surgeon in the province. It was great to see him and 3 of his four now nearly adult children and his newish partner, Alison. We had a wonderfully relaxing time.
Next day was spent doing boat chores, particularly rebuilding the furling gear for the jib. Bumped into John and Helen from Campbeltown and had a few drams together to celebrate. After all we had not seen each other since the Outer Hebrides.
Rosie, the resident grey seal of Bangor marina!
Tuesday 22nd July
We had arranged to meet David and Kay Healy in Dublin who were going to sail back down to Falmouth with us, so we headed south to the little harbour at Ardglass, just north of the border, It is a very small marina and a very narrow and shallow entrance channel which made for an interesting exercise in boat handling. We made it, but had to plan our departure next day to ensure there was enough water to leave harbour.
Wednesday 23rd July
'The best laid plans' and all that! Sure, there was enough water when we got up at 6 am to leave, but also think fog! We hung about for an hour or so waiting for it to clear, but with the tide ebbing fast we had to make the decision to go or be stuck there for the next 8 hours. We edged out of the harbour with eyes and ears tunes and the radar guiding our way. Fortunately after a nervous hour or so the fog cleared, the wind came up and we had a scorching sail to Howth. David was watching our approach and telephoned to say that even 5 miles out it was obvious which boat we were from the speed!
We went out to one of the many waterside seafood restaurants in trendy Howth and discovered just how expensive Ireland, and especially Dublin, and especially Howth has become, particularly with the Pound diving against the Euro. After dinner it was Guiness in the Howth Yacht Club (and before as well actually!). It is a mighty impressive clubhouse and the facilities are first class.
Thursday 24th July
Set off towards Falmouth, intending to stop somewhere in Ireland for the night, but made such good progress so we decided to head direct for the Scilly Isles and spend a while there instead. An interesting sail with at one time spinnaker, code 0, flat calms, thunder storms and sunshine, arriving at Tresco by Friday evening.
We've finally made it to the Scillies. Lucy and I had twice before tried to get there in previous boats to be thwarted by strong winds and fog. They were worth the effort. We anchored just off the harbour wall at Tresco and rowed ashore for a well deserved couple of bottles of Rattler cyder (we had to with the Healy's on board as they produce it), and they do spell cider with a 'y' in Cornwall so I was told.
A quiet night in Tresco
Sunday 27th July
After a wonderfully relaxing couple of days, walking, sleeping and swimming (actually Kay was the only one to brave the freezing clear water and only for a very short while), we headed back to Falmouth. Yet again we could not get into Pendennis Marina, but Mike Webb the owner, kindly lent us his own mooring outside his stunning house at Mylor. It was back to the Healy's for more baths, dinner and drinks and we slept on shore for the first time in three months. It's not all its cracked up to be – except for the baths.
Tuesday 29th July
We said our goodbyes in Cornwall and had a very fast sail in huge south-westerly swell to Dartmouth, which was full! Fortunately the harbourmaster allowed us to stay on the town quay provided we were off by 8.30 next morning. Found a very nice Thai restaurant and went to bed tired and happy.
Wednesday 30th July
Set off intending to stop at Weymouth, but made such fast progress that we were off Portland by 4pm and decided to continue direct to Southampton. As is to be expected the wind died as we approached the Needles, but we nevertheless were moored up at Shamrock Quay by 11 that evening.
It was a rigorous workout for both boat and crew. The boat behaved admirably and never let us down. Apart from the weather the trip was wonderful, with the highlight being Barra and the Vatersay Boys. Now we have a few weeks to sort out a few minor details with the boat and prepare ourselves for the voyage south.
If anyone reads this to the end, I am sorry it took so long to produce!
---