WE'RE OFF AGAIN - AT LAST

Snow Leopard
Sun 29 Nov 2009 21:04
We're off again – at last
12:01.28N 61:40.77W
Grenada northwards (part 1)
After the trials and tribulations of ten unwanted months in the UK it was great to get back to the Caribbean on the 10th November. Grenada, where we had laid up the boat for the duration of our stay in England, was hot, hot, hot – and very humid as well!
Whilst we were making the boat habitable we stayed in a delightful cottage in a local hotel and made the most of the swimming pool, bar and wonderful cool air-conditioning. After four days we moved back on board, albeit still in the boatyard where, if the heat didn't finish you off, the mosquitoes and no-see'ums certainly tried hard to do so. It was a blessed relief to get the boat launched and be at anchor after 10 days in the boat yard.
Our home in Grenada Marine boatyard
Off to the water at last
The boatyard was in St. David's Harbour at the S.E. corner of Grenada. It is a lovely bay and the boatyard had a good chandlery, some good workers and a nice bar. As we still had a number of jobs to do we decided to stay put and await our friends' arrival in 10 days time. We were kept pretty busy during that time, with only one Sunday off when we hired a car and wandered around parts of Grenada, met up with some old friends and provisioned up the boat.
One of the tragedies of leaving the boat in such a hurry was that our store of nice wines has gone 'off' in the heat. We have tried a couple of bottles but it is irredeemable. We shall just have to stick with cold beers, and gin and tonics for the foreseeable future!
On the water again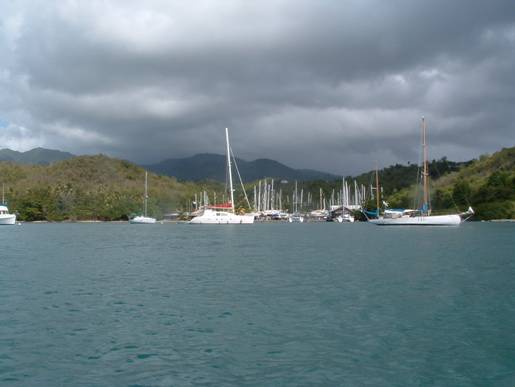 St. Davids Harbour and boatyard
Seen at the boatyard bar – the ultimate lounge lizard!
When Rob and Claire arrived, we drove them on a tour of the island, including slip-sliding down to a wonderful waterfall.
Next day we started on our journey north – Claire takes up the story:-
You would think a fantastic experience like sailing around Caribbean Islands would start at the boat. Unfortunately, our arrival at Snow Leopard was somewhat delayed by our lack of suitable information for customs. I knew we were staying on a boat. I knew which boat, but this was clearly not enough. My first glimpse of the Hawaiian shirt clad Snow Leopard crew was just outside the airport, where Lucy looked understandably bemused that I had not arrived with my partner Rob, but a 7ft security guard, who was somewhat suspicious. I admit, James could have been cruel at this point, but admitting responsibility for a bedraggled me and an unseen Rob, furnished them with the necessary marina information (St David's! It is a City in Pembrokeshire – if only I had known…) we were on our way.
It was worth the wait. St David's Marina was an idyllic Caribbean location – and there was a bar on the beach. James and Lucy had clearly got to know the location and the hostelry rather well and were eager to get underway, but kindly afforded us a few nights to get acclimatised to the weather and get relaxed Caribbean style. A tour of Grenada the day after we arrived enabled us to make good use of our new digital camera and get to understand a bit of the local culture. A short guided walk to a local waterfall provided much mirth and the dawning realisation that we had inadequate footwear (I would have had a great shot of James slipping down a slope at this point, if only I had been able to remain upright with the camera).
After leaving St David's, an overnight in the picturesque Tyrell Bay enabled Rob and I to have our first snorkel. There was little to see, but what we did see was the strangest thing that is still unexplained onboard Snow Leopard. Termed by Rob as the 'missing link', this odd entity with its wings, legs, fins and alien appendages, was disbelieved and we were ridiculed by the all knowing James (who conceded the following day after seeing two 'holding hands' under the boat whilst checking the anchor in Tobago Cays). We still are unsure of the identity of this mysterious oddity as James's fish of the Caribbean (waterproof) guide was found lacking.
(pictures to follow when Claire and Rob return to UK)
---