DOMINICA AND ANTIGUA

Snow Leopard
Sat 28 Feb 2009 13:33
The first month in the Caribbean ……. continued
(17:00.82N 61:46.51W)
We set of north again on January 4th. The weather had moderated and we sailed up to Portsmouth in Dominica in two hops, just stopping in St. Pierre, Martinique overnight. It was strange to think whilst anchored in the bay beneath Mount Pelee that it was exactly here in 1908 that the entire town was wiped out when that volcano exploded, killing over 30,000 inhabitants of St. Pierre, then the capital of Martinique. There was only one recorded survivor, a condemned murderer who was in an underground prison cell!
We sailed past the capital of Dominica, Roseau up to Portsmouth at the northern end of the island. Dominica has remained the least developed of the Lesser Antilles, which is becoming a blessing because the island is fast-growing eco-tourism industry. Dominica has wonderful rain forests surrounding its 7 volcanic peaks. It is the highest, lushest and wettest of this chain of islands!
The boat boys at Portsmouth used to have a fearsome reputation for constantly hassling visiting yachts, but now they have organised themselves into a working association and our experience of all of them was that they were helpful, courteous and knowledgeable. Whilst here, everyone has to go on a trip up the Indian River, deep into the jungle. The boat boys will organise this and take you. They will also organise any other tours you may care to make and generally keep an eye on your boat during your stay. You do, of course, have to pay for there services, but these boat boys added to our experience of Dominica, their island of which they are very proud.
Fishing in Portsmouth
Portsmouth, Dominica – their equivalent of Gun Wharf, but much nicer!
We were met as we approached Portsmouth by a boat called 'Lawrence of Arabia. The driver introduced himself as Lawrence, but we later found out his name was Bogard. The boat boys (all grown men actually) all have nick names which can lead to a lot of confusion. We were taken on the Indian River trip by 'Uncle Sam', who also acted as out ill-fated taxi driver when we went into the rain forest a few days later.
The entrance to the Indian River is hidden by one of many small freighters or fishing boats that have been washed up onto the shore in successive hurricanes. It is not as if they have hurricanes on Dominica every year it is just that they never bother to remove the wrecks!
Rain clouds over Portsmouth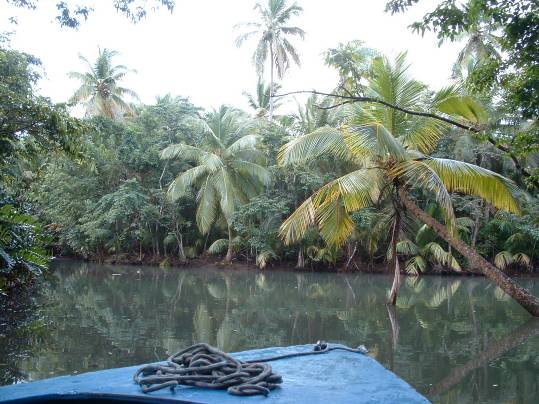 The Indian River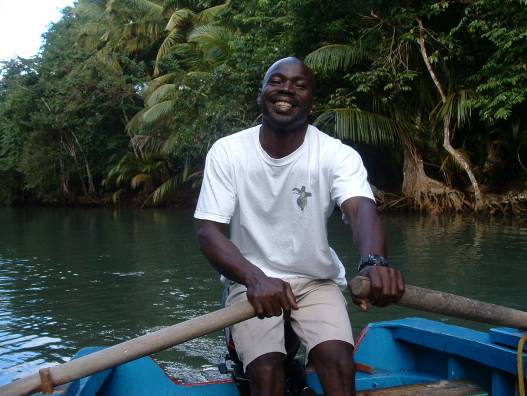 'Uncle Sam' rowing us up the river
We took a local bus into the capital, Roseau, so 25 miles away. Local buses are very cheap and great fun. If you want to meet the locals there is no better way. Roseau is a very pretty town with a lovely 'French quarter'. The town is noisy, hectic and chaotic, particularly the traffic, with buses and taxis blocking roads until they have enough passengers to make their journey worthwhile. This involves accosting anyone likely to want the bus and convincing them that they will be the first to leave. Consequently you may get 3 or 4 busses all half full, but none willing to depart until full.
Roseau, 'French quarter'
Olympics Caribbean style
Chaotic streets
On the way back from Roseau to Portsmouth our 'bus', a glorified mini-van had a minor accident, but next day when we took a tour to the rain forest we managed to have two more incidents with vehicles. Firstly Uncle Sam's gearbox collapsed completely on a road half way up a mountain. Fortunately mobile phones still have a signal there and after about an hour we were picked up by another taxi driver, Winston, who was doing the same route with a Canadian couple. So we continued the tour, the high spot of which was a hike through the rain forest to a wonderful waterfall and pool, where we could swim in the beautifully clear and cool river water whilst the up-welling current from the waterfall threw you this way and that. The water was so aerated by the waterfall that if you stopped swimming you just sunk!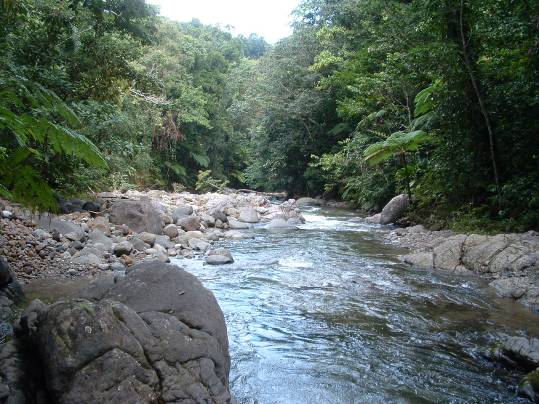 We made our way back up the hill, climbing in swimmers and boots, back to the taxi, which then got stuck in the mud and gently slid sideways to rest at an oblique angle against a couple of banana trees. Fortunately the driver, Winston, lived in the nearby village so he trudged off to seek help whilst we waited. Luckily we had his charming 11-year old daughter to entertain us in his absence. After another hour he returned with several cousins and a pick-up truck to tow us out and on our way again
The trek – Lucy not at her most elegant!
Oops!
Waiting for rescue
Our entertainer
Dominica – windward side
Portsmouth harbour
After a lovely week in Dominica we set off for Antigua as we had friend arriving in a few days and the forecast was again for stronger winds. We stopped overnight in Deshais, Guadeloupe, and scrapping all our remaining Euros together had just enough to have a pleasant meal in a beachfront restaurant, watching the boat anchored next to us slowly drag its anchor. Fortunately it snagged a mooring buoy saving the owners a long dinghy ride out to sea to collect their yacht!
We had another cracking, windy sail over to Antigua, and took a mooring in Falmouth Harbour. How things have changed! It is only 9 years since we were last there, but Falmouth has now become the super-yacht centre in the Caribbean. Even 100ft yacht looked insignificant alongside some of the mega-yachts berthed at the Antigua Yacht Club Marina and the new Falmouth Marina.
Super-yacht 'Nero'
'Sea Wolf – the last boat Andy Brookes built before 'Snow Leopard'
Sea Wolf – an ocean going tug converted to super-yacht
OK, where is Jaluit?
'Athena'
'Maltese Falcon' – the largest private sailing yacht in the world
---