SAN BLAS CONTINUED

Snow Leopard
Mon 5 Apr 2010 22:59
San Blas continued
9:33.84N 78:51.46W
We have decided that rather than continue to hop from one 'idyllic' anchorage to the next that we would just chill out in one. So after a visit to the Carti islands, which are so heavily populated that the whole islands are covered with houses, even spilling over the sea, we returned to East Lemmon Cays and spent a few days amongst our Italian friends.
We filled the next few days with cleaning, minor boat repairs, snorkelling (some of the finest corals I have seen) and just watching the world go by. It is amazing how busy even an out-of-the-way place like Lemmon Cays can be :- yachts entering and leaving, local fishing canoes, local traders selling molas, fish, vegetables etc, the odd day-trip boat carrying tourists, pelicans diving, fish jumping – one can sit for hours just engrossed in the theatre being played out before you.
Hundreds of these tiny islands
Kuna house
Preparing to sail – Raul, his wife Idaliana, and his aunt. Raul and his family live on one of the islands at Chichime and his wife made our Panama and Kuna Yala flags
After visiting relations on one of the Lemmon islands they set sail back to Chichime
One patch too many!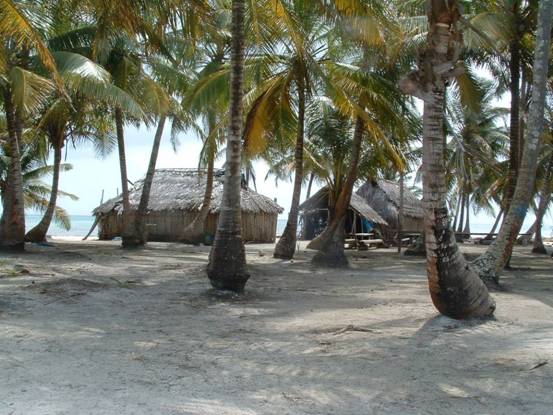 Typical Kuna island
Snow Leopard in East Lemmon Cays, San Blas
Kuna houses. The Kuna Indians hate having their photo taken, which is why I have no close-ups of the people
Old bowl carved out of one piece of wood, now discarded on beach
Children walking along spit, East Lemmon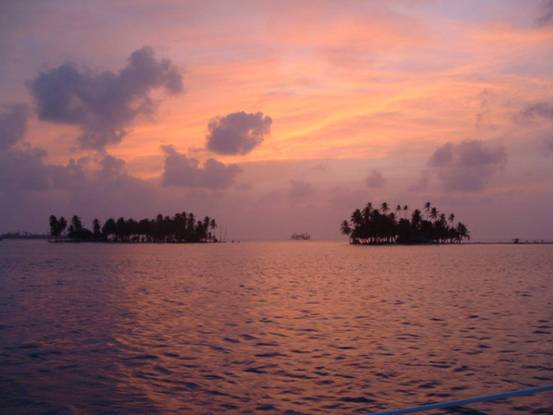 Sunset, East Lemmons
---