GALAPAGOS PART 3 AND THE PACIFIC CROSSING

Snow Leopard
Sun 6 Jun 2010 21:20
Galapagos part 3, and the Pacific crossing
9:48.2S 130:01.8W
Isabella and Santa Cruz
Tony left us in San Cristobal, and when our 'Autographo' arrived from Quito, giving us permission to visit other, selected, islands, we set of for a quiet 80 mile sail to Puerto Villamil, on Isla Isabella.
The anchorage was surprisingly well protected from the ever-present Pacific swell, with just half a dozen visiting yachts. The town is very tranquil, with sandy roads and palm trees. It contains a few small bars and restaurants, some hostels for visitors and one shop; little else.
Having defeated the multitude of sea lions in Wreck Bay, we finally succumbed, (or was it beaten?), to one big beguiling female with a bad cut across her head. Sentiment got the better of us and we let her sleep on the aft platform. We even gave her a name, Hilda (with an 'a'', Wendy!). She was so sweet and also brought her pup along to share the platform.. However they were not content to squash up together in the platform, so Hilda evaded our secondary defence line to sleep on the deck.
We succumbed to the charm of Hilda
Hilda making the most of our hospitality
Unfortunately sea lions are not well house (boat) trained. They also have some form of oil in their fur, so they left a horrible, smelly mess. After two days we decided enough was enough and banned Hilda, and her pup, from the boat and put up extra defences. Hilda was most put out and while I was in the water cleaning the waterline (there is a nasty alga in the Pacific which grows like mad) she decided to have a face to face confrontation (face to mask actually). However it was all quite amicable and it was agreed she should try some other boat.
There are a small group of lava islets next to the anchorage, which are past of the National Park so we took a guided tour in a small boat. As well as the usual (so mundane!) sea lions, marine iguanas and pelicans there was a colony of Blue-footed boobies and also a small colony of Galapagos penguins (they used to swim past the boat each morning) and a narrow channel in the lava that white-tipped sharks use as a resting area.
White tipped reef sharks
Self-explanatory to most people, but there's always one!
Blue-footed booby
Lazy Galapagos penguin
Galapagos penguins
And more penguins
Next day we chose to join a guided group to walk up to and round the caldera of the Sierra Negra volcano. It is apparently the second largest caldera in the world, about 10km in diameter, and about 600 metres to the floor. However the 'guara', a local misty rain had descended so we saw nothing at all, and endured an 8-mile muddy, wet hike for our efforts.
The one saving grace is that in the northern side the weather lifted and we were able to explore the lavas flows of Vulcan Chico which last erupted in 1979. It was extraordinary to see how vegetation develops on the flows of 5000 years ago, 3000 years ago, and just 31 years ago.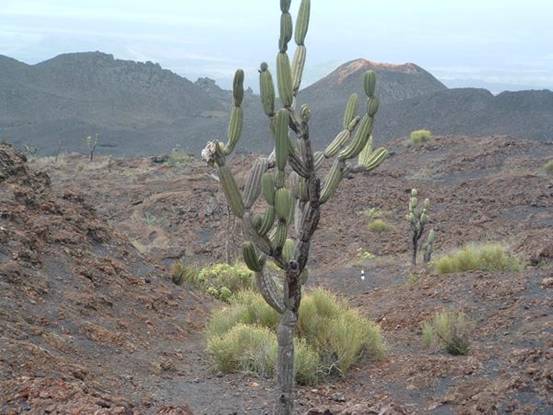 These cacti are over 1000 years old
Lava tunnel, Volcan Chico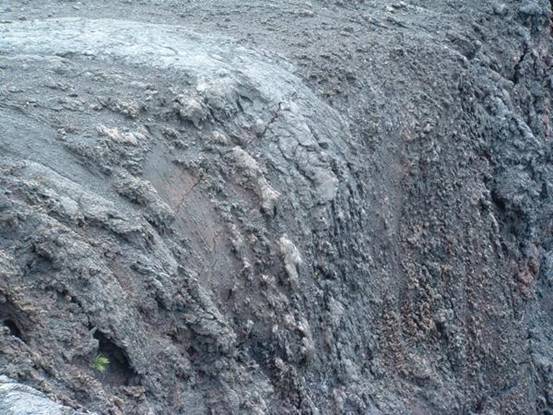 Lava flow
Volcanic landscape
We left Isabella to go to Puerto Ayora, on Isla Santa Cruz. This town is the centre of the Galapagos tourist industry and is not as attractive as the other ports we had visited. The main reasons for coming here we to pick up a new crew, re-provision the boat for the Pacific crossing and to see the Darwin research centre.
'Lonesome George', the last of his species of giant tortoise
Iguana, Santa Cruz
Handsome beast, aren't I?
Galapagos lava lizard, another handsome beast
Me too! Heron, Santa Cruz
Local taxi!
Susana, a friend of ours from New Zealand, was due to arrive next morning, but when we checked our e-mail that evening we discovered that Qantas would not allow her on the plane without a return ticket from Equator, even though she explained that she was sailing out. We sent a letter, but to no avail and sadly, Suze could not join us. So it would just be the pair of us for the 3000-mile crossing to the Marquesas Islands in French Polynesia.
The Galapagos Islands, all three that we visited will always have a special place in my heart. It was At San Cristobal that I learned that Chelsea had defeated Wigan 8-0 on the last day of the season to will the Premiership, on Isabella that we found out that they had also won the FA Cup, a historic double! And on Santa Cruz we watched a replay of the Cup Final, thanks to the Lemon Bar in Puerto Ayora, alongside a Chelsea fan that had been at the game and left for the Galapagos next morning. Now that's dedication to the cause, delaying your whole family's holiday until after the Cup Final
Champions!!!!.
Now where was I? Oh yes, crossing the Pacific Ocean
The Pacific crossing
This is the longest passage without land that most cruising sailors are likely ever to undertake. Give or take a mile or so it is 2985 miles from Santa Cruz in the Galapagos to Hiva Oa in the Marquesas islands in French Polynesia. No voyage of this length is started without some trepidation, especially as this time it was just the two of us for the first time for a really long passage
With final provisions purchased and our authorisation to depart from The Port Captain in Puerto Ayero we set off at midday on Thursday 20th May.
The first couple of days of a long passage are always tiring as one gets used to the watch system and a maximum of three hours sleep at a time. We were helped here by the light winds on leaving the Galapagos, which made for easy relaxed sailing. By day 3 we were into the South-East trade winds and speeds began to build. For the next 7 days we averaged a speed of 10 knots, covering up to 250 miles a day. Most of the time we romped along at a steady 9 – 11 knots, with lots of fast bits up to 15 knots and the occasional 'fizz' of 16 or 17 knots. Snow Leopard was really in her element. The seas were reasonable and life on board really very comfortable, always accompanied by the noise of water rushing past the hulls.
As predicted, the wind direction began to back from south-east to east, which meant that we had increasing difficulty sailing low enough to maintain our required course. By day 10, with about 750 miles to go, we were unable to sail within 20 degrees of our required course. So, with a lumpy sea complicating matters, we decided that the most efficient and certainly the most comfortable tactic was to drop the mainsail and sail directly downwind on course under headsails alone. This did slow progress, but also enabled us to get a decent sleep.
First with the Code 0 (large, light genoa) and then, when the wind increased to a steady 25-28 knots, reduced to the jib, we 'ambled' downwind. I say 'ambled' because the daily mileages dropped to between 188 and 224 miles, with average speeds of 7 -9 knots, but still with plenty of fast bits.
Life on board developed into the usual routine of keeping watch, eating and sleeping (a lot of sleeping!). Night watches were just a question of keeping awake as there was so little to do. We both employed different strategies, Lucy listened to music or did french lessons on the ipod, whereas I played cards on the computer and listened to different music.
What did we see? Well, a lot of sea and sky and not much else. We did pass a big fishing boat on Day3, and next day caught up with the yacht 'Mohea' also en route to the Marquesas. We chatted on the radio and took pictures of each other's boat then waved 'bon voyage' and continued on our ways.
On Day 10 we passed the container ship 'Mersk Jackson' and the captain came on the radio for a chat (he too is a sailor) and gave us his latest weather forecast.
Otherwise, a few seabirds, shearwaters and tropicbirds mainly, a turtle, a few dolphins, but not interested in playing, and that's about it. Oh, and loads of flying fish, some of whom have landed on deck during the night, along with several baby squid.
About 500 miles out it became increasingly obvious that we were destined to arrive at Hiva Oa at night, so by the final night we had reduced sail to keep the speed down to 6 knots, only for the wind to die and leave us wallowing.
Anyway we made it, arriving at Atuona on Hiva Oa at midday, exactly 14 days since departing Santa Cruz in the Galapagos, covering a distance of 2985 nautical miles. Fast and comfortable, Snow Leopard lived up to all expectations – and no damage at all!
Now it's time to relax.
We are going to spend several days here relaxing before setting off to explore the other islands
Yacht, 'Mohea' en route to Marquesas
Sea – note curved horizon
And more sea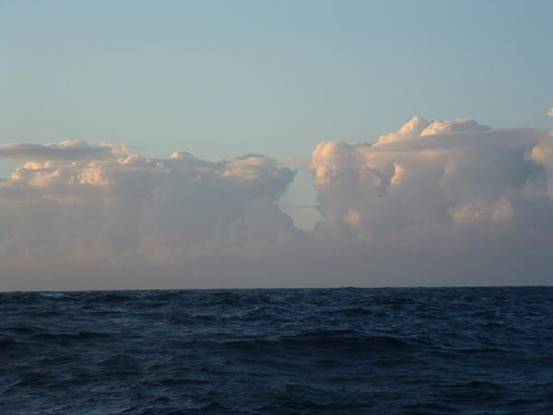 Pacific dawn
Pacific evening
Our first sight of land for 14 days – Hiva Oa
View from the cockpit, Taahaku Bay, Hiva Oa
The anchorage, Taahaku Bay, Hiva Oa
---