THE LATIN ISLANDS - PUERTO RICO

Snow Leopard
Tue 19 Jan 2010 20:32
The Latin islands
Puerto Rico, Dominican Republic and Cuba
18:20.6N 65:38.2W
BVIs continued
First, more photos of the BVIs, courtesy of Peter and Jean:
A visitor from Anagada
Another port – another bar. Anagada
Another port – another bar. Bitter End Yacht Club, Virgin Gorda
Jean – One pinacolada is never enough
The anchorage, Anagada
Lucy with host of sergeant-major fish
Lobster dinner – Anagada
Do you notice a trend in these photos? Stocking up before Cuba
And Lucy can hold her own with anyone's appetite
Puerto Rico
We set of from Tortola on a grey wet day towards Culebra, one of the Spanish Virgin Islands and part of Puerto Rico. What a difference from the US or British Virgin Islands – hardly a yacht to be seen and on arrival in Culebra a very obvious latin atmosphere and a run-down little port containing one bar! We cleared into Puerto Rico (and thus into USA), obtaining our cruising permit form the one customs official on the island based at the airport (landing strip would be a more accurate description). We have been told by several people since that Culebra is a beautiful island. Unfortunately for our entire stay it poured with rain and we could barely see across the harbour.
After two nights in Culebra we sailed on to Puerto Rico proper stopping for lunch at a tiny desert island called Paleminitos. After wending our way through a very narrow entrance in the surrounding reef we dropped anchor in crystal clear water about 50 yds from the island. Peter and Jean swam ashore and walked right round the island in 5 minutes! I took the opportunity to clean the bottom of the boat which was beginning to grow a nice little colony of barnacles.
Our own deserted island, Paliminitos
We motored the remaining few miles to Fajardo on 'mainland' Puerto Rico and took the one place available to visiting boats in a scrappy, dirty marina. Its only redeeming feature was the colony of huge iguanas living in trees just across the water from our berth. They are truly ugly creatures that have reached plague numbers in Puerto Rico.
Puerto Rican iguana – and this is a small one!
Next day we hired a car to visit the Yunkee National Park and area of unspoilt rainforest reaching the highest point on the island. We had a wonderful day hiking along the various trails, marred only by the bus loads of fat American tourists, who fortunately, didn't walk too far from their coach.
Yunkee rain forest
Yes, we climbed up there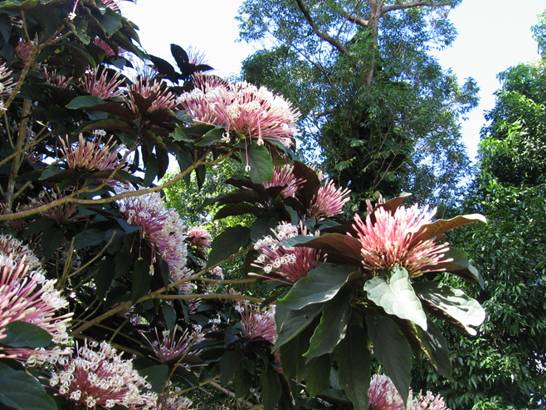 The 'firework' tree
Jean and Peter had to fly back next day from San Juan so an interesting drive into the capital to drop them off, and an even more interesting search for the UPS offices to pick up our long awaited parts for our wind instruments, took all day.
Enough of Fajardo, we had to get a move on towards Cuba to pick up our next guests. A stop overnight at Playa Salinas, home of many manatee (but we didn't see any!) was followed by a day in Ponce (pronounced Ponsey). We berthed at the rather smart Ponce Yacht Club and fully intended to stay a couple of days, but the berth was so uncomfortable with the surge entering the harbour that after one night we set off for the Dominican Republic.
With the exception of the Yunkee rain forest we were singularly unimpressed with Puerto Rico. The latin/american mix produced a nation of surly fat people. The country was unkempt and uninteresting and we were glad to leave.
---