update to the end of January pt 2

Moondancer
Mon 23 Feb 2009 19:58
Following on we then went to Grenada
Grenada Taxi tour Cocoa Farm (where I helped push the trays of cocoa beans back in as it started to rain) Rum factory where they produce 85% alcohol from 200 year old machinery. Even I found it too strong to drink though we had to buy a bottle as a souvenir ! And have photo taken with local ladies while we were serenaded !! Waterfull where we had to pay young man to jump 100 ft into pool - you can just see him in red t-shirt.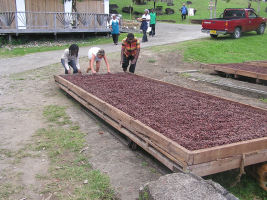 And our favourite island so far is Bequia where we are today... (me on Belmont Walk)
The Green Boley Bar were we had Conch Roti !! And the local fruit and veggie market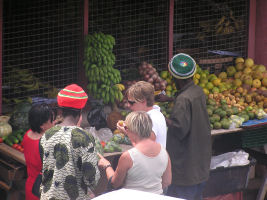 This is the Mosquito Bar where I had two run and gingers and fell off the dinghy - complete with hat and sunglasses !! And Jacks Place for lunch on Princess Margaret Beach !
Having a brilliant time - off to Wallilabou tomorrow to spend the night on a mooring owned by the Anchorage Restaurant. Hope this will be ok as St Vincent is meant to be a bit dodgy with incidents involving cutlasses and guns !! Will lock ourselves in at night and leave at 5.30 to pass by the rest of the island and get to St Lucia in one day and then on to Martinique easily the next day. Wallilabou was where they filmed Pirates of the Caribbean and the film sets are still there so that should be fun, but hope not to come across any real pirates !!
All will be fine by the time you read this !! - More photos next week...... !!!
---