Getting there (3) Gibraltar to Lanzarote

Moondancer
Thu 20 Nov 2008 16:33
The day after Caroline and Jim left us in Gibraltar Andrew and Alex returned, along with John White, an old friend from university who Fiona and I had sailed with years ago, and whose Swan 47 I sailed on last year in Cowes at the annual Swan regatta. That was the Solent in July, driving rain and 35 knot winds, four sails into the sail-loft in the first two days, the mainsail sliders broke and the vang snapped off the mast! Covered in bruises I realised why we keep our boat in the Med. Preparing to leave Gibraltar from the Med we were encountering tidal conditions for the first time. There is a constant current into the Med with the tides overlaid, this gives four hours of favourable flow leaving the Med and eight coming in. To get the 18 miles to Tarifa at the other end of the Straits was going to take most of those four hours so our departure window was pretty narrow and as by the time the new arrivals were with us there was no time that day so we spent a leisurely day doing a quick tour of the Rock and enjoying a waterfront restaurant.
I will skip the standard photos of apes and views in favour of this one, as it is good of John and he has not figured on this blog before.
We left the dock at 10 the next morning, gassed up and set off with a stiffish breeze on the nose working against the tide to give us a short chop and as we needed to keep inshore to get the best tide we decided to motor as far as Tarifa rather than short tack our way along. Passing the lighthouse at Tarifa we were able to bear away and get the sails up, crossing towards Tangiers we had to tack a couple of times before rounding the tip of Morocco and heading down the coast to Lanzarote. Then we sailed into a small local low and once again had the wind on the nose, with thunder, lightening and rain squalls fortunately not on my watch! By dawn the wind had moved round enough for us to make good progress towards Lanzarote.
A day later the effects of the low had gone completely, and that asymmetric, last seen in shreds in Javea was back in action. Andrew had taken it back to Crusader sails, with only the three corners intact, but after they replaced about half the panels and added several other patches it looked like new, well almost new. So here is a plug for using a sailmaker who makes their sails in the UK, had this been a chinese sail they would have had no-one who could do this.
With fair winds and reasonable seas we got the fishing rods out and having hooked a released a large sailfish, (well it released itself after a couple of spectacular leaps) promptly caught a tiny tuna. The boat is well stocked with wasabi and soya sauce so all except Fiona sat down to an impromptu meal of sashimi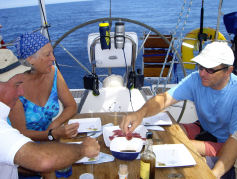 With time on our hands and a few chores to do Andrew and John turned their hand to splicing our new anchor rope and mooring lines, naturally it became a little competitive and in the end Andrew was a clear winner, much to John's surprise as he had been taught all this as a youngster and could not believe he had forgotten. He did however amaze us with his bowline tying ability, with one twist and one hand moving over the other he could tie one in one motion, even behind his back!
We caught one more tuna before getting to Puerto Calero in Lanzarote almost exactly four and a half days and 620 miles after departure. We arrived just as the sun was setting in time to celebrate our arrival, at the local mexican restaurant, Margaritas. The bar stools were saddles, with rocking horse heads!
Fiona has just pointed out that in every blog so far Andrew always seems to steal the amusing photo spot, so here is one of the five of us with pet iguana.
We had made good time getting down to Lanzarote so we had three days before Alex, Andrew and John left. We spent the first day at the Puerto Calero hotel sunbathing round the pool, recovering from the journey, the next we changed our main sail in anticipation of the ARC and then took the boat out to practice getting the full spinnaker up, with John who still races acting as spinnaker coach. finally we visited the Timafuera volcanic national park before saying goodbye to the team. We then stayed on to arrange the final jobs (we thought the final jobs) needing doing on the boat. We then headed back to the UK to see James off back to university, Ted onto his gap year and to give up our house to become officially NFA.
---