Getting to the ARC (2) ... Cartegena to Gibraltar

Moondancer
Sun 16 Nov 2008 17:49
After we got back to the UK in the middle of August we stayed long enough to get Ted's results which were great and for his 19th Birthday, for which he turned out to be away, before heading quickly back to Cartegena. Once again we were joined by friends, this time Caroline and Jim, who were originally going to do the ARC with us before Jim sadly became ill and, although now recovered and back sailing, he could no longer take the time.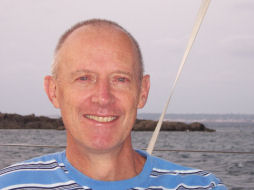 We first visited Garrucha which was mainly a small fishing port with a little local marina, it was full but they let us spend the night alongside the fuel/reception dock. Then we went round the striking coastline of Cabo de Gata, which marks the boundary between the Costa Blanca and the Costa del Sol and stayed the night in Almeria. It was the night of a great fiesta with an enormous parade, all the ladies down to tots in their strollers were in Adulucian dresses and shoes. We then sailed on to Almeriamar which was only 18 miles away but a complete contrast as it is a purpose built tourist development with many unsold units, it was a bit souless but as we were then subjected to a very strong levanter we stayed another day. The next night we were in another small local marina in Caleta de Velez before getting our wallets out and gladrags on for a night in Puerto Jose Banus.
The last day's sailing round Europa Point and into Gibraltar was notable for two things: the first was that we sailed straight into a stiff breeze and against the current as we approached Europa Point, which was almost a welcome change, the other was that an oil rig had run aground off the Point and was surrounded by seven tugs and police boats patrolling an exclusion zone. The zone ran for a mile round the rig and as it was only a half mile offshore would have meant a long detour for us into the wind. The radio was full of excited messages from the various boats involved in the rescue operation and we could get no response to our request to sneak through along the shore line so Fiona rang the port operations office on our mobile and was able to get the required permission. We went to Marina Bay marina which is the furthest marina into the bay and is right next the the airport runway. This was not a problem from a noise point of view as there are so few flights, but we did get our own private airshow as a flight of hawks and two tornados were at the base for exercises. We were at the end of a pontoon only 50 yards off the runway and had a great show as they took off and landed.
Jim and Caroline stayed on for a day in Gib before flying out
We then had just one more day before our next friends arrived to sail down to Lanzarote with us.
---