Catch up to the end of January Pt 1

Moondancer
Thu 19 Feb 2009 22:50
After the ARC !
For my sister Sukie and Mummy !! Lots of photos.....
Of course had to start with handsome chaps on Christmas Day - champagne and cigars at the villa in St Lucia !! And James with pressie from Ted from Bolivia - llama foot shot glass !!!
Our boat at its berth in the evening at Rodney Bay Marina, St Lucia
Mr Sparkle Laundry, Fruit and Veg to go, Water Ice and Deisel delivery, fresh Mangrove Oysters and our local taxi company - fab name !!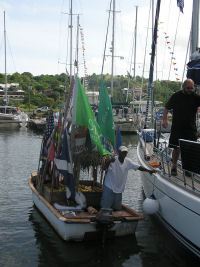 Union Island where a hermit called Russel lived on this little island on the reef - wanted to exchange tins of food for conch shells. We snorkelled here and I saw a reef shark under the boat !! Our local bar called Happy Island ! All drinks 10 EC$ - only red wine, rum and beer !
Tobago Cays - the Barrier Reef of the Caribbean (David Bailey me !!) - Peter and Andrew by the dinghy. There are no buildings, bars or restaurants here so we anchored for the night and cooked on board.
After the Cays we sailed on down through Carriacou to Grenada
---