Day 12 Half Way and Better Winds

Moondancer
Thu 4 Dec 2008 17:56
Well we got the spinnaker to fill yesterday evening, and such is our need to catch all the wind we can we went into the night with it up. After several hours pulling the boat along really well in 16 knot winds we hit a couple of stronger gusts and down it came at 2am. Somehow we this seemed to take no time and no effort, maybe are getting practised. So then it was up with the polled out genoa, and we sat out the rest of the night in... 16 knot winds. So we had not needed to make the change but after the previous couple of nights when we left reefing rather too late, we wanted to be safe rather than sorry. Still no harm done and back to the big red sail at first light this morning.
Today's forecast showed a low somewhere north and west of us largely disrupting the trade wind flow, down as far as 15 degrees north where the trades would be there but light. And where are we? well we are sitting at 14.30N apparently just below this disruption, we have kept the same steady breeze all day. Right behind us and not quite strong enough to be really fast but, after the concerns of the last couple of days good to make steady progress to St Lucia.
As predicted in yesterday's blog the rods were out again today before breakfast. Within 10 minutes I caught a wahoo, one of our favourite eating fish. This one is a skinny teenager that has grown long but yet to fill out. Probably about 6lbs. I then retired the rods on the basis that we had plenty to eat but was persuaded by Andrew that he should have another go as he wanted some tuna for a fish pie. Another few minutes and we had yet another dorado, I will try later in the day tomorrow to see if we can get a tuna.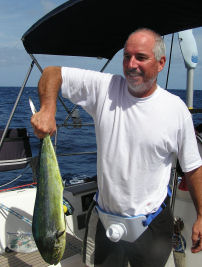 So the winds have filled in, the fish are biting and the skies have cleared, we also passed half way about 5 am, which we define as when distance travelled passed miles to go. This may not quite be half way, as we may add to that distance to go if we wander off track in search of winds, but as this part of the trip is meant to be quicker this seems like an ok definition. Looking forward to seeing how many miles we added yesterday with our long spinnaker run.
---