20th November Moondancer wall painting and caribbean party

Moondancer
Thu 20 Nov 2008 18:53
Yesterday Andrew and Alex spent many hours leaving Moondancer's mark on the wall in the marina, a long standing ARC tradition. Here is the result:
Shortly after it was off to the Caribbean party hosted by the Tobago tourist board, strangely the free drinks were sangria not rum punch, but the carnival fancy dress led to some interesting costumes and some lively music.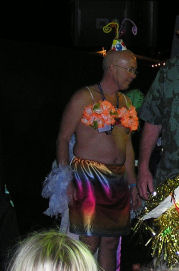 Tomorrow we start final stowage....
---