Guadeloupe and The Saintes

Escapade
Sat 9 Dec 2017 22:39

>> Deshaies Guadeloupe 16:18'N 61:48.5W
>> Les Saintes 15:53.1N 61:34.7W
>>
>> We sailed the 42 miles to this little bay in the north west of Guadeloupe. Went ashore to a brightly coloured little town and found the clearing in/customs computer in the corner of a bikini 👙 shop, James commented that it was the best experience in clearing in ever with posters adorning the walls! The town itself didn't have much to offer so dinner on board and early night. The wind blew a hoolie all night so we didn't have a great sleep. Black skies and pouring with rain the next day, up anchor early and then sail to Pigeon Island anchorage 16:10'N 61:47'W eager for some good snorkelling.
>>
>> Well, what a disappointment that turned out to be! Ashore to dive shack next to dive shack, surrounded by dirty puddles within the black sand and litter everywhere. We walked further along the road to try and find a cafe with a bit of WiFi and it was just ramshackle deterioration everywhere we looked. We found a restaurant so sat down and got our iPads out, they brought over the menu (expensive French cuisine and not what we wanted) but felt rude getting up and walking out....asked for the WiFi code and the WiFi was broken, just our luck! Back on the yacht, James had a quick snorkel in the rain and came back saying visibility was bad and also a lot of plastic and rubbish on the sea bed....such a shame.
>>
>> We left early the next morning to sail to Les Saintes (small group of French Islands south) which looked idyllic. The wind was really fickle as it funnels off the mountain at 35knots, then lulls you in a false sense of calm. We left the lea of the land and took on two hours beating into 35knots head winds with waves on the nose...not a very relaxing sail.
>>
>> We were quite exhausted when we sailed into the bay.....it is as promised, very picturesque and beautiful. We have picked up a mooring bouy within a short swim to the shore. The water is crystal clear and we sit in the cockpit watching the pelicans swoop and dive into the shallows around us.
>>
>> We have been quite cultural and athletic this morning, we donned our hiking gear and walked to Napoleons Fort at the very top of the Island. The views were stunning and well worth the effort. We saw a huge iguana 🦎 enroute and I commented to James that I thought we were going to see loads in Guadeloupe and he pointed out that I was obviously thinking of the Galápagos Islands! Derrr.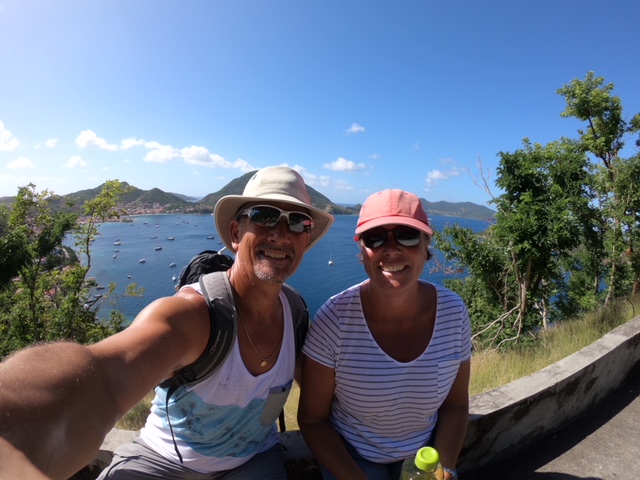 >>
---