Antigua

Escapade
Thu 14 Jan 2016 20:49
17:00.16N 061:45.40W Moored near the entrance to English Harbour and were able to swim off the stern and snorkel to the reef, not much coral but quite a few colourful fish. There was such a chilled and laid back atmosphere in and around Nelsons Dock Yard. On our first night at anchor James insisted we go to Shirley's Heights to celebrate our crossing, so after not having used our leg muscles for 3 weeks we climbed...yes, climbed (in the searing heat) the mountain and rocks to enjoy the steel band and BBQ at sunset overlooking the harbour and Marina, it was an incredible way to start our Caribbean experience, but a relatively early night was calling me. We had some pretty amazing diners out, including Pillars Restaurant at the Admirals Inn with Pelicans soaring overhead and a beautiful view across the dockyard. We got chatting to a great couple Rob and Angela and thoroughly enjoyed hearing some of thir tales of living onboard for 8 years and sailing around the world, (special Thank you to Rob for helping James configure the batteries and electrics onboard) We also had a memorable meal at a small restaurant which was just outside Falmouth Harbour on the main road called 'Rumbaba'. Unfortunately my knee started niggling me and I started limping about, not easy getting in and out of the dingy! Christmas Day started with a lie in and the compulsory quick dip before heading ashore for the 'jump up'. We had a great day people watching, drinking copious amounts of piña colada and dancing to the live reggae band. On the eighth day at anchor we decided we need a change of scene and ventured into the rough seas, head on towards Green Island and Nonsuch Bay. (Only 2 hours) the anchorage was very tranquil and lush, but we were a bit disappointed with the snorkelling. We had a lively sail back to meet Clare at the airport.
We enjoyed another few days showing Clare around Nelsons Dockyard, fab diners out, snorkelling and chilling onboard.

We left EH for Jolly Harbour. We only had one night in the marina (New Years Eve) im afraid to say I only made it until 10.30 and left James and Clare to see in the New Year! The facilities and shops around the marina were a bit run down and tired and it was so hot that we decided to move out into the entrance to the harbour n the pick. We were all amazed by the clarity and colour of the sea in and around Jolly Beach, this really was what you picture in your mind of a Caribbean setting.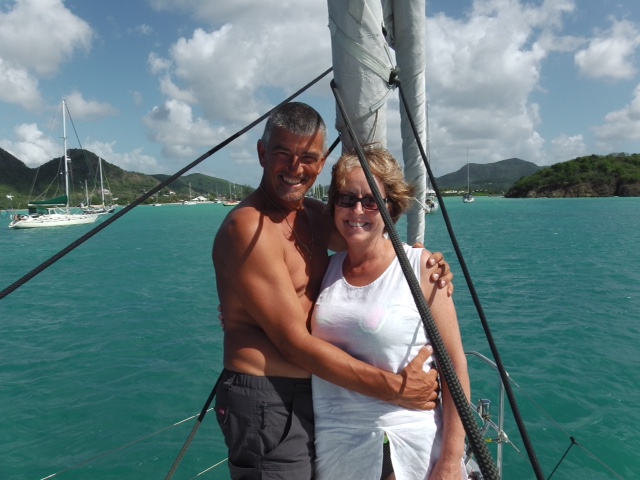 Sent from my iPad
---