36:20:12N 45:29:54W

Boatannie
Fri 25 May 2012 16:02
A rather bumpy night but at least the wind kept up. The morning bought a break in the cloud and some sunshine. The last 48 hours have been good for us; while other friendly skippers on boats ahead of us have emailed reports of deep windless holes we have kept going steadily, averaging 6 knots. We are currently 700 miles from Flores, which we hope to get to if the engine is working and it's daylight when we arrive, otherwise we'll head off to Horta, another 100 miles.The wind has come around so it looks as though we will have to gybe to get up to the Azores.
We now have the diversion of seeing quite a lot of shipping, most of it heading SW and I'm finding that you meet the most interesting cast of characters on an ocean cruise, even on a small boat such as this. Yesterday, for example, I saw Basil Fawlty tied to the mast and releasing a stream of expletive laden invective against the rams horns. Luckily, there was no tree close by otherwise it would undoubtedly have been stripped of its branches in order to give the boom a good lashing. Then we had Gordon Ramsey in the galley - more purple invective against inanimate objects, although I do think I caught a glimpse of Mother Theresa down there too. The previous evening Ernest Hemmingway could be found perched on the stern puffing away on a big Cuban cigar and looking very contented.
It's a lovely fresh sunny afternoon now but generally it's been getting rather chilly and grey hereabouts. The blue ocean has given way to the more sombre hues of the North, flying fish have been left behind and the sun now rises over the bow in the morning. Talk is increasingly about loved ones and home.
Peter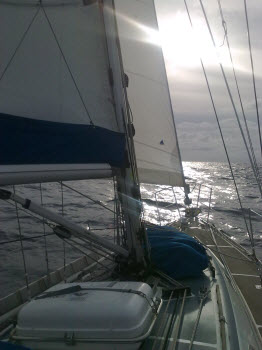 ---