Bermuda Sail Grand Prix

Stravaig'n the Blue
Mon 16 May 2022 11:31
This weekend saw Bermuda host the first event of the ten event 2022-2023 Sail Grand Prix (SailGP) series, the third in SailGP's history.

This competition is sailed in F50 foiling catamarans, the ultimate racing sailing machine. The F50, a development of the America's Cup AC50, has a predicted top speed of 52.2 knots (60 mph) and the current record, 51.1 knots, was set by team GBR in Bermuda in 2021.

This series is between teams representing ten countries, up from eight last time around, although Japan wasn't present in Bermuda and it wasn't clear whether they'd be participating in the other nine events. The story is that Japan has failed to raise the required sponsorship which must be a bit of a relief for the organisers because, due to collisions at the end of the last series, they currently have only nine race-able boats!

On Friday we sailed the 12 miles from St George's at the eastern end of the island to Dockyard at the western end and caught the F50s at the end of their practice session being lifted out of the water for the night. We anchored off Hawkins Island for the night, about a mile from the race course.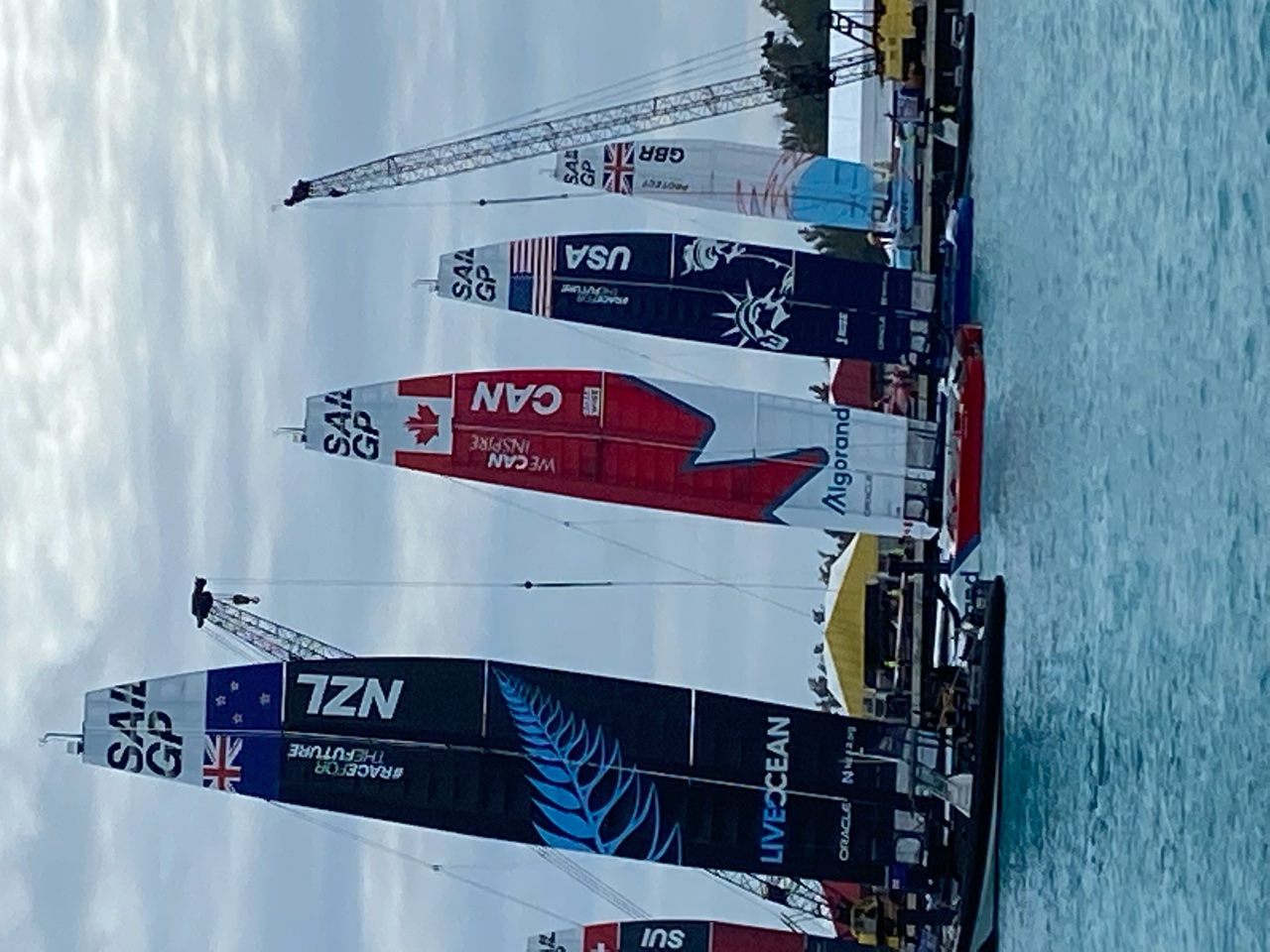 The start line marks and a pair of turning gate marks tied up at Pier 41 Marina for the night, the recently renovated ex-British Navy dockyard buildings dating from the early 1800s in the background.





It was a BYOB (bring your own boat) event and we splashed out on ringside seats that provided excellent views of the entire race course. We were anchored in the On Water Premium block, top right of map, where we could see everything from the boats lining up for the start on the far side, the actual start and sprint for the the all important first mark (the Speed Mark) followed by the downwind and upwind legs (between the turning gates), five in all, and the dash to the finish. The wind was blowing South to North on both days so the turning gate at the bottom of the map is the windward gate and the other is the leeward gate.





There were a lot of spectators in all sizes and shapes of boat. It was busy but it wasn't crowded.





Our ticket to the event, a snip at $180.


---