FW: the live on Block island

Outer Limits
Sat 16 Jul 2011 15:56
Block island ( dutch island ? )...een hardstikke leuk eiland.
We liggen aan de mooring met Just Us.
Jon & Lisa die hier al 30 jaar komen hebben ons gisteren mee naar de wal genomen.
Bij vrienden hadden ze een auto geleend omons het eiland te laten zien.
De eerste stop was een farmers market waar ik heerlijke koekjes heb gekocht.
De gemiddelde huis prijs is hier 1 miljoen. Het is een klein eiland.
Aan 1 kant komen de ferrry's binnen aan de andere de plezier bootjes.
En als je snel wilt kan je met een klein vliegtuigje het eiland bezoeken.
Grappig zag ook een paar oude VW busjes rijden.
Jon liet ons een schitterend restaurant hotel zien helaas waren we te vroeg voor lunch.
S middags zijn we met de dinghy clams gaan zoeken. Soort venus schelpen die je lekker
kunt op eten. Je hebt een speciale vergunning nodig om met je hark de zeebodem af te schrapen.
Er loopt zelfs een Clam police om dit te controleren. Jon vond aardig wat schelpen
en die gaan vandaag in de pan voor Clams Casino.
Daarna hebben we een drankje gedaan in een marina.
Het is zo druk hier met boten. Er liggen boten die gebruikt worden als huisje die
gaan gewoon nooit de haven uit.
S avonds hebben we gegeten in een restaurant met hardstikke mooi uitzicht.
De bediening kwam uit bulgarije...2,95 per uur plus tips...ja dan wil er wel 20 hebben rondlopen
en heb je als baas niet zoveel personeels problemen.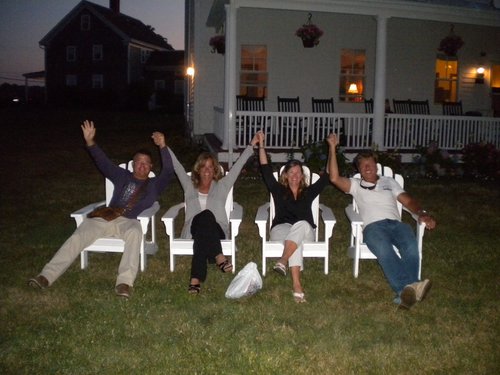 We had a great time yesterday , Jon & Lisa are perfect hosts
and they know very much about the island. Lot of fun too.
They arange a car and show us the island. Average house 1.000.000 us dollar.
Beautiful cozy island. We had a funny old car , the sow us a beautiful
restaurant but we where to early for lunch. In the afternoon we went searching for clams.
You need a licence for that and guess what there is a real Clam Police...
what is he telling his wife when he come home from work..........
But Block Island is that not a dutch name....................google give the answer
Adrian Block put it on the chart! and yes he was Dutch !!
---