Hiking

Outer Limits
Tue 17 Mar 2009 20:16
Vandaag begon de dag uiteraard met een ochtend duik
maar daarna moest het beddegoed verwisseld worden.
Ik dacht nog the best man for the job is the woman.
Oeps nou maak ik weer vrienden....Daarna met de JC
naar de wal om te beginnen aan een hike, wandelen dus.
Had in de folder gelezen dat er een mooi pad loopt naar een
ander resort. Maar het is hier een beetje heuvelachtig en dat is opgelost met trappen.
Dat was effe geleden merkte ik dus beetje conditie training kan geen kwaad.
Van boven af had ik een schitterend uitzicht.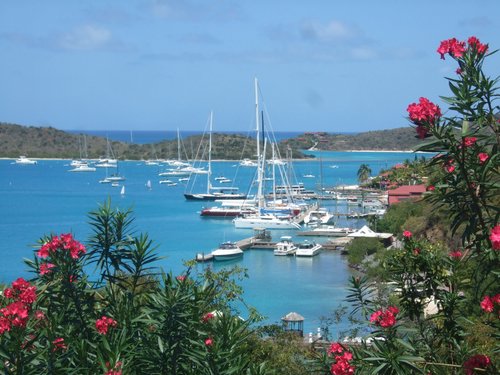 Die witte ben ik , aan de overkant zal ik maar zeggen....
Na wat gezoek vond ik het pad en het was langs de mangrove.
Mooi pad met ook de nodige salamanders ( denk ik )
ik denk altijd kleine krokkedillen hhhihhii maar ze doen niks ( tot nu toe )
Daarna kwam ik in een ander resort ; Biras Creek.
Boven op de heuvel staat een restaurant met een fantastisch uitzicht,
aan de ene kant de oceaan en aan de andere de Virgin gorda.
Als je nog wat wil vieren met je vrouw...slechts 31 suites en
een fantastisch strand. Heb daar even lekker van genoten.
Aan de parasol hangt een vlaggetje ..omhoog is bediening gewenst
Na de wandeling terug heb ik mezelf maar eens getrakteerd op een lunch bij de Bitter End.
Bbq chicken met echte frietjes, ketchup EN mayo mmmmmmmmmmm.
Daarna nog even gerelaxed in een hangmat en toen maar eens terug naar het scheepje.
En tijdens de sundowner kwam mn nieuwe buurman binnen varen de Athena.
Inderdaad gebouwd in Nederland en een van werelds grootste.....
Toen het al schemer was kwam er nog een huurboot voor me ankeren dat is dan weer
even afwachten of ze niet mijn anker los rommelen maar dat lijkt ok, ze verloren alleen hun dinghy
dus heb ik deze newyorkers nog maar even geholpen.
Een ander helpen geeft toch weer voldoening.....wijze woorden he.
---