3e paasdag

Outer Limits
Wed 15 Apr 2009 02:49
Hopelijk hebben jullie allemaal genoten van fijne paasdagen en lekker weer.
Hier was het meer feest op 2e paasdag dan zondag 1e paasdag.
Zondag hebben ik genoten van een pass ontbijt op de boot van John.
Daarna zijn we naar de airport gegaan om gedag te zeggen teggen Vickie en Jeff.
( zus van Lori ) helaas moesten zij terug naar huis om weer aan het werk te gaan.
Maandag was een lekkere relax dag en hebben we s avonds genoten van Lori's kookkunsten.
Vandaag zijn we met de auto naar fort James gegaan en hebben genoten van een lunch bij Russel.
Doen we dan nog iets anders dan eten ja zeker, we zijn daarna langs de kust gereden
aan de oostkant en zijn daarna naar de hoofdstad gegaan St. John.
Daar kwamen we terecht bij C & C winebar. Deze bar had ik al ontdekt met Brigit
maar we hadden die dag meer zin in verse jus dan wijn echter nu was het tijd voor wijn.
Dus lori met haar moeder de stad in en John en mijzelf naar de wijnbar.
Gespecialiseerd in wijnen van zuid afrika werd dit een heerlijk plekje.
Heerlijke wijn en zelfs heerlijke kaas erbij.mmmmmmmm
Twee vriendelijke vrouwen runnen deze zaak, 1 is van belgie en 1 is van antigua
maar spreekt ook nederlands. Ze hebben een wijnbar en een ijszaak.
Beide erg goed!. Kortoom we hebben daar een uurtje of doorgebracht en genoten
van allerlei wijn,kaasjes en ijsjes. Zelfs een dessertwijn behoorde weer tot de mogelijkheden.
Mooie gelegenheid om weer eens wat wijn te bestellen en dat wordt hopelijk morgen hier afgeleverd.
Kortom we doen echt wel meer dan alleen eten.....
We bring lori sister and boyfriend back to the airport, very sad that they have to leave.
Today we had wonderful lunch at russel and then we found a nice winebar.
Owned bij girl from Belgium and Antigua. Very good wines from africa.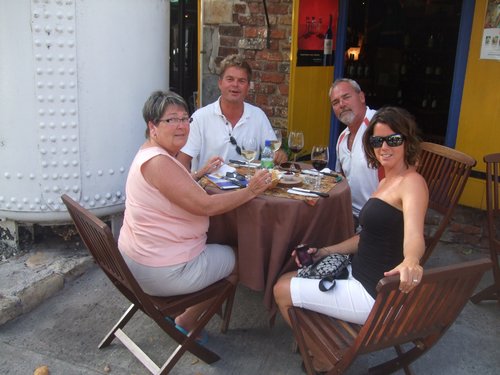 ---