12:05S 96:53E Cocoas Keeling (Direction Island)

Toucan
Conor & Marion Wall
Sat 8 Sep 2012 09:44
The sail from Christmas Island to Cocoas Keeling was once again a very pleasant sail although as we went further West we noticed a big difference in the sea. Whereas the seas had been pretty normal up to Christmas Island, on passage to Cocoas Islands there began a large swell rolling in from the Southern Ocean and although this was not unpleasant we felt that things would change the further West we travelled. Three days was a relatively short crossing for us at this stage of the game. Our arrival at Cocoas was quite spectacular in that we almost did not make it before sunset. It is a difficult entrance around some reefs to the anchorage and by the time we dropped the anchor it was actually dark. It is recommended not to try to enter by night so all in all I suppose we timed it perfectly, more by luck than design.
Once again the fishing was good on this passage and this nice Dorade (Mahi-Mahi, Dophin fish) was landed and dispatched soon after leaving Christmas Island. Sometimes we are sorry that we don't have a freezer but on balance the very large fridge on Toucan works pretty well.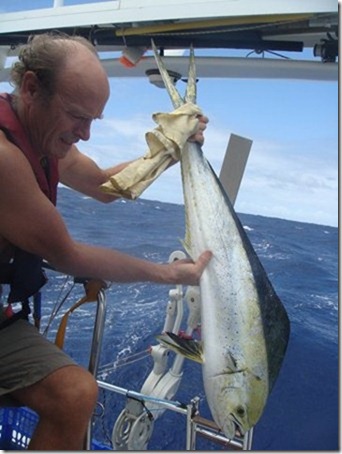 Direction Island is really very small and we could walk the entire Island in half an hour but the anchorage is beautiful and here at the signpost tree people left mementos of their visit, some painted some carved and some from many years ago.
Our anchorage, shared with another four yachts and some day trippers from the larger Island that has the small airport. Only one plane each week that comes from Australia. This photo shows the landing jetty for the small ferry at the far end, the day trippers boat afloat and the tenders from the yachts.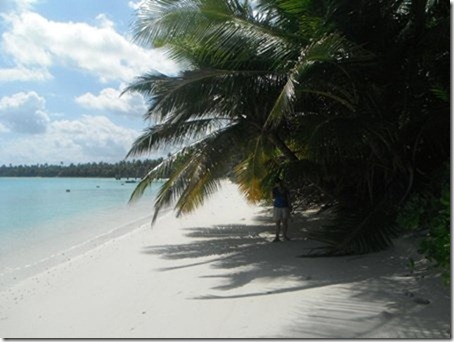 How about this for a beach. No one lives on Direction Island.
No Idea who left the hammock but yours truly found it irresistible
Unfortunately the human tragedy continued to unfold at Cocoas Islands and these recent arrivals await the customs to tow them out to sea and set them on fire. Presumably the cheapest way to dispose of them and at the same time make sure that they are not used again for another shipment of refugees.
Cocoas Islands is made up of three main Islands and a number of smaller islands including Direction Island (our anchorage). There is a small ferry that connects the islands once per day so we managed to see the other Islands during our short stay here.
In case you were wondering what happened to the refugees, well, during our time at Christmas and Cocoas Islands all the refugees arriving were taken to the detention centre on Christmas Island to be 'processed'. We understand from locals and officials that nearly all of them are allowed to enter Australia once they have been 'processed'. The detention centre is huge and there are thousands of refugees there at any one time.
The email below was sent by me on passage from Darwin to Christmas Island. Sent to Customs Australia. Fortunately nothing sinister happened but we were just amazed to see such a small boat so far from anywhere. Not for the first time, if you have been reading our blog.
Position at 0915 ships time (GMT + 8) 10* 38' S and 108* 07' E Travelling at 5.5 knots average in a direction of 274*
S/V 'Toucan'
Cornelius & Hannah Wall
Sirs
As you will most likely be aware we are on route from Darwin to Christmas Island and are currently at the above position. We expect to arrive Flying Fish Cove in the morning.
Concern
Approximately 0700 this morning a small boat crossed our bow heading in a SE'ly direction. As soon as it was approximately 2 miles away from our vessel it turned to head W'ly. The same direction as us. It has been or would appear to be following us and we wondered if we should worry about such activity.
Some days back an Australian Warship asked if we had seen anything suspicious and if we did could we report it. So please note that I have reported this.
Cornelius Wall
This reply to their request for more information sent later in the day.
Current position 10* 36' S & 107* 30' E
Toucan
Hello
Thanks for your reply
We have not seen the boat since about 1030 and do not know where it is now. It's closest point to us was about 1.5 miles and the colour was white top with green hull. Low lying and I would guess about 10 meters long. We could not see any people for definite. I did observe for a long time to see if perhaps they were in distress but no sighs of any frantic action. I only became suspicious because of the size of the boat and the direction that it was heading in and changed to. It would be hard to say what the boat was made from, could be GRP, a guess. I could see no flag.
---