12:03N 61:45W The Winward Islands

Toucan
Conor & Marion Wall
Mon 17 Jan 2011 20:18
Selling Fruit & Veg from the small boat & making Hats and light shades from banana leaves in another.
It is now a month since we arrived in the Caribbean, a lot of which is blotted out of my brain for reasons of the dreaded Rum but what brain cells are left will try to give an account of our time in the Windward Islands.
Having partied ourselves out during the final days of the ARC, culminating with the prize giving and for us the singing of our song Twelve Days of 'Maritime' Christmas on stage in front of the entire ARC fleet it was time to leave Rodney Bay Marina.
After a wonderful day at le Sport, (thank you Henry) Henry and Simon left us and flew back to the UK to suffer the snow and cold affecting the country. They left on different days but both managed to land safely at Gatwick between airport closures. It felt a little odd having the boat to ourselves again and much moving of 'stuff' was done between the very heavy rain that plagued us in Rodney Bay in our final few days there.
Sunset from Le Sport and horse riding on the beach.
We departed Rodney bay on the 21st of December for Martigot Bay just a short distance South. We arrived there just as it was getting dark and anchored at the same spot that we anchored at nine years previous in Idle Spirit our Ovni 36. The following morning we were up at the crack of dawn to sail the 50 miles or so down to Bequia where we had arranged to meet other boats for a Christmas Party on the beach. As we headed South we lost the rain and have seen very little since. We still get rain but mostly in short bursts and sometimes it is torrential but never feels uncomfortable. Warm rain is much nicer than cold rain.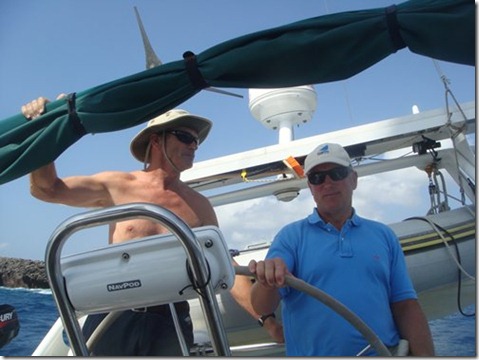 No we didn't buy their chicken. Charlie and us on route to Baliceaux
On arrival in Bequai we had to formally check into the group of islands know as the Grenadines. This is a formality that needs to be done as we change from Island Group to Island Group. The process is much the same throughout. First we need to submit our passports and ships papers to the Immigration Authorities then to the Customs Authorities and finally to the Port Authorities. Sometimes all of this is done in the one room with different officials sitting behind there own special desks or behind windows as you might find in a Post Office. In some places it is necessary to go to three different buildings or shacks or whatever and can often take several hours to complete.
There is a new online check-in facility now in place that much of the Caribbean subscribe to but you still have to go along to the different officials with the paperwork, it's just a bit quicker now as there are not so many forms to fill out.
Collecting Coconuts.
Christmas in Bequia was a gentle affair with some partying on the beach mostly with our Norwegian friends. We also met up with Charlie and Paula from Lymington along with their children and Paula's Mum and Dad. We have known them for a number of years (also Ovni owners) they have circumnavigated the Globe some 18 years ago. We sailed with Charlie to the small Island of Baliceaux just East of Bequia. An uninhabited Island with lots of Tortoise roaming free. A beautiful anchorage all to ourselves for a few hours before returning to Bequia.
Last time we were in Bequia we did not stay very long and so on this occasion we had time to see the whole Island at our leisure which was nice.
Here also we caught up with some of the ARC friends we had made during our stay in Las Palmas and Rodney Bay and of course on the Ocean as we spoke on the SSB Radio.
One of the many isolated beaches.
In Bequia we met a couple of Venezuelan boats travelling togother, one a doctor his wife and two very young children, the other a young couple and friends of the doctor. Marion and I were anxious to get information about the situation in Venezuela as there is a particularly nasty regime governing their country at the moment and there are a lot of problems with drug trafficking, attacks on yachts and piracy. Our concern, piracy. They had sailed up from Puerto la Cruz via the Island of Margarita. We had hoped to sail in convey with them (safety in numbers etc.) but on advice from the Venezuelan coastguard not to go to Margarita, Los Testigos or Tortuga and another couple of Island close by that we would also have liked to visited, coupled with the fact that a friend was considering a sail with us in the Caribbean, we decided against making the passage.
The Grenadines comprises the group of islands from and including St Vincent in the North to Union Island in the South.In between you have Bequai, Mustique, Canouan, Mayreau, Tobago Cays, Palm Island. I think they may be the poor neighbours in the Winward Islands although they sure know how to charge for food and drink and other items.
Lobster being prepared at Tobago Cays
We left Bequia on the 2nd of January and sailed to Tobago Cays. This is now mostly a marine park and the diving and beaches are to die for, crystal clear waters and an abundance of colourful fish of every shape and size. A joy to be part of it for a few days. Tobago Cays appears to be the magnet also for the Superyachts with many coming and going in our short stay there. Tobago Cays is made up of several small Islands protected from the force of the Atlantic by reefs that extend some distance out to sea. You can be at anchor looking towards Africa in perfectly calm water with winds of 25 to 30 knots and huge waves crashing against the reefs sometimes only a few hundred meters away. We were lucky in that the weather was calm with a gentle breeze blowing.
Typical anchorage at Tobago Cays
From Tobago Cays we headed across to Union Island, the last of the Grenadine group of Islands to clear out with customs and immigration etc. Union Island presents herself with cosmopolitan atmosphere. We noticed a real mix of cultures even though the Island is only small. The main anchorage is at Clifton although the holding is not good on a sand covered rock base. We dragged our anchor twice before finally getting it to hold but we heard afterwards that some boats ended up on the reefs directly downwind of the anchorage. One of our friends had to pay a large sum of money to the 'boat boys' for saving his boat from the colliding with a catamaran whilst he was ashore. He has since purchased himself a new 45lb. Delta anchor.
Union Island
After Union Island our next port of call was Carriacou, the first of the Grenada group of Islands, Grenada and islands are not part of Grenadines.
Again it was necessary to check in so we stopped at the capital, a small town called Hillsborough to do the formalities before sailing around to Tyrrel Bay, the recommended anchorage.We spent a few nights here ,went to the local Friday night jump up with great steel/samba bands. We also visisted the Carriacou yacht club which is along the beach.
Apparently there are over one hundred Rum shops on this Island and only one fuel station. Just as well perhaps.
Find the Iguana
From Tyrrel bay on to St. Georges in the South of Grenada. Some of you will remember that there was a Coup on this Island in 1979. The Americans and others stepped in to restore a democratic government and Hurricane Ivan in 2003 that wiped out 90% of the nutmeg trees. Much unemployment has resulted although things are beginning to get back to normality. A friend of ours lost her boat here in that hurricane. There is a new posh marina here in St Georges where lots of those Superyacht come and go. We were lucky to find one of only about 4 anchoring spots where we have spent a pleasant week or so in close proximity to everything that we would want and all for 'nout'. We have now seen most of the Island and what is on offer including one of the waterfalls and volcanic crater filled lake.
With that amount of beer it could be possible to be happy.
We are currently in St Georges and should be looking carefully at the weather over the next few days as our next voyage is a three day affair with our intention to sail west past Venezuela to Los Roques and then to the ABC Islands.
Watch this space
---