20:09S 57:29E Mauritius

Toucan
Conor & Marion Wall
Sat 20 Oct 2012 20:23
Mauritius.
What a stunning landscape to see when arriving by sea. Most certainly in the top 5 of all the places and Islands that we have visited so far.
Approaching Port Louis, the capital.
Mauritius has a new rule for visiting yachts that has been made law only recently. Apparently yachts are not allowed to enter port between the hours of 1800 and 0600. Just exactly what one is supposed to do out of those hours is not quite clear but on our approach to Port Louis we were getting dangerously close to the time so we helped Toucan along with the motor. According to ships time we landed on the customs dock with two minutes to spare and felt happy. However the Immigration Officer had already gone home and was not a happy bunny when he had to return to do our clearance. I will say however that it was probably the quickest clearance that we have had to date.
The welcome party in the form of Jules's family waited patiently on the quay as the paperwork was all done on a restaurant table nearby.
Port Louis harbour has had a major face lift in recent years with a huge shopping complex with hotels, bars etc. that would rival any major city waterfront. Yet yards away across the main road that cuts the city off from the waterfront area life carries on as it has since our last visit here in 1976. There are just street after street of small shops selling just about anything you can imagine. You could drift through these streets day after day and still find more. Alongside these streets and in the centre of the city are the new modern high rise buildings (mostly banks) that look stunning against the backdrop of the mountains and the streets of small shops that I've just mentioned. Possibly one of the most stunning and contrasting city (rich and poor) that we have been to on our travels and certainly the cheapest place we have been to so far. It is a delight to go out to eat and find that you can have a really nice meal for a fraction of what it would cost at home. Most definitely the cost of living here is the best we have seen in our travels.
Above are just a few of the buildings photographed by us. There is a small marina just to the right of the waterfront development photo above where we managed to secure an alongside berth for a week. It is really more of a small harbour than a marina (could accommodate about 30 boats in total) but there was power and water which was nice and when we stepped off the boat we were in the centre of the new waterfront development which was also nice for us having spent such a long time at sea since leaving New Zealand.
The around the World ARC boats were to take up the entire marina shortly after we vacated.
Mauritius was to be one of the major highlights of our sail around the world to date. Before we left home in 2010 loose arrangements were made with both my sisters that we would meet up in Mauritius. One of my sisters Brenda, is married to a Mauritian. Karl has been a city banker in London for all his working life and is now retired so the excuse to meet up with us was an easy decision to make. My other sister Catherine loves sailing and she and her husband Simon have their own sailing boat in Lymington so again an easy decision for them to get some blue water sailing during the UK winter. The plan was hatched and now here we were in Mauritius amongst family and extended family. It was better than being at home.
Karl's brother, Finlay Salesse, is a radio presenter and has his own show on Radio 1 Mauritius and just about everyone on the Island knows his voice. Mr Terry Wogan of Mauritius. Finlay mentioned our trip on a couple of occasions on radio and arranged for Marion and I and Toucan to feature in one of the popular Sunday magazines. A full page spread on page three and at the very first establishment that we went to on the Sunday morning following publication we were were recognised from the photos. Not what we are used to, but we could get used to it. Thanks Finlay.
My sisters (with inside help and information) organised the most amazing house in beautiful garden surroundings, right on the waters edge but even more amazingly there was a sheltered and secluded anchorage no more than a hundred meters from the house.
Above photos taken from right outside the veranda. 'Toucan' in the first shot, Brenda and Karl in the third shot.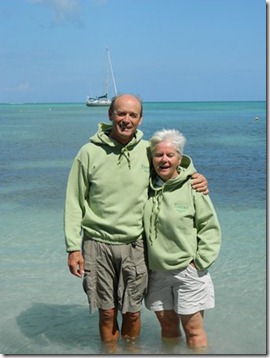 Marion and me and Catherine, Simon, me and Marion for the photo shoot. Thanks Jules.
The water temperature was just nice for swimming and close by there was plenty of snorkelling to be had on the reef that made this anchorage inaccessible to most yachts. Who could ask for more? Remember 'Toucan' can float in less than one meter of water when the keel is retracted.
From this anchorage we had a very pleasant day sail to Flat Island and Gabriel Island that lie just to the north of Mauritius. There we found a very sheltered but shallow lagoon between the two small islands and a place that several catamarans from Grand Bay would take day trippers. We followed one of the cats into the lagoon zig zagging between the reefs and picked up a mooring that was not being used by anyone. We were in one and a half meters of water but what a lovely spot.
Many days were spent exploring the island and the magical locations, other days were spent with family and extended family and we had the most wonderful time imaginable.
One of the tea plantations above and workers going home at the end of the day.
The motley crew visiting a massive Hindu Temple in the South of the Island.
Yes there are coloured earths here also.
The story behind these fishing vessels must be told. We have seen lots of this type of vessel in our time in the Indian Ocean and even in the Pacific but it wasn't until we arrived in Mauritius that we were given the full story. Most of them, or all of them come from Far Eastern Countries and we had noticed that they always have very large crews, maybe as many as 50 per ship, possibly more. But more amazingly is the fact that most of the crew are actually prisoners that would otherwise be in jail in their own country. Mauritius tolerate the ships arriving in Port Louis as they bring cheap fish to the canning factory there and there would appear to be a very strict regime when anyone comes ashore from one of these vessels.
Fish from the local market, not from the fishing vessels that bring mostly Tuna.
Lastly I cannot finish this blog without thanking my two sisters and my extended family in Mauritius. In particular Finlay and Sharin and Jules and Dominique for the kind hospitality that was shown to us during our time on their Island. All above and beyond the call of duty as they say. Thank you very much. Marion and I hope we can repay a part when you come to our side of the world.
And finally I have to say how sad we were to leave, it was just like leaving home again. But oceans have to be crossed and we now had in front of us the most difficult challenge of all in our around the world adventure. However we would firstly make a small stop at La Reunion Island some 24 hours away and in the direction of Africa.
---