10:25S 105:43E Christmas Island

Toucan
Conor & Marion Wall
Tue 28 Aug 2012 08:01
Sunsets in Darwin have been the best we have seen in our travels, This one leaving Darwin was also good.
We left Darwin on the 16th August in the direction of Christmas Island some 1500 miles to the West. We had a nice wind leaving Darwin but during the first night at sea the wind died completely and we had to motor for two days to find it again. This appears to be the normal when leaving Darwin. The sailing was pleasant when we had wind and our daily fly-over by the Australian Coastguard was a welcome distraction to our day. They would nearly always talk to us on the VHF Radio. More about them later. Between Darwin and Ashmore Reef we saw lots of snakes in the water but thankfully none came on board, I have no idea where they were going or even where they came from, some quite large some very small.
This Customs plane flew over us nearly every day. Apparently it is out looking for boats carrying asylum seekers.
Fishing was good and we caught some interesting fish. The one below we think is a Scabbard or Belt-fish. We did not eat it as it looked so ugly but we believe that it is a prized fish in some countries.
Tastier fish were to come. Tuna being my favourite.
On our way to Christmas island there is a small island called Ashmore Reef where it is reported to be possible to anchor and spend a night or two. We passed very close but as it was dark decided not to stop. All around this area of the Indian Ocean is a large presence of Australian Customs due to illegal immigrants constantly arriving in clapped out fishing boats hoping for a better life in Australia. We were aware that this was happening but did not imagine in our wildest dreams that it could have been as widespread as it was at the time we passed through the area. Our first real encounter was at this Reef where we were shadowed by a patrol boat assumingly doing practice on unsuspecting sailors. We saw on our radar a boat doing a full circle of ours and then shadowing us for some time but as it was too dark to see them had no way of knowing who or what they were. Our concern of course turned immediately to Pirates and we took all the necessary precautions and expected the worst. Two hours or more of worry and we finally figured out that it was a Customs patrol boat. Their mother-ship was hid from our view behind the small island. When we spoke to them on the radio the next day all became clear. As we headed further west the wind continually increased in strength but all the time near perfect sailing weather.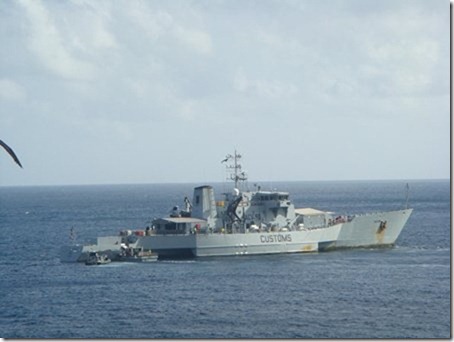 This customs boat, at Christmas Island, is offloading refugees who were intercepted at sea.
Christmas Island was an eye opener for Marion and I as we were able to see for ourselves the human crisis taking place. Every day during our few days at the Island, a boat load of people arrived. The boats were clapped out fishing boats sometimes with as many as 60 persons on board and some of these boats will have come from places like Sri Lanka so will have been at sea for up to two weeks. We counted 30 people coming off this one below when it arrived. Notice the list on the boat below, it looks like it could capsize at any moment.
Apart from the human tragedy unfolding Christmas Island was a delightful place and everyone extremely friendly.
We hired a scooter and did the obligatory tour of the island.
Some of the birds Frigates, Boobies, Tropic Birds. And none seemed to be afraid of us. The tropic birds flying over the swimming pool at a local hotel resort were scooping to drink the fresh water.
Below is one of the Red Crabs that make this Island well known. They move on mass at a certain time of year to reach the sea to lay their eggs but normally live on the land. They even have to close roads at certain times and other rods have barriers to divert the crabs through tunnels as so many of them were being run over by cars. At times in areas of the Island the ground becomes red with moving crabs.
This photo of Toucan taken from the high cliffs that surround this Island. There is no natural harbour and the anchorage is exposed to winds from the North.
This email below was sent by me to family on 30th August 2012 just before we left Christmas island
Hi
Just a short email to let you know that we will be on our way to Cocas Keeling by the time you read this email. We have had a lovely stay at Christmas Island and have experienced the refugee crisis first hand with three boats arriving whilst we've been here. Tragedy also as no doubt you have heard. One boat lost not that many miles from here with the loss of nearly 100 lives. So sad. 50 or so have been plucked alive from the water by the Australian navy and some other commercial boats. Still standing by to resume the search tomorrow.
Cocos is about 3 days sailing from here and really looking forward to getting there.
Conor & Marion
---