Fiji

Toucan
Conor & Marion Wall
Mon 28 May 2012 11:25
As you may have deduced from our last entry, Toucan is on the move again as the Hurricane season is officially over.
First fish catches after leaving New Zealand and the swallow that hitched a ride. He kept trying to come into the cabin but in the end settled for the small hole in the coaming just visible to the left of the photo. He was cosy there. Stayed with us for over two days.
We left New Zealand on the 28th April bound for Lautoka in Fiji but as we encountered some very strong winds on the way we decided to change our plan and stop at the small reef in the middle of nowhere called Minerva Reef. No photos for Minerva as there was nothing to photograph, only water. We had one restful night there before carrying on to our new destination of Suva, the capital of Fiji.
Suva Royal Palace entrance and some spices in the Suva market
Suva Market and a chap taking a nap on Fiji time.
We arrived at Suva on Monday 6th May as part of our plan to avoid very high overtime charges for yachts arriving on the weekend. Government officials do not normally work weekends. We did our check in formalities there and as the Fijians like their paperwork this took the best part of two days. They have a very strange system in Fiji as we firstly have to do the Immigration, Quarantine, Customs (and Ministry for moving around the islands office) all with their many forms. I counted over 30 of my signatures on the paperwork that we completed. Everything in duplicate and no carbon paper. OK so now we are legally in the country but as we move from region to region around Fiji we now need to go back to customs in each region for a permit to sail in that region. This check out and check in can only be done at 5 or 6 designated places, mostly the larger towns of the region and this is most inconvenient as we are unable to stop at some beautiful anchorage along the way unless we have the permit. There are 5 or 6 of these regions that cover Fiji and we only wanted to sail in three of them so more paperwork needed to be completed as we arrived in each new region. All fun and games and very time consuming. Moreover we were obliged to buy quantities of 'Kava' for the chief of each village that we would visit when anchoring in the many small Islands.
Kava, gift wrapped. I know it looks like meat in the photo but it's not. It is actually root from a plant that the Fijians make drink from.
Leaves a nasty taste in your mouth like you might have after a visit to the dentist.
Kava is the traditional drink of the islands and is drunk both ceremonially and socially and plays a large part in Fiji culture. This mildly intoxicating drink will be offered to the visitor in a coconut shell cup and must be drunk in one go to be polite. We purchase the Kava root from the market traders and approximately half a kilo is parcelled up into a presentable gift for the chief of any village that we should visit. The chief always accepts the gift, does his little ritual prayer and dance over it and accepts us into the village. I think we are then part of village family and can do more or less what we like as other villagers can. Not that there is much to do in any of these villages. The women seem to spend their time making things from leaves, like fans, mats baskets etc.. We saw no shop in any but did see a church or two. Methodist and Catholic and even managed to attend one on the Sunday. As with all South Pacific Islands church services the singing is fantastic.
A traditional home in the village at Sawi-I-Lau
Anyway paperwork complete and a nice few days spent looking around the capital with its colourful shops and more colourful people and a market that must be the envy of the Pacific we set off to visit the coral coast and then Lautoka on the Eastern end of the main Island. First stop was the coral reef of Beqa before visiting Robinson Crusoe Island. Fiji is not just surrounded by reefs but they seem to be everywhere so navigation is indeed difficult. To make matters worse the charts that we pay good money for are often incorrect so we can not rely on our chart plotter. Often we see our track on the chart plotter actually going right over the top of a reef or island. So it is essential to eyeball the way into and out of anchorages and to do this it must be daytime and preferably with the sun high in the sky.
Robinson Crusoe Island and sunset from the anchorage.
More formalities had to be done at Lautoka so that we could visit the Yasawa Islands and the Manaka Islands which are the Western most Islands of the Fiji group. A couple of days in Lautoka and we then made our way through a reef system for some 50 miles often times between reefs that were only a few hundred yards apart and very difficult to see on the cloudy day. We arrived in good light to Sawi-I-lau in very windy conditions and dropped anchor. We were the only boat in the bay. The following morning we took our offering of Kava to the village chief. He did his little ritual over it and welcomed us to the village. There is a cave that can be dived at low water and the chief pointed out that we only had about another hour if we wanted to do that. Backpackers and tourists from neighbouring islands arrived in small boats and it was quite a busy affair for the couple of hours either side of low water.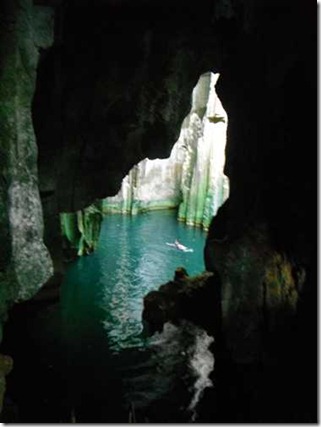 Caves at Sawi-I-Lau
These chaps had just caught a goat (it's in the middle of the boat) on a neighbouring island and they are returning to their village.
Two nights at Sawi-I-Lau and on to our next anchorage, the Blue Lagoon.
This really was a beautiful spot completely surrounded by reefs and islands and an very sheltered anchorage. Once again the ritual of seeing the chief of the Island where we anchored and went ashore for the Kava ritual.
Blue lagoon
This time the chief was a lady and once again we were accepted into the family, so to speak. On nearly all of the island there are small holiday resorts, mostly very basic and mostly for young backpackers visiting Fiji. Some of the resorts are very exclusive and some so exclusive that only paying guests are welcome. Small boats full of people flying out in all directions was a common sight as the tourists went diving, snorkelling, visiting caves, visiting villages etc. etc.. There was a very nice resort at the Blue Lagoon and another on the island next to it that did not welcome yachties or other such riff-raff. A small sea plane seemed to come and go on a regular basis, presumably dropping off the very rich clients or taking them for sight seeing tours to all the places we had just been to. We enjoyed our stay and the chief even made us some 'Pouri' which was something she had a reputation for making.
Fresh Pouri, made by the chief of the Island.
We had some more options of places that we wanted to visit such as Manta Ray Pass and Turtle Island but after my dive in the cave I picked up some kind of eye infection and had to stay out of the water until I was happy that it was completely cleared. We were also running out of time so we therefore made for the famous Musket Cove resort and Islands to the south of the Yasawas to rest up for a while. A tricky passage that should have taken us 4 or 5 hours but actually took us 9 hours saw us arriving through the treacherous reefs with only minutes to spare before dark. All due to some very strong winds that we encountered shortly after setting out and winds of up to 30 knots right on our nose that had not been anticipated. The sun had actually set some 15 to 20 minutes before we dropped anchor. We considered ourselves most fortunate.
Musket Cove, Fiji.
Musket Cove was made famous some years ago when the round the world boats were encouraged to go there instead of Suva the capital. There are now three very popular holiday resorts on the islands and yachting people are made very welcome to use the facilities (swimming pool, showers, beach loungers etc. etc.. All this once you are a member of the Musket Cove Yacht Club (1 F$ or about 30 pence in our money). So it's a bit like going on holiday for us.
Off with the head.
The final steps of our stay in Fiji required us to go to Lautoka to check out of the country. Lautoka is about a four hour sail from Musket Cove but in the opposite direction to the way we would like to be heading. We called into Vuda Marina on the way to filled up with diesel but got waylaid once again and spent the night there. Here are some interesting photos of how they store the boats during the Cyclone season.
Holes are dug in the ground for the keels and the boat cannot now topple over.
Vanuatu should be on the horizon in four or five days time.
---