Christmas Day 2008 Position 14:29.28N 61:04.95W

Symatchmaker
Thu 25 Dec 2008 17:51
Happy Christmas from all the Matchmaker Crew - Peter Helen Jen Jon Tom and Thom !!
We met Thom from the Airport at 20.15 last night - and we were all on board Matchmaker for a late "candle light" Christmas Eve Supper. Outside it was very windy and squally.
Christmas morning was a little more settled and we had a swim at Anse De Ane. We moved again to Petite Anse De Arlet where the waters were bright turquoise - with yellow angel fish - and the rainforest lime green.
We exchanged presents and drank champagne then had a relaxed ( dressed in swiming costumes! ) and delicious lunch of Roast Leg of Lamb - and roasted Jams & Sweet Potatoes all washed down with a couple of bottles of Cote De Rhone - Well done Helen the cook!
Now off swimming in my new turquoise "speedo" Trunks !
Joyeux Noel !!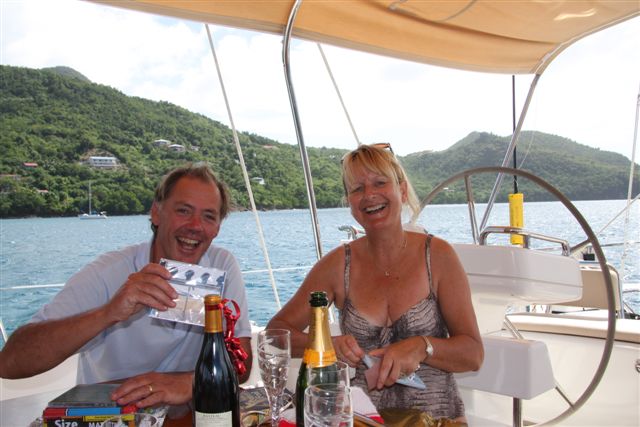 ---