Safiya
Harvey & Sue Death
Thu 6 Sep 2018 02:42
Indonesian Crusing
With Grace on board we sailed overnight from the Komodo National Park along
the north coast of Sumbawa. It's a busy shipping channel which is also
littered with fishing boats who at night don't turn their lights on until
you get close and then.........surprise!!


We stopped half way along the coast at a smart resort, part of the Aman
group and treated ourselves to a very nice lunch, a welcome change from
eating on the boat. From there we day hopped along the coast to Lombok. We
felt our first earthquake in the water between Sumbawa and Lombok. It was
very strange, as we were sailing along the whole boat started to shake, it
went on for about 5 seconds and the first thing we thought was that we had
run aground! After that we experienced another two tremors when we were at
anchor, by then we knew straight away what was happening. Luckily there was
no damage to the boat.


We stopped at a couple of anchorages, the people were very friendly and
welcoming but the villages are very poor and basic and there was little to
do, so we pushed on and arrived in Bali a few days ahead of schedule. As we
had five days before Alice and Matt arrived, Harvey, Grace and I left the
boat anchored in the harbour with our crew and we booked into a hotel for
three nights. We had a holiday in Bali in 2000 but we couldn't believe how
much it had changed in 18 years. Particularly around the surf beaches in the
south. It is very busy and commercial but we were more than ready for a dose
of civilisation and loved it, making the most of the shops, restaurants and
spas!


Alice and her boyfriend Matt flew into Bali, we collected them from the
airport and set off the next day back to Lombok. The very popular and well
know "Gili" isles in the north of Lombok were badly damaged in the recent
earthquakes so we headed south to some much less well known Gilis (means
islands in Indonesian).


These are stunning little islands - very unspoilt with a handful of villages
and a few resorts tucked away. They are relatively hard to get to which has
kept them under the the main tourist radar. We had an idyllic few days just
hopping from island to island eating in some fabulous little restaurants.
We're all converts now to Indonesian cuisine particularly the Nasi Goreng -
fried rice with vegetable and meat.


The Oyster fleet has now regrouped in Lombok at a small marina on Gili Gede
where we had a welcome party arranged by the marina with traditional
Indonesian music and a display of stick fighting which looked very vicious.
This was followed by an Indonesian buffet and an Indonesian band playing
Western rock music! The fleet will soon deplete from 18 to 15 as three boats
are staying in South East Asia, so this was a farewell party for them.


We sadly said good bye to Matt and Alice yesterday as they caught the ferry
back to Bali where they have a week in a hotel and we are now busy preparing
for our next passage - Lombok to Cocos Keeling which are a group of islands
owned by Australia in the Indian Ocean. It's just over 1100 miles and will
take approximately a week.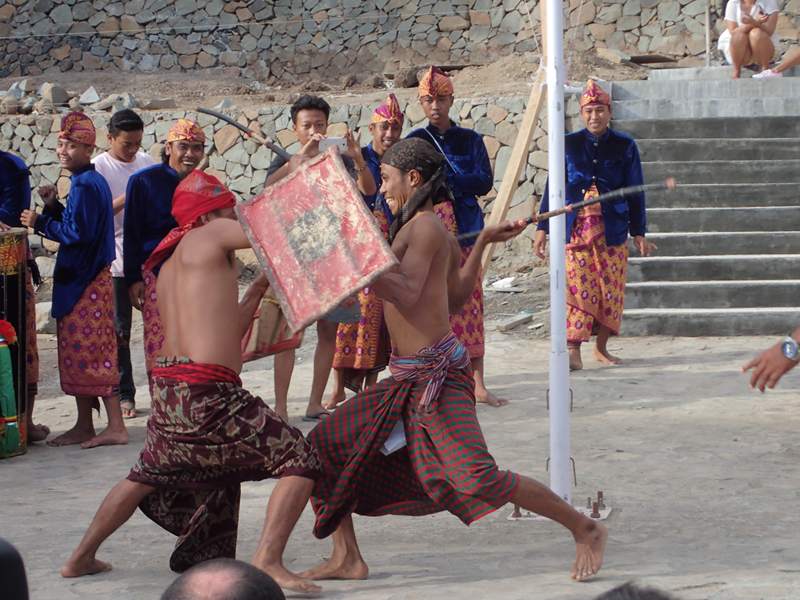 ---