South Africa arrival in Durban

Safiya
Harvey & Sue Death
Fri 9 Nov 2018 07:17
We arrived safely in Durban after an uneventful but very frustrating sail.
The Agulhas current which runs from North to South just off the coast of
South Africa is renowned for its ferocity especially when a southerly wind
blows creating freak giant waves that can break large ships and many have
been sunk by them. Although it is not very wide (80nm ) we had to pick a
window of weather to cross it in the right conditions. This seemed to change
daily as the weather around South Africa is very fickle.
Some of the fleet went to hide up and wait for the weather as far afield as
Madagascar and Mozambique. We decided to slow right down in order to time
our arrival for a tight 12hour weather window, so for two days we were
travelling at half our normal speed, the journey seemed to be endless!
In the end the Aghulus was quite kind to us and we surfed down a large
gentle swell to reach Durban in the early hours of the 1st November.
We were met by a member of the Royal Natal yacht Club, one of the oldest
yacht clubs in the world. They very kindly had organised our clearing in
formalities, they drove us to the Customs and Immigration building only half
a mile away but we were told in no uncertain terms that it was not safe to
walk outside of the marina. There is a huge drug and crime problem in Durban
caused mainly by the hundreds of immigrants from neighbouring African
countries. We rented a car and drove through the City centre and were
shocked and saddened to see the huge number of homeless people sleeping
rough and the beggars at every traffic light intersection.
The next day Nigel, Harvey's brother arrived to spend a week with us and we
set off for a few days at a game reserve about 300km north of Durban.
The Hluhwe Imfolzi park is 96000 hectares large and home to the 'big 5' -
Black rhino, lions, buffalos, elephants and leopards as well as having the
largest count of white rhino in the world. We stayed in a bush camp in the
middle of the reserve which was basic but adequate, brick built with a
canvas roof. The camp was unfenced save for an elephant wire meaning that
the animals could roam right up to our accommodation. We took all our own
food and had a DIY safari. During the day we drove around in our rented 4x4
game spotting and in the evening we lit the Bria (BBQ) and sat outside
listening to the chorus of crickets and bullfrogs interspersed by laughing
hyenas and the occasional roar of lions. With no mobile phone signal, Wi-Fi,
TV or satellite it was a real back to nature experience. We were lucky to
see 3 of the big 5 but unfortunately the big cats proved to be very elusive.
Early one morning we went on a guided walk in the bush, our female Ranger
had a rifle but luckily we didn't come face to face with an elephant or
rhino but we did see a white rhino having a sand bath on the other side of
the river, a comfortable distance away! All in all it was fantastic
experience.
Back in Durban we explored the coast North and South of the city and found
some really pleasant little towns, we have had some lovely meals out and
Nigel met the rest of the Oyster gang at a party held in the Yacht Club.
Unfortunately out time in Durban was cut short because of the weather. Our
next port of call is Cape Town, about 800 miles south and again we run the
gauntlet of the Aghulus but this time instead of cutting across it we are
running with it. The professional weather router/meteorologist who advises
the fleet forecast a four day window of good weather, sufficient to get us
down there. So we said goodbye to Nigel yesterday as he set off on his
journey home and we left Durban at midday, next stop Cape Town.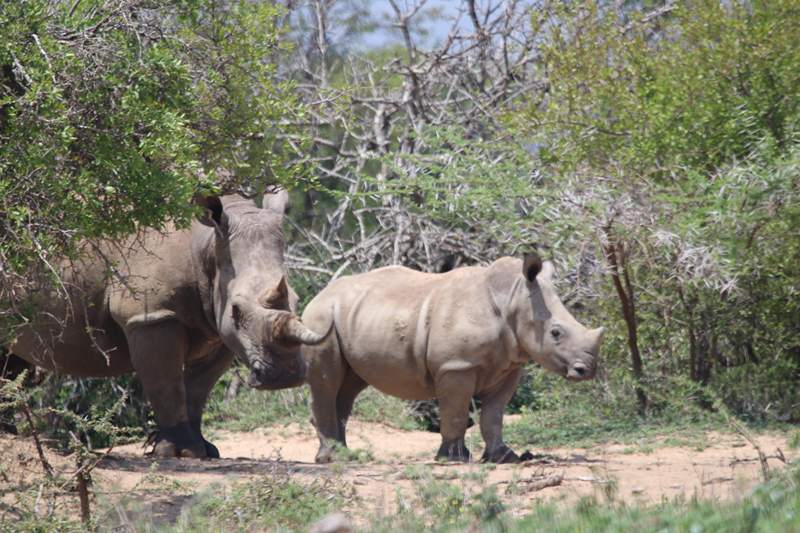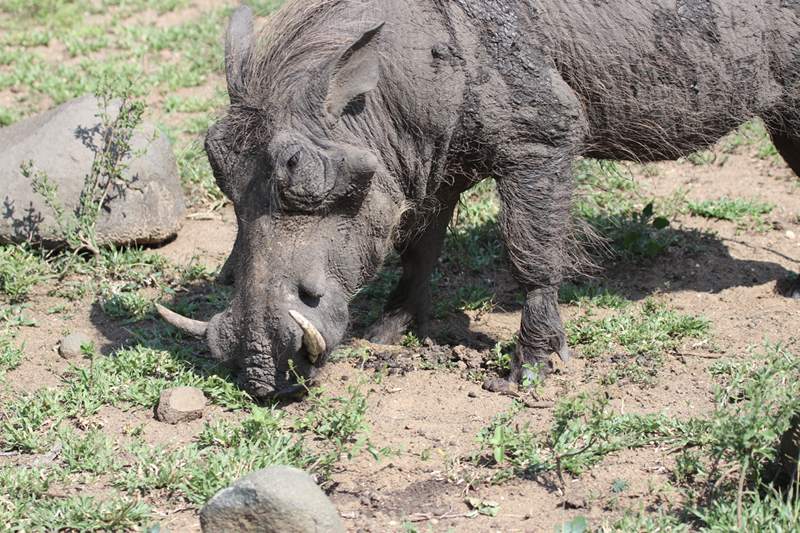 ---