The Society Islands

Safiya
Harvey & Sue Death
Mon 7 Aug 2017 18:02
Our three weeks back at home flew by, we enjoyed the best of the English summer - strawberries, Wimbledon, and beautiful weather. We caught up with friends and family with lots of BBQ's, played tennis and were able to pick our first tomatoes from the greenhouse.
The highlight of our trip was Graces graduation from Newcastle University. We had a fantastic couple of days "up North". The weather was unusually warm and sunny and we enjoyed a glass of bubbly in the beautiful grounds of the hisitoric University buidings. It was a very proud moment when she was handed her degree certificate for a BSc in Economics, a culmination of all that hard work over the years at school and Uni. Hard to believe that both our daughters are (or soon will be) working girls!
Leaving home again was vey hard, but made easier by the fact that Alice and Grace both came with us for a holiday in French Polynesia. After a gruelling 30 hour door to door journeyand three flights we arrived in Tahiti, where Declan (having recovered from his recent bout of shingles) had taken good care of Safiya in our absence.
We did a big supermarket shop and set sail for Moorea where we had a week cruising around the island with the girls. It was action packed, we swam and snorkelled and Grace started her PADI (diving qualification). The girls hired Quad bikes and toured the island, they zip lined in the pine forests and we did some enjoyable and quite strenuous hikes.
After a week we returned the boat to Tahiti and flew the short distance to Bora Bora where the four of us enjoyed a resort based holiday.
Bora Bora really is as beautiful as the name suggests and for Harvey and I particularly it was a complete break, away from the domestic chores of boat owning we really rechaged our batteries in readiness for our next sailing passage. The girls were happy to have continual, unbroken wifi which we take for granted at home but is a constant problem on the boat. Alice was happy to be able to use the gym everyday and Grace completed her PADI and is now a fully qualifed diver in readiness for hopefully a dive with hump back whales at our next prot of call Tonga.
Today we are leaving Bora Bora back to Safiya safely moored in the marina in Tahiti, where we will say good bye to Alice. Tomorrow we will set sail for Tonga (1400 miles, approx 8 days) with Grace on board to catch up with the rest of the fleet.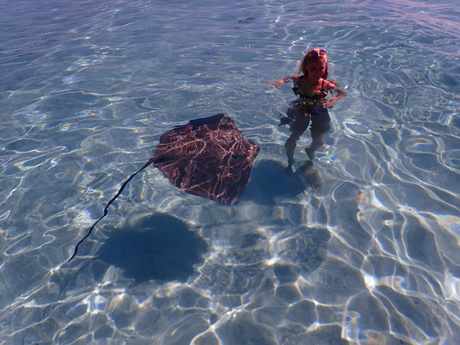 ---